As many of us are aware, building backlinks to our blog or website, can be time consuming and down right tedious. Just check the Warrior Forum, Digital Point, WickedFire, etc., and you will see loads and loads of "outstanding" link building tactics that will supposedly propel your site to the tops of Google. If you see the words "private network", you should know that they are not for you. In this article I want to walk you through about private networks and why they are bad backlink building tactics.
For starters private networks are not for long term results, and can really waste a lot of your time and money (even damage your website). Your ROI is certainly not as good (with private networks) as building quality backlinks from "trusted" and authority websites. They are a short term solution with long term penalties. They should be avoided at all causes, because in the long run the turtle eventually wins the race. So if you are thinking about dabbling into this shady backlink building strategy DON'T DO IT!
Reasons To Avoid Private Networks
Google Has Declared War On Them. Get caught in one of these backlink building schemes and your site could suffer detrimental effects. Sites that use private networks primarily as their major source of backlinks can completely vanish from top Google rankings, as seen from recent events.
@danthies ah, glad you noticed that. Good to see at trafficplanet.com/topic/1885-aln… that it's on peoples' radar that they're on our radar. 🙂

— Matt Cutts (@mattcutts) March 15, 2012
ROI Is Horrible. I know I have already said this, but your ROI is pretty much nonexistent with these linking schemes. Whenever these sites that are in this networks start to get deindexed your site drops in ranking as a result from this. Do you really want to have your sites traffic rely on a bunch of spam blogs?
Expensive. Talk about spending lots of money with these networks. Generally, you are going to spend 50-150 per month just for access to these sites. On top of the monthly renewal fee you are going to be paying more and more for each post. It can really add up and I have seen people spend several thousand dollars each and every month. I have talked with a number of SEO companies and some of their SEO strategies include private networks; can you believe that! You could spend your marketing money on building so much more quality content on your site and perhaps even a couple quality directory listings like Yahoo and Business.com.
Popular Private Networks – Under Fire
BuildMyRank – One of the most popular ones that was recently sniffed out by Google and shut down just last week. They had a network of nearly 3,000 sites and there network is currently in the deindexing phase.
Authoritylinknetwork – Also got the axe with thousands of sites in their network there was an easy footprint in which Google easily identified and started shutting down. Have heard that pretty much there entire network has been deindexed. This would deem all your backlinks and time wasted if you used them.
Rather than listing them all just know that if you see the words private network I would just stay away from them.
Private networks are not hard to spot by Google or by anyone doing keyword research on there competitors to see where there backlinks are coming from. In fact, chances are if you see a blog that has a generic theme with loads of categories pretty much targeting every single niche and all the articles on the website are of low quality, and have 2 outbound links linking to another site it would be a fair assessment to call that site a spam blog that belongs to a private network. Think about it the site offers no real value to readers online and is only there to build links to others sites.
What To Do If You Have Been Using These Networks?
If you have been using these networks now is the time to learn from your mistakes. Stop using them right away! People are fearing that their site is going to get deindexed as a result from participating in these private networks. This is really not realistic because your site will not get deindexed even if 100% of your links comes from these private networks. In fact, Google will just devalue your backlinks. So it would be like starting all over from square one again. Not to mention it could come from competitors trying to nuke or ruin your site or just an unethical SEO company taking the lazy way of doing SEO.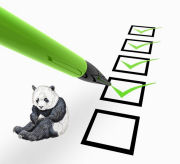 The simple answer for rebounding from a slap from the deindexing of these private networks is to build stronger backlinks from authority websites and following Google's website quality guidelines. Depending on the amount of links you build from these private networks is going to determine how many good links you are going to need to build to pull yourself out of the doghouse.
Matt Cutts has even publicly said that private networks are being targeted by Google and they are making every effort to track down these networks and devalue your links from them. It just doesn't seem to make any sense to participate with these networks if you are in it for the long term. Google employs a team of geniuses and they are always one step ahead of "blackhatters".
Still not convinced that private networks are bad news? Hop over to any of the internet marketing forums and you will see that networks are being hit left and right and webmasters sites are dropping like crazy. Furthermore, people are receiving messages in their GWMT about "unnatural link building".
I would like to hear anyone's thoughts, horror stories on using private blog networks; please feel free to leave a comment down below.