If you have a website or blog, with a decent amount of traffic and either already monetizing it with adverts or thinking of doing so, you probably are, or have been thinking as to what "type" of ad monetization method will suit you best. CPM, display banner, CPC, Overlay, Text links, AdExchanges, Premium Ad Space platforms, etc., the list can go on. With so many options to choose from, it really could be overwhelming and perhaps also frustrating to decide which advertising method should you choose.
Come a time were we wish that advertising would be less complicated, providing us with the focus at hand: writing articles and producing awesome content.
With that said, I would like to introduce you to an advertising platform that could help you forget about the complications and do what you like best. TheMoneytizer, an ad optimization revenue platform that helps you easily administer you website ad spaces.
What Is TheMoneytizer?
Aside from what I have mentioned above, best to watch real quick what TheMoneytizer is with their presentation about the platform.
So is TheMoneytizer really make it simpler to run and install ads?
Well, if you are using WordPress, you are in luck as there is a plugin that you can use to implement and install the tags on your website. While adding tags are really not difficult, it is definitely less complicated to install a plugin and take things from there.
How does the plugin and TheMoneytizer work?
OK, there is also a great video for that, but first you will have to register for a free account on TheMoneytizer. Plugin can be installed but it won't work unless you have an account as you will need the IDs that they provide you after registering and adding your websites. It really is a simple process.
1. Start here to register for an account
2. After signing up, they check your data and confirm what they can help you with
3. You then complete your profile, add a website and choose the ad formats that you like best (there are many, from standard ads to high impact ones).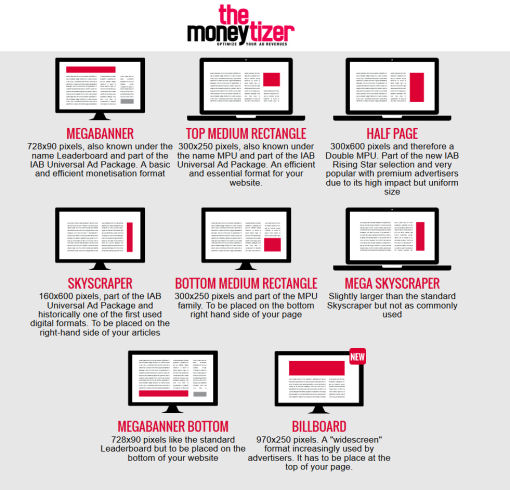 4. Add the provided tags to your website or use the plugin (see below for details)
5. You are ready to go!
How To Install and Use TheMoneytizer plugin?
Installing the plugin on WordPress is just any other plugin. Go to your dashboard > Add New Plugin > Search For TheMoneytizer, hit install and activate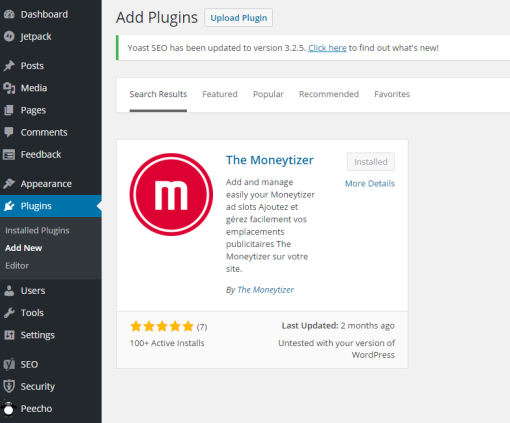 After activating the plugin, go to > settings > TheMoneytizer – there you will see the Site configuration as well as many other information and links on how to properly set up the plugin. More importantly you will see two videos. I suggest you watch the "How To Use The Moneytizer Plugin". The video goes through all the setup process and shows you how your tags will appear once you choose and request the ad formats.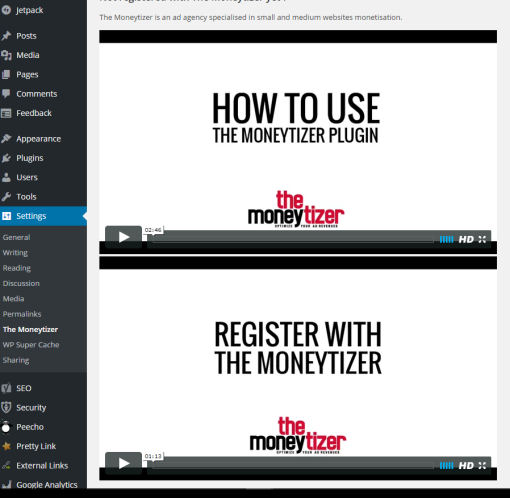 You need add the tag code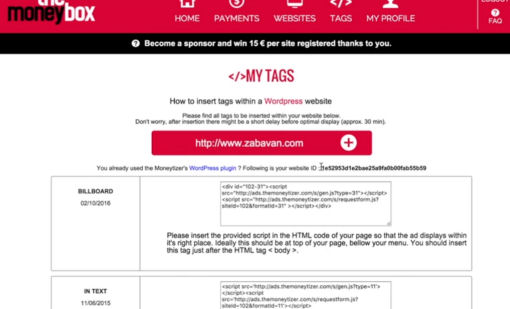 and once you put the tag code in the appropriate field you will be able to see your ad formats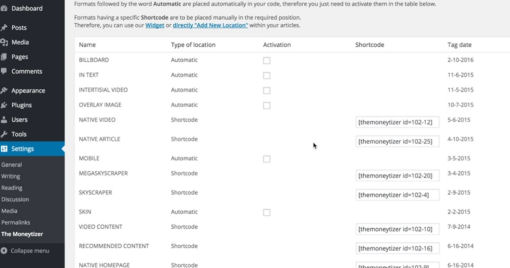 Implement. As an example go to > widgets > TheMoneytizer > select the area you want, add and select the ad.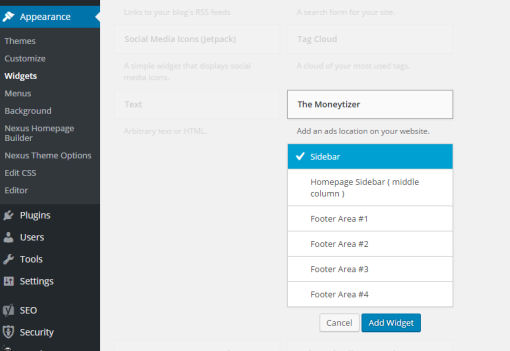 That's it! Hopefully after a while you will be eligible to receive your first payment.
Conclusion
TheMoneytizer is an interesting ad optimization service and considering its use is definitely recommended. Like I always say, there is so much to gain and the only thing you loose is a bit of your time and effort in case you decide that it is not what you are looking for. After all, centralization of all complicated processes of online advertisement through a single platform is not your everyday choice.
If you do decide to take TheMoneytizer for a spin, do let us know about your experience.