Just like anything else, doing SEO requires not only knowledge of the best practices and techniques, but also effort and hard work. Yes, effort and hard work is a "standard" requirement with just about anything you do online to succeed. One of the things you need to have, when providing SEO services, or doing it your own, is a set of tools that will help you achieve a specific objective.
Before the privacy issue and other unknown reasons, there were a lot of free tools out there that helped you conduct your keyword and competition researches, without any problems. While there are still some great SEO tools available, sadly, most of them, in one way or another have some limitations.
Enter SEMrush. An advanced keyword and competitive research tool, from the makers of the popular SEOquake.
What is SEMrush?
In a nutshell, SEMrush is a professional software developed for search and marketing professionals, SEO enthusiasts, practitioners, and aspiring SEO Consultants. It provides the user with important SEO data, like how your site is doing in search engine rankings, discovering in the process keywords that you are ranking for and perhaps don't even know about, and most importantly, it allows you to "spy" on your competitors, on a lot of factors, and on different search engines. Must have on your SEO tool arsenal.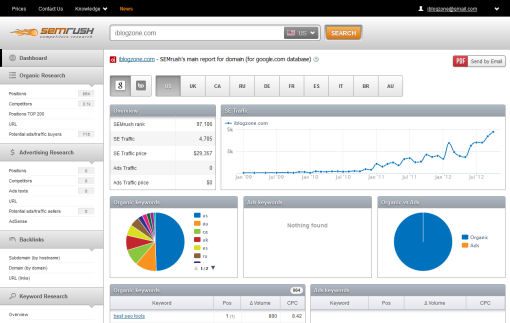 SEMRush is constantly updating its database. As of their last update (1 November 2012), they now account with 293K+ users, 95million+ keywords, 43million+ domains, on 11 different databases. So in case you are wondering, that's quite a lot of data that helps provide pretty accurate results.
Here's a snapshot of what you can do with the tool:
See your competitors organic position (and keywords)
See your competitors ads text (great if you run a PPC campaign)
Find good long-tail keywords
Compare various SEO metrics from different domains
Research keywords and related
Research the CPC of keywords
Check search volumes of keywords
Find the % of traffic a keyword is bringing to you or your competitors site
Find out the cost % of potential traffic per keyword
and a lot more…
Convinced?
Now, here's a great opportunity for iblogzone.com readers. SEMrush has been kind enough to provide two lucky people with a one full year of SEMrush PRO account membership. That's a $1.600 value ($800 each).
All you have to do is provided below. The more you you participate and share, the more your chances of winning. Now if you are in a hurry and want to go ahead and take it for a spin, the free trial will give you a good feel of what you expect from this SEO tool. Who knows, you may win, and all is needed then is to upgrade your account to PRO for one whole year.
Good luck!