Natural link building doesn't mean you just sit back and hope people link to your site. It means that you don't try to fool anyone into visiting your site, and to do that you must make sure the links to your site deliver value.
Do This Before You Seek Links
Before you ask anyone to link to your site, ask yourself, "who do I link to?" If you hardly ever link to anyone else, it's unreasonable to expect anyone to link to you.
Just as importantly, linking to other people and driving traffic to their sites is a great way to get links to your site. Think about how much time you spend looking at the referrer section of your visitors report. If someone sends you a dozen or a hundred visitors today, you will almost certainly check out their site.
The same is true in reverse—people who get traffic from you will look at your site. And, if they like it, they'll probably link back to you.
I suggest that every substantial page on your site link to at least one other site you don't control.
An additional benefit of this technique is that many people believe some search engines, Google particularly, give sites credit for linking to other legitimate sites.
More Ways To Say Thanks
When sites drive substantial traffic to your site, you'll see it in the referrers section of your visitors report. Unfortunately, you may miss small sites who link to you—but these small sites are valuable to you too.
Take a moment to do a reverse link search on Google by typing in "link:" and the name of your site. For example: "link:example.com".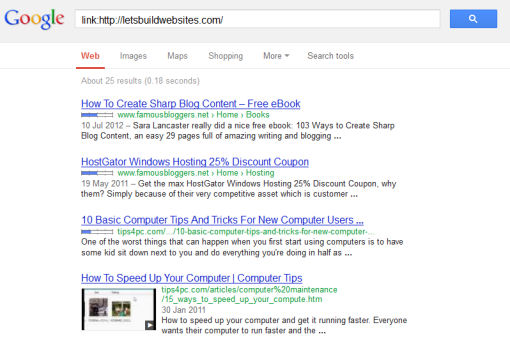 The reverse link search will tell you everyone Google knows about who links to your site. Take a moment and thank these people directly through email or indirectly by linking back to their site, or heading over to their site and share a post, comment, etc. Making them happy makes them more likely to link to you again in the future.
Help Other Sites
Natural link building means helping other people, and the best people to help are other sites who have the ability to link to you. Here are five ways you can help other sites:
1. Guest posting: every webmaster has the same problem: content. Everyone wants more high-quality content, but few people have the time, energy, or skill to write it.
You can help other webmasters solve this problem by offering to write articles for them. In exchange, get them to promise to link that particular article back to your site.
2. Permissive copyright: it's a sometimes sad truth about the Internet that people will steal your content. You can get upset about this, you can sue people, you can try to lock down your content, or you can try other things, but nothing I know of can effectively stop people from stealing your content.
So why not let other people take your content by placing it under a permissive copyright license such as Creative Commons? If you offer your content for free redistribution in exchange for a link, some people may take you up on it—and link back to your site in the process.
3. Comment: there's a scam technique which is not natural link building where you try to comment on as many people's blogs as possible in the hopes that they'll link back to you. I don't recommend that. Instead, when you see an interesting post and you have something useful—very useful—to say, please say it. There's a good chance the author of that blog will see your comment and link to your site directly.
4. YouTube: a great way to promote useful information on your site is by concentrating some of that information into a short YouTube video. The video will give you a chance to promote your site and attract links from anyone who likes your video and is willing to post it on their own site.
5. Contesting: I love free stuff—most people do, so a great way to get people linking to your site is by offering free stuff. This can be free stuff you've bought or free stuff vendors gave you to give away. Just remind people to spread the word about your site—or make spreading the word part of the way to enter your contest. For example, tell people to enter the contest they have to mention your site on Twitter or become a Facebook Fan. Just make sure you to avoid some common mistakes when running giveaways.
The Rewards Of Natural Link Building
Natural link building has several benefits, but few of them are more valuable than the piece of mind which comes from not having to worry about search engines discovering illicit link building to your site.
If you play the game fairly, you can still amass a huge number of incoming links in a relatively short amount of time. And you can use these links to attract more links quickly and cheaply—the more you have, the more you get.
Conclusion
Remember that natural link building isn't about waiting for people to link to your site. If you wait for that to happen, particularly on a new site, you could be waiting a long time.
Go out and find other sites and offer to guest post for them, or comment on their most interesting posts, or make a YouTube video—but don't just sit around without doing some good, high-quality natural link building.