Hi everyone! Hope you all had a great week. Matt Cutts has been releasing successive videos recently, answering questions that are basically related to search engine optimization. Its no news that one way of getting good rankings is by building a good link profile, this achieved, among other things, via guest posting. If you are in the "guest posting" arena, you may find this video interesting, where Matt responds to a question about Google's view in guest posting:
From Bing's side, Duane Forrester posted an interesting article, where he states that SEO has a future (that's good news). You just have to be ready to learn how SEO is properly done.
Another interesting site that I found about this week is Floost. Not sure if you have heard about it before, but it was new to me. Floost as they say is "a place where you share and satisfy your curiosity". It is very, very similar to that of Pinterest, the difference being that you can curate content, has analytics and an interface, which is quite impressive. If you are not happy, sick of, or looking for an alternative to Pinterest, Floost may be a good place to start. Have you heard about it before?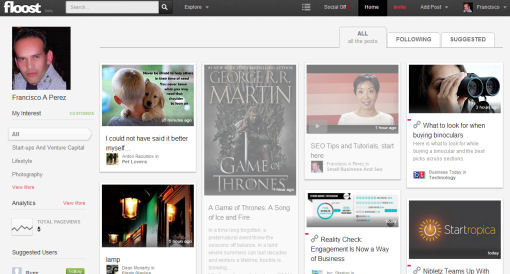 Finally, Ana of Traffic Generation Cafe has written an extensive posts about Empower Network (EN). You probably already heard about it, but if you want an in-depth review and know if it is an interesting program to join, read the article to find out.
As usual, in no particular order:
Content Marketing/Small Business Bites
If Your Blog was a Book… Would Anyone Read It?
SEO/Inbound Marketing
Social Web/Other Roundups and Cool Stuff
12 Latest Facebook Page Features You Might Have Missed
Skype Virus Alert- Rogue Links Coming from Your EXISTING Contacts
That's it! Enjoy and have a great weekend.