I'm guessing that #hashtags is no longer a new thing for you. As defined on Twitter – "hashtags were originally "invented" by Twitter users to mark keywords or topics in a Tweet. It was created organically by Twitter users as a way to categorize messages."
The use of this tag has gone so popular that you can see them being used by Twitter (the obvious), Pinterest, Google+, and maybe a lot more that I am not aware of. It has gone to an extent that Google+, even generates them automatically for you, providing there are words within your posts that are relevant to a specific topic.
Why use Hashtags?
The main reason that I can think of right now is to allow a much easier way for users to find topics they are interested in. If you go to Twitter or Google+, trending topics are generally marked with the # symbol. You can also use it to look for people asking questions. As an example, searching for #wordpress on Twitter, you can see tweets like this:
"Can anybody help me add a widget to my site? Show me how to do it on #wordpress"
Now, if you know the answer to that question, I'm sure that person will be very happy if you can give a helping hand. That is solving a problem, and needless to say, that matters a lot, if you know what I mean.
And finally, among other things, it can help "your message" reach a much wider audience that are relevant to you. Posting a message with a hashtag, creates the possibility of it being seen by people who are following that specific tag.
Now, not everyone may think that using hashtags is a good thing. Then again, there are those that think it helps and provides you with some ideas on how to use it for your business. IMO, used properly, it can help. After all, if it is not good, then why does Twitter use it and why did Google+ decide to generate them automatically for you?
What Hashtags should you use?
That's the next obvious question. Going crazy and putting the # symbol to every word possible does not work and can even make it look spammy. If you are going to use a "trending" hashtag or any other popular one, juts be sure that your message has actually something to do with the topic, and adds value. I've seen a lot of people using it incorrectly, and that normally does not work in your favour. So take that as a hint..
So, how do we find those hashtags that actually matter?
I've got two possible routes for you today. Obviously there are other ways, so please do let us know how you find them on the comments section. That would be great"
RiteTag: Social Search Optimization
Stumbled upon this tool some time ago, and can't really remember where? Anyway, first I want you to know that I am not getting paid for mentioning this tool. I just like it and thought it could be of interest to you.
RiteTag.com, as they say is a social search optimization tool, or tag optimizer. Here's an excerpt of their info:
Discover the hashtags/tags/categories/topics to associate created content with – all on one page, based on the no. of times the tags (and "topics," etc.) have been used. Registered users select to see tags, users and content only for the networks they share content for or wish to discover content in. RiteTag streamlines the process of finding the best tags to go with content to be shared, embracing the unique tagging constraints of numerous important content-sharing networks, including Twitter, Youtube, Instagram, Flickr… and many more.
In a nutshell, the tool allows you to discover the best tags to use to ensure that you are actually using those that could generate a greater impact for your message. The tool also allows you to directly tweet from their platform, schedule the post, and even get some stats to see how effective your hashtags are. Here's an example. I want to tweet a post about SEO. So, it makes sense to find hashtags that are related to that topic. Here's what I found…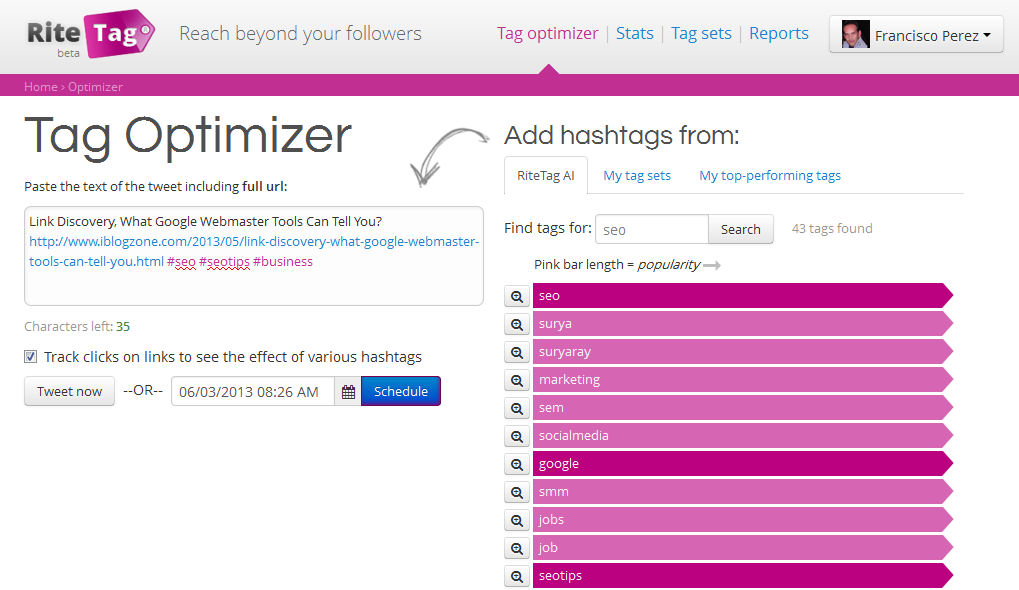 As you can see, now I am in a position to reach a much wider audience using those tags. And yes, do combine them. For example, in the example above, I used, #seo #seotips and #business. The tool, for now, is all free. They are in private beta, although they do mention that somewhere along the line, they will be charging for it. At this point it is unclear if it is going to be some sort of "freemium" service. That's it for RiteTag. More info can be found here.
[note]UPDATE: Mashable.com reported today the #FaceBook finally will support the use of hashtags. Read news here[/note]
20 Twitter Hashtags To Make You An Entrepreneurial Star
If you want to take the shorter route to better make use of Twitter, the infographic below, porvides 20 top hashtags to help you become an entrepreneurial rockstar, lol. This infographic, is courtesy of http://socialcaffeine.com/.

That's it! Hope that making use of #hashtags can help you extend your reach and generate a bit more of traffic to your site.
What do think about using hashtags?