I learned 1 lesson over the past 4 years of being an online entrepreneur.
Who you know counts as much as what you know. I have seen people with a poor command of the English language make fortunes, selling their goods and services to English speaking audiences.
I have seen mediocre online entrepreneurs grow stunningly massive networks around them, becoming wildly successful in the process.
Yes, you need to create value for people but if you can expand your online presence quickly you will stand out from virtually all online entrepreneurs. You can make money online at a steady clip if you are willing to simply meet a ton of people through multiple channels.
Be super patient. If you are willing to follow the below tips on a persistent basis you will steadily expand your presence day after day. The key resides in persistently doing what few people do. Most bloggers have puny networks because they never choose to reach out and build their friend base.
They feel publishing a few posts will magically attract massive, targeted audiences. That ain't gonna happen!
1 – Guest Post as Much as Possible
I write 1 guest post or more daily to leverage my presence and make friends with fellow bloggers, commentators and readers. No better way to increase your revenue potential. If you reach a massive, targeted audience each time you post, watch how quickly your own blog audience grows. As your audience grows, so does your traffic, and we all know by now that targeted traffic, equals more revenue potential.
Write, write and write some more. Be patient. Some bloggers are way backed up and it might take a week, 2 or more to place your post. Write, submit to various blogs and watch the traffic and opt ins flow in.
Here's a list of blogs you can start with to submit your guests posts. Be on high alert though, because these blogs have high authority and will not accept sub-standard stuff. Just make sure you don't ask to guest post the wrong way.
2 – Comment like a Champion
I comment on 10 or more blogs daily. Commenting expands your presence at a quick pace. People will see you and believe that you are in 20 places at one time. Your face pops up again and again, and you are golden.
Awesome! Just post a helpful, usable comment which makes an impact and also use a smiling head shot as your gravatar to stand out in the minds of your target audience. Another way to increase interactions via commenting is making use of the ComLuv network and the CL Plugin. If you are on G+, you may want to watch this video on how to embed Google Plus comments on your blog. All these really helps, specially if you are just in the beginning.
3 – Follow the Leader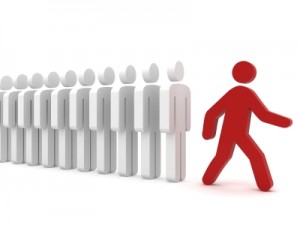 One of the easiest way to expand your online presence is by following blogging pros. Study people with massive, targeted readerships. These folks know what they are doing and the crowd also seeks to improve their results on a persistent basis.
Knowing this you are wise to follow their advice. Take note of any new, powerful presence-expanding strategies they share through their blogs.
Example: I followed 1 blogger in particular who would not let the "guest posting is the best thing on earth for growing your readership" argument go. I mean, the guy just beat this horse dead, again and again, and finally, because I was so annoyed with listening to him, I just had to put his advice to the test.
I wanted to prove or disprove him. I was not quite sure. After writing my first blog post on an authority blog I saw 12 extra email opt ins through via this guest post alone. That is some serious stuff! I expanded my presence quickly because I followed a leader, became swayed by his advice, acted on the advice and reaped some pretty neat results.
Key Takeaway
Guys, when Francisco sends out those super informative links each week, read them, and take notes. Learn from the best. Learn from the experts. Learn from people who have expanded their presence quickly. Success leaves painfully obvious clues if you are on the lookout for these clues.
Be patient. You can do amazing things online if you act intelligently each hour of each day. This gig becomes easier and easier and easier if you do things like guest posting, writing helpful comments, and of course, publish your own content. I suggest guest posting aggressively as a newbie because: you will expand your presence by leveraging big blog audiences and you will become accustomed to receiving criticism, a must for any successful online entrepreneurs.
Your Turn
Do you use these tips to expand your online presence, as a newbie or veteran?
Are you struggling to build your online blogging network?
What tips can you add to this list?