Hi everyone! Hope you all had a great week. iPhone 5, iOS6, and Google maps have been dominating the front page of nearly every major news site and tech blogs on the sphere. This week, approximately 90% of CNN's tech section was all about iPhone 5 and related. That is some massive coverage and makes one wonder if it is worthwhile buying the newest gadget or not. BTW, are you buying one, or will the Nokia Lumia, the new iRazr from Motorola, among others, appeal more to you?
Anyway, one really great stuff that I want to share with you today is something that I learned from Ileane Smith's latest video (see below) about YouTube's advertising formats. The process is actually simple, and the results could be simply amazing. Adding a simple "call-to-action overlay" on your YouTube videos (see example of what I did today below or watch the video), may just be the missing part to generate more traffic for your site, or even getting more sales 🙂
If you want to know how I replaced the YouTube ad with my "own" call to action, you not only have to watch Ileane's video, you also have to pay attention on the description. The secret is all there.. Note that this is not "adding annotations" but rather creating a full blown call-to-action box, where you can add links to just about anywhere you want. Cool and thanks a bunch @Ileane.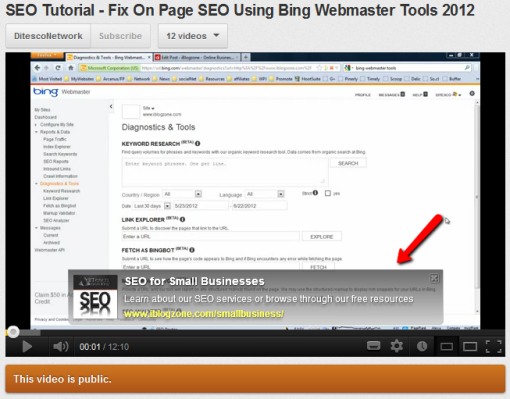 See also: Create, Optimize and Promote your Video: 15 Great Ways or check out James Wedmore's Video Traffic Academy (aff link).
For those of you who have not implemented the "authorship markup" yet, Google has announced that they are decommissioning the Google rich snippet testing tool with the new "Structured Data Testing Tool". The new tool, according to Google, provides better "rich snippet" display and supports authorship markup, including applications, products, recipes, reviews, and others. On a different front, but also from Google, did you know that they acquired Snapseed, an Instagram competitor? Wonder what they are up to?
Twitter this week made a big announcement about the new Timeline-like headers, among other things. This is how you can update your Twitter profile header.
Finally, for those of you who love the "blogroll" widget on WordPress, brace yourselves because it is possible that the next version (3.5) will most likely ditch the LinkManager all together. There is a cure for that though if you really make use of it, with this plugin.
As usual, in no particular order:
Content Marketing/Small Business Bites
SEO/Inbound Marketing
Social Web/Other Roundups and Cool Stuff
YouTube Advertisement Formats 2012
That's it! Enjoy and have a great weekend.