Videos are a great way of making people aware about your company, its brand, products and services and anything and everything that will help you capture the attention of your target customers. But, more importantly it is also a great way of getting unique customers to your site, through video optimization.
In fact the year-over-year growth of website traffic through sites like YouTube, Google Videos, Yahoo! Video, and MSN Video amongst various others has shot up like a rocket. This is why online video optimization is not just a good idea, but an idea that needs to be executed without any second thoughts whatsoever.
For me, the process of optimization is not restricted to SEO alone, but begins right at the beginning with the creation of a video, and ends with the promotion of the video. Optimization acts as bridge that connects these two aspects and also is the catalyst that helps videos become 'traffic generating machines'.
So, let's take a closer look at these three aspects and what you can do to leverage their potential to the maximum
Creation of the Video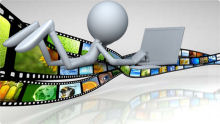 If you want to use a video as a part of your marketing campaign, you first need to create a brilliant video that is perfectly relevant to the purpose you have in mind for it.
Here is what you need to do to create a great video:
1. Focus on Impact Videos
High impact videos are the kind that are not just visually appealing but also innovative and eye catching. You must make sure that your video has something to say and makes its point in a manner that will instantly connect with the user at some level or other and make a resounding impression.
2. No Hard Sell
Videos should be created to subtly persuade the users to try out your products and services. You should avoid doing any hard selling through your video. In fact, if you are clever about it you can actually create sales-worthy videos by using content that is informative, interesting and engaging. You don't really have to try too hard, if your content is good. Focus on the content and not anything else. If you do that, you have a winner on your hands.
3. Light Colored Background
The use of dark colored background in your slide acts as a real spoiler. More often than not, visuals appear to fade into dark backgrounds, which affects their clarity and quite obviously, the overall quality of the video goes down. This is why using light colored background in slides is a must. Moreover, this is also because a lighter background brings forth the best out of the images. It helps center the attention of the users on the images on the slides rather than inconsequential elements.
4. Contact Info is a Must
Your video essentially is a promotional tool and not just as exercise in creativity. So, you mustn't forget to include either your contact number or your website address or both in each slide. Otherwise, the video will be of no use. In fact, if your video strikes a chord with the viewer, the first thing that he/she will look for is a way to get in touch with you. And usually the viewer expects the contact details to be given in the video itself. So, make sure this is the case.
5. Ask for comments/feedback/ratings
The last slide of your video should be used to ask for comments/feedback/ratings about the video. There are people who are scared to ask for an opinion because they fear criticisms. But, if you don't know whether your video has been appreciated or not, how will you judge its efficacy. More importantly, if the viewer has noticed some problem with it and mentions the same in his comments, it will help you improve the video.
6. The first 3 Slides Are Crucial For your Efforts
It is the first few slides that will make or mar your efforts. So, focus on the first three slides of your videos and ensure that these slides have the most important content. Everything that you want to say and what is important to you must be said in these slides. The slides that follow can be used to give further details about what you have mentioned in these slides.
The reason why the first 3 slides are important is because the attention span of internet users is limited and if the video doesn't hold their attention initially, they won't go through the whole video. Also, there is a good chance that they, as such, won't go through the whole video, so you need to bring to them all important information, quickly.
Optimization of the Video
You will need to optimize your videos, to get it found at the top of SERPs. Here is what you need to do, to improve the visibility quotient of your videos in search engines.
7. Optimize Title and Description
First let's take a look at 'Title'. While optimizing the Title of your video, you need to keep in mind the character limit as defined by the different video sites, for e.g. YouTube has a character limit of 100. Also, it's advisable that you place your most important keywords right at the beginning of the Title. Moreover, there are certain phrases/words whose use is a sure fire way to attract that attention of target audiences, such words include, 'review', 'how to' etc. So, if you can make them a part of your video title, you improve its chance of getting watched.
Now for 'Description'; if you don't have a video description, say goodbye to rankings on SERPs. Think of a description as text, which is going to be read by search engine bots, while they index your videos. You must craft an SEO centric description that uses keywords phrases for which your business wants to get found. So, essentially your video description should be a nice little mixture of what the video is all about (summary), keywords, and also link to your website.
Remember, the whole idea behind optimizing the Title and Description is to receive maximum clicks on the Title.
(Tip: Adding URL of a website at the beginning of the video's description will help you get a direct click)
8. Tags
The addition of relevant tags while posting your video will also help you make your video more 'searchable' from the perspective of the respective video website. Tags are nothing but relevant keywords that people use while searching for a particular service or a product. You are going to put the most the relevant keywords in your Title and Description, but there will other additionally keywords, that you believe are also important for you. These can be selected as keyword tags when you upload your video. It's a good idea to choose and add tags in their order of importance that is in their decreasing order of importance.
9. Inbound Links
Inbound Links from authority website/resources to your video are appreciated by search engines and are the driving force of any and every SEO effort. This is usually a great idea when you are using embedded videos, wherein the video is displayed on your website, without taking the viewer to the video site. Moreover, its not just the inbound links that you need to focus on, you must also ask other websites to embed your video. So, you get more for your efforts. And at the end of the day, more people will watch your videos, and in turn visit your website.
Promotion of Video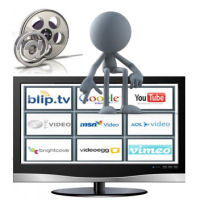 All things said and done, your video is competing with millions of other videos and while optimizing a video is all well and good; its promotion is also of equal importance. Let's take a look at all that you can do to promote your video.
10. Video Submission
One of the best ways of promoting your video is to submit it to a video sharing website like Dailymotion, Vimeo etc. Do some research on the most popular and highly recommended video sharing websites and make sure that your video is on them. This will help your video go viral, through massive link building. And we all know that 'links' are the building blocks of any internet based promotional strategy. Also, there is another benefit to sharing on sites like Dailymotion; some of these sites help you create do-follow links to your website. A huge added advantage!
11. Sharing Videos on Video bookmarking sites
Again the watchword here is link building. You can't get away from this essential aspect of internet marketing. So, share your video on relevant video bookmarking websites. There are plenty of such websites that you can submit to, these include Digg.com, StumbleVideo and many others. The key is to use as few sites as possible and target the widest audience possible.
Submitting to these websites will help you get a backlink and do follow links through the video profile and or its description. This is again something that helps the viral marketing of your videos, and improves their popularity big time.
12. Sharing Video in Social Media
This is as easy and as good as it gets. Share your video amongst your social media community and ask your followers and fans to share within their community and their followers and fans and so on and so forth. There is a good chance that your video will achieve sky rocketing levels of popularity through social media sharing. You need to leverage the full potential of social media sites like Facebook, Twitter etc. to promote your videos. If you do it right, the benefits will keep coming.
13. Blog + Video Approach
This is a combined approach that helps you use the marketability of your blog's content to promote your video. So, what you need to do is create a blog and then share your video with the readers by placing it along with the content of the blog. After this, you promote them using various social media communities and high authority bookmarking sites. At times, a combination of text and videos works best as you can place targeted keywords in your blog content, as well as, your video's title and description.
14. Video Community Websites
There are plenty of video community sites out there, who are just waiting for your video. But, you need to pick a site that is relevant and more importantly that is active, otherwise you wont be able to build quality links through these sites. What you are essentially doing by posting your video on such communities is that you are giving more opportunity to your target audience to view your videos. These days, quite a number of people frequently visit video communities to check out videos that entertain and/or provide information about the product or services they want to use or to get some other information.
Community websites are a great way of attracting comments, rating or reviews of your videos, which is something that also helps your promotional efforts.
15. Writing a Press Release
If you have promoted your website or some new product or service that you have launched, you will know all about a Press Release. Now, you can use a press release to promote your video. This can be done, by writing a PR (on any pertinent subject) and promoting the video by including its link from within the PR. This is an inherently fail safe method that never fails to deliver.
In Conclusion
So, there you have it. 15 great ways that will help you take your video from nowhere to everywhere. Make no mistake; it's far easier to read these tips/tricks/methods/or ways than implementing them. But, once you do it a few times, it will be a piece of cake.
What other methods have you heard/used about making and promoting of a video?