Don't know about you, but when an SEO industry survey is conducted by a trusted authority in the subject matter, I am all ears to find out the results of such an endeavor. The reason for this is that, among other things, the results reveal some interesting information about how internet marketers conduct their SEO and inbound marketing techniques online.
Recently, SEOMoz released its 2012 SEO industry survey and there are indeed some interesting results that I would like to share with you, due to its importance, for those who are looking to understand a bit more about the Inbound marketing tactics, SEO tools, Keyword tools, etc., that internet marketing professionals and like minded people employ. While the online survey is not a representative of the industry as a whole, there were nearly 6,500 people and/or organizations (from several countries) who participated in it. That's quite a good number, if you ask me.
Anyway, following below are some of the most interesting information that I believe is worth mentioning.
What types of inbound marketing content do you or your team produce?
The overwhelming majority of respondents use blog post and social media, as their favored content strategy. I'm guessing that blog posts includes, those that are published directly on the owners website and that of guest blogging too. Notice that video marketing, for some reason, is only the 7th choice of respondents.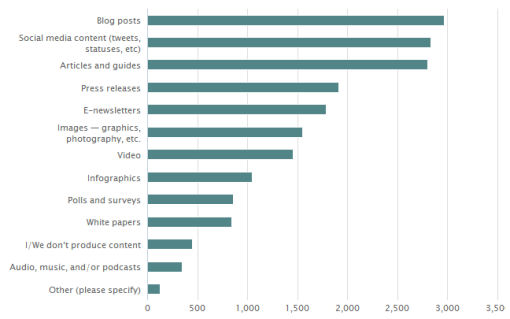 Top 5 analytics tools as % of respondents
Hands down, Google and its set of free SEO tools, crushes all of its competitors. Google keeps making their analytics tool better and better. Take the in-page analytics tool, which is just absolutely great to understand how your visitors behave when they are on your site (your own sites "heat map").
Surprising is WordPress stats coming in at a distant second.
93% – Google Analytics
16% – WordPress Stats
13% – Omniture
9% – CrazyEgg
7% – Compete
Top 5 keyword research tools
Again, Google's keyword and marketing tools, overtakes everything else. SEMRush comes in at second place. Keyword tools are very important when optimizing either your blog post or your website. After all, when users look for something on search engines, the terms they type in is nothing else but a bunch of words, or better know as keywords or key phrases. When doing a keyword research, make use of Google's tool and don't forget to also use of their "contextual tool", which is great if your are running Google's AdSense program.
88.3% – Google AdWords
58.6% – Google Insights
20.2% – SEMRush (aff)
16.7% – Wordtracker
13.9% – Raven
Top 5 content marketing and outreach tools
74% – Twitter
53% – LinkedIn
45% – Google's Insights for Search
31% – StumbleUpon
31% – Google Reader
Top 5 Conversion Rate Optimization and usability tools
Google's website optimizer is again one of the top choices for running experiments on your site. Google Website Optimizer is however no longer available, and you can use Google Analytics Content Experiments to conduct a/b testing on your website, among other things.
73% – Google Website Optimizer
18% – CrazyEgg
16% – Pingdom
11% – ClickTale
8% – KISSmetrics
Top 5 video hosting solutions
Skipping YouTube, which is as you know a web property of Google, I found it very interesting that many internet marketers are using "self-hosted" solutions for hosting their videos.
75% – YouTube
30% – Vimeo
23% – Facebook
15% – Google+
11% – Self-hosted
Ad Spend – Paid Advertising
Ad spend is diversifying in 2012, with "retargeting" making its way through. While this is so, PPC and display advertising still leads the way.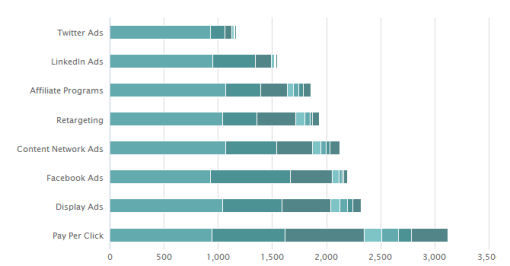 That's it! Here, you can see the full 2012 SEO Survey, where you can see the complete set of questions that respondents answered to and also download the complete "raw data" in excel, if you wish to do some calculations of your own.
So, did any of these results surprise you? Which ones? Why?