If you're a business owner that makes sales online, you expect to have a high conversion rate from viewers becoming buyers, but it doesn't always work out that way.
Unfortunately for many online businesses, 97 percent of viewers who visit your site for the first time leave without making a purchase. That's a huge chunk of change walking away from you and your company. However, while that is a lot of people that don't convert on the first visit, there is a way to bring them back to your site strategically.
Enter a remarketing campaign.
Before discussing the benefits of a remarketing campaign, it is crucial for you to understand exactly what it is that remarketing does. Remarketing is a strategic advertising campaign designed to specifically target those who have already visited your site.
For instance, if a user checks out your website and your store and proceeds to leave without buying anything, the next website they view could have ads with your brand name and products sitting right there. This keeps the focus of your brand and products in the viewers' sights many times after they leave your website.
So as the viewer is traversing the internet looking at their favorite websites, your brand and product is still in view and is used to draw them back in.
What are the benefits of remarketing?
Well, first off, remember that 97 percent number of the viewers who do not convert on their first visit? With remarketing, conversion rates have a chance to increase by 125 percent. That increases your profit and business instantly.
Remarketing campaigns allow for the company using it to set limits on ad size and frequency cap to ensure that people do see the ads, but it doesn't come up all the time to become a nuisance to the viewers.
Better yet, the campaign can reach up to 98 percent of users on the internet no matter which websites they visit.
Finally, remarketing campaigns only cost the company money when they work. What this means is, advertisements are only displayed to those who have visited the company website before. This filters out non-interested parties and focuses solely on those who had initial interest and intent to buy a product that the company features.
In a nutshell, remarketing campaigns are designed to bring users back to your website as your ads are placed on visitors' favorite websites using the tool to track the users IP and allow the ads to follow. There are really no disadvantages to remarketing unless you overuse it and the frequency cap causes users to become annoyed with your advertisements rather than impressed.
How does it work?
Here's a visual presentation of how a retargeting campaign works (click on the image to enlarge).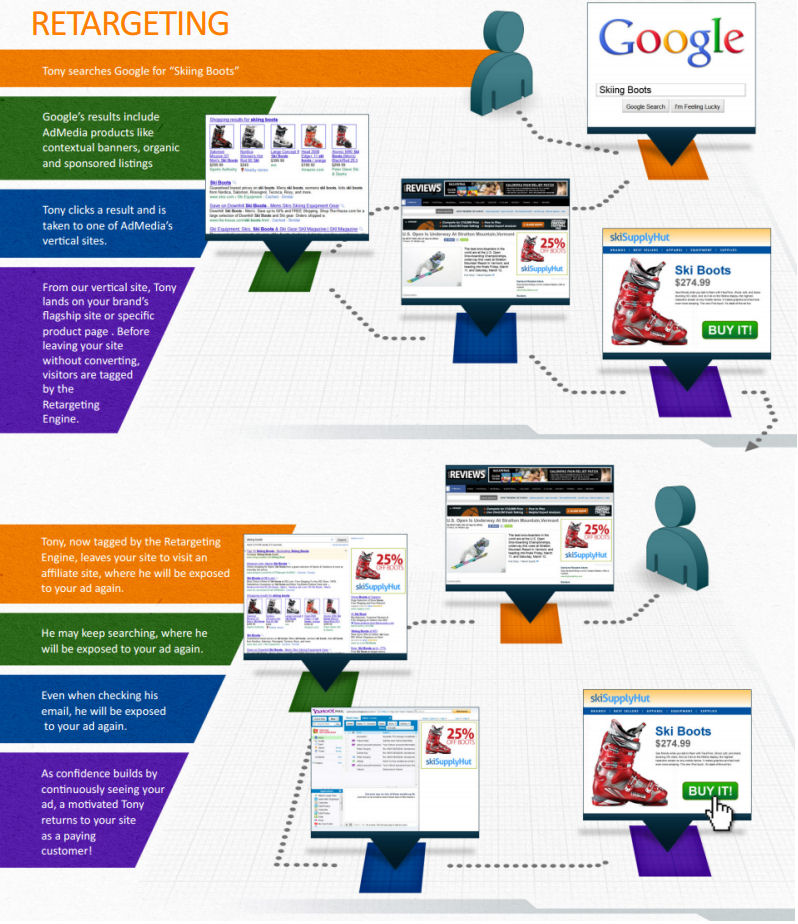 Remarketing has all the user-friendly features and benefits to become the popular choice for all companies across the internet when it comes to online marketing campaigns.