Ever wondered what your users actually do when they arrive on your website? Hopefully the very first thing they would do is to read your latest article and preferably leave a comment, lol. So let's say just for the sake of argument that they did read your latest article and left you a comment, what next? Did they leave, or did they "clicked" on something else? Would it not be helpful to know what they are actually "clicking" while they are on your site and visualize how your visitors navigate on a given website page? I think yes, and that would be a real valuable information.
User behavior can be very tricky and it is likely that they vary from website to website, as websites have different structures. One question that I always had was, where and what do my actual visitors do after they finish what their original intention was. Questions like, do they click on my "most" popular post, navigation bar, ads, etc., or what interest them more, has been in the back of mind. Those questions remained really unanswered, until, Google's In-Page Analytics comes into play. Still in beta, this tool is not new (launched October 2010) and while this is so, I had the impression that in earlier stages, there was not enough data for me to analyze to have a near to accurate reading on my users behavior when they visit my website. Well, all that has changed.
Google In-Page Analytics
Google analytics for most of you is not new and I am sure that you are using it to your benefit already, specially if your are conducting some form of business online. Google analytics provides you with several information that allows you to analyze data, such as, where your traffic comes from (direct, organic, referrals, etc.), top pages, entrance and exit urls, keywords, page views, unique visitors, time spent on your site, among other things. To access in-page analytics, just log into your account, select content and hit the in-page tab.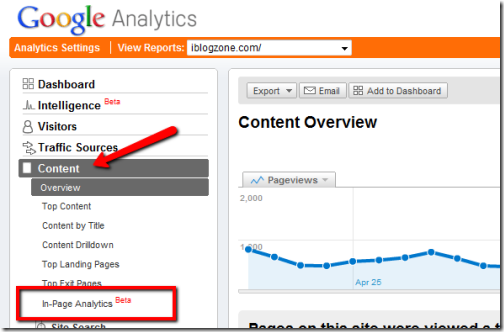 Many marketers will suggest you how to design your website and where/how/what (if any) should you be putting your AdSense ads, widgets, ad spaces, navigation bar, optin forms, etc. The so called heat maps available out there are only a "general rule" and not specific to your website. So it may work for some, but not for the other. In addition, it is also interesting to know if any of your "widgets" are actually drawing any attention, because it might just be occupying space, hampering your page loading time, etc, of which your users are not really particularly interested in.
So what information does Google In-Page Analytics Provide?
Your own personal "heatmap" that shows you in a form of percentages as to what your users click the most in your website. Google In-Page analytics will provide you with average information regarding your most clicked links. Hovering your mouse over each element reveals the overall percentage and number of clicks that particular part of your website section has been clicked on.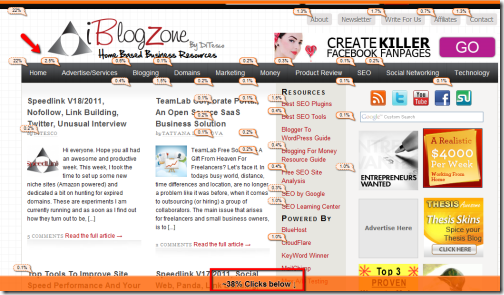 For as long as you logged in your Google analytics account, you can navigate throughout your website as you would normally do and find information about how many clicks you received for each element, and with this get an indication of your users behavior. This is absolutely great information you can use to see what you can leverage upon on the content on your website.
For example, based on my most recent analysis, I discovered that very few of my visitors click on my "top commenters" widget. Then again there is an answer to that. My top commenters widget resets itself every 30 days, so I am assuming that I will never see if they get clicks or not. Regardless, it is my way to reward my commenters, so that stays there.
Further analysis reveals that all of my popular post, most viewed and users favorite posts are often clicked on, meaning that users generally like those section of my website. What's interesting is that they are all "under the fold", which means that my visitors go all the way down my pages and this is good indication for me ;-). According to Google's in-page analysis, I get a 60/40% of clicks (homepage), split between above and under the fold. Also, it is clear that the article section of my site is the one that gets most of its attention (good again).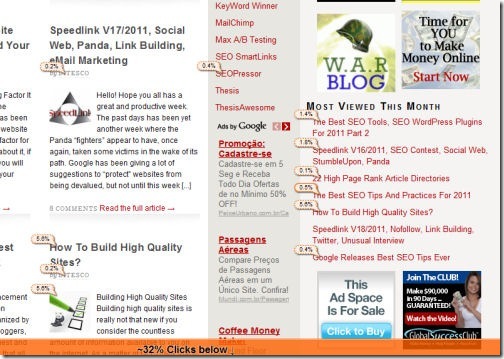 Curious is my navigation bar, where homepage "button" aside, the most clicked is the "advertise/service" category. All other categories are not clicked that often, which leads me to believe that it requires some attention. In addition, my about link, write for us, and contact page are also getting some attention. And you can see where I am going with this. In my case, I most likely will have to review both my advertising page (more compelling, include all services that I offer, etc.) and navigation bar. All in all, it appears that clicks on my site are quite well distributed, and that's actually pretty good.
Use Google In-Page Analytics To Go Deeper
Another example, going deeper into one of my most visited post (organic traffic), Best SEO Plugins, I noticed that the user behavior changes a little bit. Most of the clicks happen above the fold (75%) and very few after that. Internal links are highly clicked upon and this is where search and subscriptions increase in comparison to my homepage. Since this page is highly ranked on Google, among other things, this is telling me that users who land here, probably liked what they read and are looking for other related articles. After they leave as very few click on the "homepage" button on my navigation bar.
Anyway, there a lot of things you can analyze with Google In-Page analytics. Following below is a video presentation that provides a more detailed information about what you can do with this powerful tool. As for me, it has already given me some things to work at. Most of what I said above are examples of what you can do to fine tune your site. Remove unwanted links, widgets, ads, etc.. and replace them with something else. This really very useful to detect "movements" within your site and based on this make changes accordingly. Keep testing until you are satisfied with the results. All this can improve your users experience, page speed load time, and conversions too.
What say you? Have you used Google's In-Page analytics already? Take Google In-Page analytics for a spin and let me know what you think.