Writing good ad texts for Google Adwords is an art form. You must be very clear and exact when trying to convince Google's users to click on your specific ad. No matter how good you have been to choose the right keywords and making the right campaign settings, it will all be worth nothing if nobody clicks on your ad. But the goal of your ad is not just to get clicks. You want qualified traffic.
Qualified traffic are people that are likely to make a purchase, sign up for a newsletter, or whatever the aim of your ad is. At the same time your ad should also discourage people who are unlikely to become a customer from clicking. After all you are paying Google per click so why not try to make it as profitable as possible when using Google AdWords. A clear and precise ad is the key to a high click through and conversion rate. Here are some tips on what to bear in mind when writing your AdWords ads.
1. Who are your target group?
Before doing any work, you need to know who your target group is. Hopefully you know this already as your website should reflect this too. Are you selling toys for kids from 0 – 6 years for example, you property want to consider the following:
Should I target the kids or their parents?
Am I selling toys of a higher quality to a higher price – what does this mean for my marketing?
Are my toys ecological made and therefore aimed for people who weight this high?
You need ask you self these questions before you start writing your ads so that you have a clear picture of who your are writing for.
2. Use of keyword.
Use the keyword that your ad group is aimed for in:
The heading.
The ad text.
The displayed URL.
By doing this you ensure a high level of relevancy in both Goolge's and the searchers eyes. In the search results Google will highlight the keyword the user has searched for and it will therefore be easier to notice the relevancy of your ad for the searcher.
3. Make a precise and catchy headline.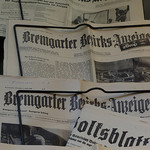 Your headline needs to catch your potential customers attention. Put yourself in her place. Why has she typed in that keyword? What does she expect to find? Why should she choose your ad compared to one of the other ads that are showing?
When writing the headline feel free to use all 25 characters (or as many as possible). It will often be a good idea to start with a "call to action" word, such as "Buy" for example, but only if you have room for an accurate description of your product or service in the last 21 characters.
4. The description lines.
You have two lines to make your potential customer an offer they can't refuse. It's a good idea if you split your ad text into minimum 2 separate sentences (each of 35 signs). Do not make a long sentence, which break over 2 lines. The reason is, that Google has two ways of displaying your ad (see the picture below):

In the first ad, the meaning has a tendency to get lost when the ad is written in two lines instead of one.
5. Write correct English.
Do not make strange contractions or abbreviations, because you otherwise can't find room for what you would like to say. The text will make sense to you, but properly not for a third person. Remember you only have seconds to catch the searchers attention. If they don't get your ad right away, they will be off to the next. So if you don't have room for all that you want to say, cut it down to the essentials.
6. Be honest – a way to get qualified traffic.
A way of getting qualified traffic is by being honest. If you don't have the markets cheapest tiers, then don't say you do. Don't say you have a large collection of jeans, if you only have black ones. There are two sound reasons why you shouldn't do this.
A) You build an expectation in you customers mind that you can't fulfill – and the customer will most likely not buy anything from you when they realize this.
B) You loose money. Every click you get in Google AdWords costs money. By getting unqualified visitors to your site, you are most likely to throw money out the window.
Another thing to keep in mind when talking about honesty is only to offer things that the landing page of the ad can keep. If you offer a large selection of shirts, then the customer should land on a page where you show all you shirts. If offer a specific DVD player to a certain price, then the customer needs to land on the specific page for that DVD player and find the price matching the ad.
7. Using the product price in your ad – another way of getting qualified traffic.

Another way to get qualified traffic is by using your product prices in the ad text. If you don't have the cheapest product in your niche consider writing "From $ xxx". This way you will scare discount hunters away. If you have a product that costs 99 dollars and all your other products are priced from 199 dollars and upwards, consider writing from "From $ 199" in your ad, unless you're pretty certain that the $ 99 product are what most people are looking for. Remember! You want to attract buyers, not just visitors. If you attract visitors by promising things you can't deliver they are most likely to be disappointed and disappear again.
8. What can you offer your customer?
Market positioning is an important thing of doing business, especially online where people only have a picture and text to get an impression of a product or services. People need to know where you stand out or what you are able to do for them. Therefore you should tell it to them. Explain the potential customer the specific benefits that you can offer e.g.
Large selection
Low prices
Free shipping
Fast delivery
Personal services
Great Offers/ discounts / savings
20 years of experience in the field
"Happy customer experiences"
Save Time
Get stronger
Earn more money
9. Use a "call to action" in you ads.
To get people to click your ad, it can be a good idea to use a sense of urgency and action words. When a person is searching for a product or services they are often in a sort of "information gathering mode". You want them to be in "buying mode". A way to do this is by using "action words" like:
Buy, purchase or get.
Order, call or sign up.
Try or download.
Read more or get info here.
See 2012 models or see colors.
Book or reserve you issue.
A sense of urgency can be created by using words like:
Now.
Limited offer.
By (date).
While it lasts (in connection with a sales price).
Only available until.
10. Make a good display URL for your ad.
As long as your actual domain name is included in the displayed URL, you can call your URL what works best for your potential customers. If the ad group contains keywords like "running shoes" then a potential display URL could look like this: "YourDomain/RunningShoes"
When a person find the keyword (or a synonym for it) in the display URL, the searcher will, all other things being equal, find your ad more interesting. In the end this will give you a higher click through rate.
Test is everything.
Regardless of you have followed all of the above tips, you need to test your Google Adwords ads to see which one is most suited for your business. Make two ads and let them be. After some time (at least a couple of 100 clicks) you should have enough statistics to know which ad are performing the best (the one giving the most and/or cheapest conversions). Pause the least performing ad, and make a new variant to test against the best performing ad.
UPDATE: Last week, Google hosted a Hangout answering questions from users. During the Hangout several known users form the AdWords community, along with Google's staff shared tips and tricks on how to use the network more effectively.
The Google AdWords Support team discusses advertising on the Google Display Network.