Landing pages generally have the specific purpose of prompting a certain action from a user, when they arrive a specific page of your website. Most of the time, the action that is called for is to either make a sale, optin for a newsletter, generate a lead, and many more. To capture the attention of a user, there is usually very little time to convince them to act upon a certain or desired action. This is the reason why landing pages should be created with a good and professional design, strong copy, among other things.
Now this is all easier said than done, as you really will need some good online business tools. Creating a professional landing page is not an easy tasks, specially when it comes to design. Product info, call to action buttons, optin forms, testimonial boxes, videos/images, etc. are just but a few things we need to include when creating a professional landing page. Fortunately, there are products out there that make this task a lot easier, thus freeing ourselves with the important tasks of generating traffic towards our landing pages.
With that said, let me introduce you to Hesham's (Founder of FamousBloggers.net) newest released called Product Skin. Designed to be used for the Thesis theme, Product Skin just like any other Thesis skin provided by Hesham, requires no technical skills. With simple drag and drop widget elements, you can have a professional looking product page in less than an hour.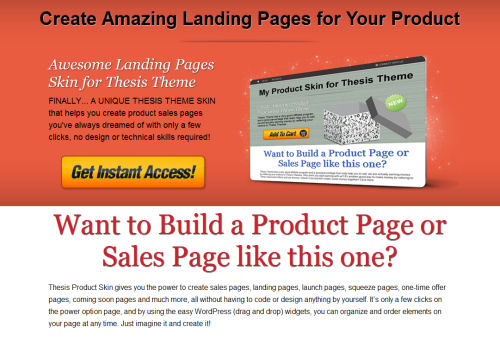 Product Skin, although tailored for marketing your products, can be used with just about anything you can think of. The limit is your creativity and imagination.
Here are some examples of what you can do with Product Skin
Landing pages
Launch pages
Squeeze pages
One-time offer pages
Optin Pages
Coming soon pages
And much more
Watch the video below to see how I installed the skin and created a demo landing page in a matter on minutes. This is a step by step guide on how to install and create a landing page with Product Skin. Right after the video, I have a surprise for you, so don't go away just yet 🙂
Product Skin Giveaway
[note]Thanks to Hesham for generously offering a free Product skin for one lucky reader of iBlogzone. All you need to do is ReTweet this post (use the Tweet button on the left bar) including #thesisawesome (hashtag at the end) and leave a comment with your "Twitter Profile ID". 10 days from now, the winner will be chosen via random.org. WINNER FOR THE GIVEAWAY WAS SHARON HURLEY, Congrats![/note]
One last thing, before I forget. Please remember that the product skin is for Thesis users only. For a limited time, Product Skin is bundled with the "Silver Skin", a beautiful skin you can use for your blog. Awesome!