Some 30 days ago, I shared with you how to create a niche website in less than one day. In that post, I showed you the exact steps on how I achieved this, by covering every aspect required, from the planning stage, keyword research, WordPress setup, up to the effective launch of the website. Back then, I also promised that I will be making an update of the experiment, as soon as one month has gone by. Today, I will be doing just that, give you an update of the project. Before I go further however, you may want to read that post first, in case you missed it. In any event, here's a quick recap.
The Project – Create A Niche Website That Offers Free Online Publications
Essentially, I created a niche website whose objective was to offer free online magazines, business publications, guides, white papers, reports, eBooks, etc., while getting paid for it. For this purpose I used RevResponse (reff link), a pay-per-lead program, in which all I had to do was to offer "free stuff" and get paid for each conversion (lead).
The Assumptions Of The Niche Website
Monetization: Aside from RevResponse, I decided to run AdSense along with it and elected to use only one unit.
Content and Posting Frequency: Excerpts of the digital content offered by RevResponse's vast catalog of free online publications. Planned to post two to three offers per week.
Marketing: Went solely for organic traffic and some occasional tweets using specific accounts. I planned on doing some minor link building through blog commenting, but I failed to do so. No excuses..
The Results
Traffic: Very poor. Main keyword for the niche site (free online magazines), although had gained good positions, as of today ranked #22 on Google. This is primarily due to the lack of any type of link building and more active online marketing, which I decided not to do. Anyway, I am happy the way the keywords I am targeting for are ranking, considering that the site has only been live for a little over 30 days. Still needs work though.
So, according to JetPack the website generated 244 visits. Main referral was this blog and Twitter.

Primary Keywords Position As Of Today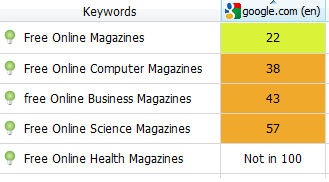 Revenue: AdSense $2,63 (2 clicks), RevResponse $43,25 (22 requests, 11 leads) = Total $45,88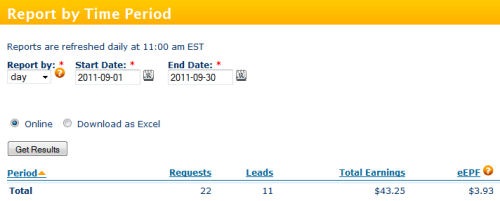 As you can see, the revenue is not as good as I expected. There are however some interesting facts about the first month of going live. AdSense, although bad, had a average CPC of $1,32 (higher than my initial predictions). RevResponse on the other hand had a CTR of nearly 4,5%, which is really good.
What Next?
Based on my initial plan, I have to admit that I am not very happy about the results. Nonetheless, and considering that I only applied basic SEO and near to zero online marketing, I feel encouraged to continue on with the project, only this time, applying the biggest challenge of them all – generate more traffic to the website. I believe that if I can increase the websites traffic, the revenue could increase accordingly.
Therefore, the plan for the next 30 – 60 days, in addition to the initial strategy, will be to apply the following:
Basically, all of the above should help Free Online Magazine's traffic increase a bit. We'll see how this goes and expect another update about this in the near future.
That's it! What do you think about the experiment? Do you have any suggestions that you feel can "boost" the traffic performance of the niche site. What do you think have gone wrong? Your opinion is important, so fire away. Thanks!