I have always wanted to install a local WordPress copy on my PC and have been having a hard time doing it. Reason being is that I am not a tech savvy guy and most of the tools or tutorials available out there can be too complicated. I wanted an easy solution, one that does not fry my brains out, and if at all possible free, why not? Thanks to Lisa of 2ceateawebiste, my quest for searching the near to perfect solution has ended. She introduced me to Instant WordPress, a powerful WordPress tool, that made me say wow. After installing it (no brainer), and giving it a test run, I changed my mind and said to myself – triple wow!
Anyway, before getting into the nuts and bolts of Instant WordPress, let's look first at some reasons why you may want to install a copy of WordPress on your local computer. I am sure that there could be a lot more reasons, but over the top, these are what I can come up with:
You don't need to have a domain name or web server to run a WordPress site in a local environment. This is ideal when you want to test WordPress themes, plugins, and changes you may want to do in your site without doing it live. Think of all the mess you can avoid :).
You may want to create some video tutorials about a lot of things. An example can be a video on how to install and configure a certain plugin. The advantage of being able to create videos with your local PC is that you don't have to rely on an internet connection. Some weeks ago, I was having problems with my connection and while preparing a video, I has to stop it somewhere in the middle because my connection decided to take a break. Wasted time and effort.
If you provide WordPress services, you can easily show a client or potential client, how their site can look like, among other things. You may even want to give them a "test" site for them to play around with. This is great to boost their confidence in a lot of things and is also a good "training" environment for them. This can avoid you the headache of having to "redo" everything if they for reason accidentally damage their live website.
You may want to "replicate" an existing website to another and avoid all the process of spending time to tweak, and configure a new site. This is actually a time saver, if you create niche sites
And, as I said, perhaps many more reasons…
About Instant WordPress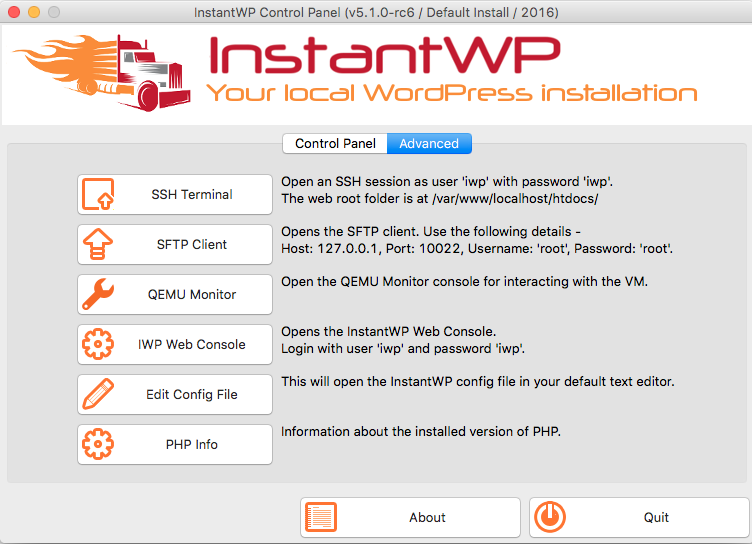 Instant WordPress is just as the name suggest. It gives you the full power of WordPress, in a local environment, instantly. It allows you to do everything I mentioned above easily and quickly without having to worry about the technical aspect of it. Installing Instant WordPress is as easy as downloading it, skimming a bit through the documentation, and you are good to go. Now for the best and most awesome part of this tool, it runs on a USB Stick! That's right, portable WordPress (link to YouTube – same as below) at the tip of your fingers, a complete standalone solution. It comes with WP 3.2 version, Apache, PHP, MySql and dummy content. All this without messing with your PC's configuration (like registry for example). It runs on its own.. How cool is that?
Watch the video below for an example (quality is not top notch, sorry)

Alright then, I won't try to push you a lot more into using this tool. I am not getting paid to write this post and there are no affiliate links either. I am just amazed that such a powerful tool is free and only you decide whether you want to use it or not. If you are looking to install a WordPress local version in your PC, I can't think of any alternative right now that beats this one.
What do you think? Is this something that you can put into good use? What other reasons can you think of that warrants the use of Instant WordPress?
BTW, web developers can stay productive remotely from anywhere by moving their web development and designing environment into the cloud having endless hosting space with excellent tech-support from Apps4Rent.com and to get access to your complete office suite visit O365CloudExperts.com.