Not so long ago, I have provided a step by step tutorial on how to build a niche website in a very short period of time. Granted, one of the recommended requirements to do so is by getting yourself a domain name and a web hosting provider. The investment in a domain name is really minor compared to that of web hosting, and if this is what's pulling you back from moving forward, here's some good news. I will show you the way to getting a fully loaded, no gimmick, no fees or anything related, free web hosting account that runs in the cloud. How's that sound? Interesting? Read on..
HostZilla's Free Cloud Web Hosting

Having received an email from them about their service, I immediately got intrigued as that "free" word was there. I am all in for experiments, so I went over their website, perused it a bit and bam, I said to myself, nothing to loose. I have some unused domains anyway, so why not give it a shot. With that said, I created an account, went to the order process and selected "free". And, that's about it on creating an account. After that, I logged in my cPanel account, installed WordPress and all other essentials.
What Does The Free Cloud Hosting Include?
Everything! Yep, from cPanel, to unlimited bandwidth, fantastico installer for WordPress, unlimited mySQL databases, domains and add-ons, email, website builder, the whole shebang. This is nothing close to WordPress.com or Blogger, or any other free hosting accounts. HostZilla's free cloud hosting has the exact same features as a normal shared hosting account, with the difference that it cost nothing. Hard to believe, right?
Right, because there is a but, and there is always a "but" does it not? And the "but" is that, the free account is limited to 100mb of disk storage space. I know what you'll say, this is hardly enough, but before you start complaining, it really depends on what you are thinking of doing. Unless I calculated it wrong, with 100mb, you can have something between 50 – 100 pages of content in there. Also, this space should be good enough for static web pages, small niche sites or landing pages ;-).
If your site will use primarily text, run on WordPress, a decent theme and the essential WordPress plugins, this should suffice, at least to get you jump started. Most of the time, large images and videos are the culprit for taking up space, so rather than uploading it to HostZilla, use free online storage sites, such as JustCloud, DropBox, Amazon Cloud Server, and Microsoft's SkyDrive. Those three combined can get you more than 20gb of space for your media files. If they are great videos, heck use YouTube, and embed it in your site, lol.
Anyway, if you do ran out of space quickly, either your site is doing well (which is good news) or you have tons of crap in there. Let's assume the positive and say that your site is doing well and you need more disk space. For that matter, you should now be able to afford a Premium Hosting and all you have to do is upgrade your account. HostiZilla's Standard Premium Hosting is ridiculously cheap. It cost under $60 a year and aside from the limitation of disk space storage being lifted, you get more features like double your CPU resources allocation, etc.. Heck, they are cheaper than my current provider and it is a cloud server. Fast!
My Experience With HostZilla
Hmmm, not much to say for the moment as they are relatively new comers and I just created a site with them about a week ago. So far, I am very satisfied and do not have (yet) any negative remarks. I did ran into a small problem because of the name servers, but I used their live chat support and I got help immediately. How's that for a free account 🙂 Oh well, my initial assessment could change in the long run, but for now, thumbs up.
Anyway, the site I created and hosted with HostZilla's free cloud hosting is FreeCloudApplications.net. The very first post is, guess what, HostZilla's free cloud hosting (did not have that much of imagination, lol). So far, everything is looking good. Googling for the term "Hostzilla Review" shows that three out of the first five spots are related to my site. Not bad.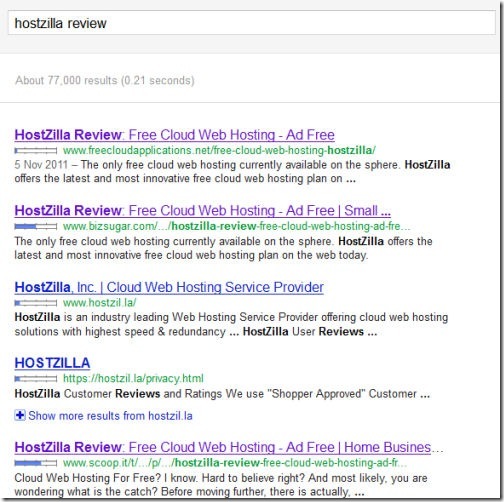 On a side note. Note that aside from BizSugar, Scoop.it, the content curation tool I am using, suggested by my friend Ileane of BasicBlogTips, is right there, so something to think about for your SEO. Also, note the date.. that's Google fresh in action. How long is it going to stay there I don't know but being there has its perks.
Which leads me to another thing… HostZilla has an affiliate program too. The commissions are not as high as its competitors, but then again, the services they offer are cheap, and that could lead to higher conversions. The links contained here in this post are my affiliate links, but, unless you purchase right out from those links, I don't get paid. If you decide to go for the "free account" and later upgrade, I don't get nada, shhh. That's the bad part of it. Anyway, it is also an income opportunity and if you are wondering, YES, I already sold one… woot

That's it. The whole point of this post was to provide you with that (probable) missing part of what you need, to go and build your niche site, or whatever other online venture you are thinking of. There are many niches to explore. You can create a landing page for your product, a squeeze page for a contest, a landing page for renting your luxury apartments in Atlanta, anything. Now you have everything you need to build your website, establish an online presence, or create that niche site you are so wondering if it is going to be a success. No more excuses!
Now, if you are really a total noob on WordPress hosting and don't know how to create one yourself, I just my free WordPress setup, o head over there to learn more about this offer.
So what do you think? Have you heard about HostZilla before? Do you know of any other provider that gives you free cloud hosting?