Now that you have done a great deal to improve your search engine rankings by implementing the best SEO practices, it is also wise to regularly monitor your progress to see if your SEO campaigns have been paying off. If one of your objectives is to have a successful business in the online market, following your SEO movements should be a part of your regular activity, to ensure that your goals are being achieved.
There are several ways in which you can do things on your own. However, doing things and doing it properly are totally different issues. SEO although not complicated, can be time consuming, requires constant course of action and yes, regular monitoring. As I said, you can do this is a variety of ways but you can certainly ease the process by using services or effective SEO tools that are available to you. That said, here are the tools for the trade.
Free SEO Reports
HubSpot's WebSiteGrader: One of the "oldest" services around. Website Grader's free SEO report requires only your email and does a pretty good job in analyzing your website. It analyzes how well your website doing? It provides some problem areas to take action upon, and it also analyzes how popular your website is in social networks, such as Twitter. Ultimately your website gets graded with a score, 100 being perfect. Congrats if you hit that mark 🙂

As you can see above, I still have to work my way to that perfect score :).
DIYSEO: DIYSEO free report card is similar to HubSpot but grades your website based on a specific keyword you choose, the one that you really want to rank high on. In addition, you are required to submit your email and add at least one URL of a competitor to make it work. DIYSEO grades your website using 21 different factors, including actual rankings on Google, Bing and Yahoo, your trust metrics, inbound links, on site meta data, page speed loading time, and more. They use "emoticons" to grab your attention, green being "smilies" (good) and red being "frownies" (needs work). Perfect score would be an "A".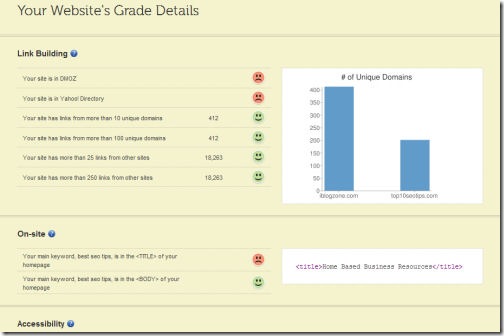 OK, I got a "B", but if you analyze the why, then you can either live with it or not. In my case, I got flagged for not being listed on DMOZ and in Yahoo directory. I can live with that, lol. BTW, DIYSEO allows you to generate as much reports as you want, and has also a premium service where you can do and learn a lot about SEO.
FreeSEOReport: I found out about this service from my friend Hesham of FamousBloggers.net. You are encouraged to also view his opinion about this service as he provides a greater detail about it.
Anyway, and as you may have guessed, FreeSEOReport (referral link) is also quite different as it presents its results via a PDF file that is made available to you once you log in your free account. It is an easy 1-2-3 step process and the results are amazing. Your first report is free and if you want more, you will either have to pay for it individually or upgrade your account.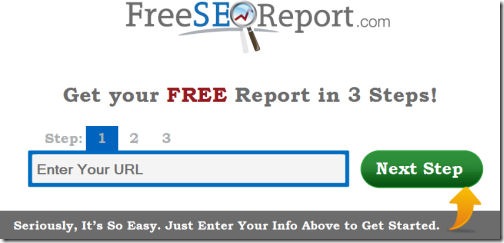 Hint: Read exactly what you get for a premium account. If you use your imagination, you may even make some profit out of it (maybe more on that on a different post).
Free SEO Tools
Microsoft SEO Toolkit: There is really no excuse if you have not yet heard about one of the best SEO tools available at your fingertips for free. The only requirement you need here is to have any Windows OS (except XP) installed on your PC and you are on the go. MS IIS will sweep your website and conduct a full site analysis that will blow you away. It literally does an audit of your website. Didn't know you can do this for free, did you? Anyway, I will skip the details here as I have already presented this tool before. Head over to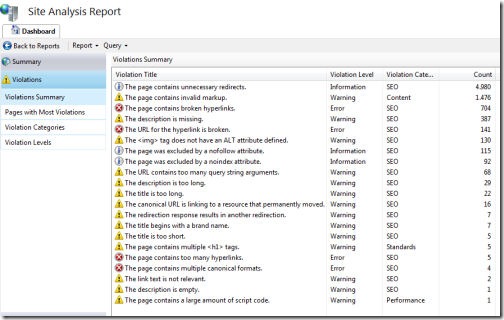 KPMRS: This is a very simple yet powerful SEO tool. What is does is tracks the movement of your rankings for up to five keywords of your choosing. Instead of looking up everyday for your positions in search engines, KPMRS sends you an email whenever it detects a change in position, up or down. The free version allows two domains with five keyword each, so you should be good with the free version. I also have presented this tool way back, and you can find about it in this post on monitoring your websites keyword rankings and website keyword discovery tool.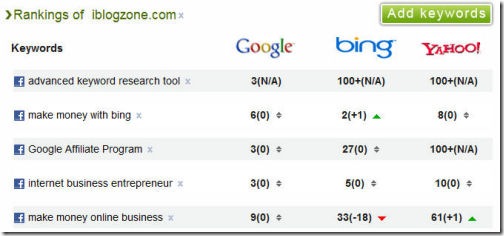 Which one should you use?
If I were you, I'll use them all. Heck, they're all free :). Just kidding. Anyway, as you have seen, each one of them has uses a method of analysis that differ from one another, although there are some commonality among them. Generate your reports, analyze each one of them and see where you stand at. If you notice that the same problem shows up on all or several of them, then you know that it is something that should take action upon. Other than that, I hope you find the results you are expecting. If not, don't feel bad about it. See what has to be done, and do it.
That's a wrap. Do you know of any other service that offers a free SEO report? BTW, I deliberately left Google's Webmaster Tools and Bing's Webmaster Central aside. They are, as you know, also great tools that provide important information to help you improve, among other things, your SEO.