Making money online is not as easy as what many people out there lead you to believe.Then again, it is not that complicated either. Sometimes you just need to use the right platform. As a blogger, one of the things you probably should already know is that there are many ways to make money off your blog. Private advertising for example is one of the most lucrative, but it is also quite difficult in landing opportunities.
It is with the context of working with the right platform that I am happy to interview Johannes Stoermer, country manager for teliad.com. Johannes shares with is today some of the new features, advantages and disadvantages of teliad to advertisers, and explains why, as a blogger, you should seriously consider working with them.
On with the interview…
Hi Johannes, thank you for being here with us. Please tell us a bit about yourself and what you do?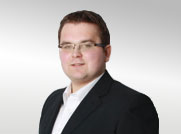 Hi – my name is Johannes, I'm a country manager at teliad.com responsible for all our English speaking publishers and advertisers.
I joined teliad back in 2012 and have been enjoying the work with bloggers and clients from around the world. I've lived a good part of my life both in the U.S. and Germany.
Please introduce teliad to those who don't know them yet
teliad is an international meeting place for advertisers and publishers. Bloggers and webmasters can monetize their sites and blogs with different types of products while advertisers use teliad to improve their brand's visibility online.
teliad has been around for quite a while. When did everything start? How did the platform evolve?
Yea, from an internet company viewpoint, teliad is quite old as it was created back in 2005, where we started out in Stuttgart, Germany only offering Text Links. teliad soon expanded into other countries including France, Spain, Italy and the UK / US and added new products and features. At the moment teliad is available in 5 different languages and has offers from 30+ languages.
How can bloggers and webmasters monetize via teliad?
Over the years, we have increased the products that bloggers and webmasters can offer quite a bit. These products consist of 8 different types which can be categorized into two different product categories:
Our classic products are:
Text Links – Normal links pointing from one page to another. Some webmasters do allow the content option, where advertisers can write additional content with the Text Link.
Post Links – Links pointing from one page to another within an already published article on websites that have a news feed.
Presell Pages – New sub-page with unique content created by the publisher.
The other 5 products are our content products. We initially started out with Blog Posts but noticed that advertisers and publishers alike needed to diversify the type of content with different products. We therefore, just recently, added 4 new content products, which in addition to Blog Posts include:
Blog Posts – General articles on topics predetermined by the advertiser. These are published as authentic blog articles by the blogger.
Advertorials – The content is written by the advertiser and published by the blogger. Advertorials are marked as sponsored articles. Advertorials also include a guest article option which includes a link to the author's Google+ profile.
Infographics – Consist of explanatory, creative and engaging image files. Advertisers usually want you to talk about the graphic by writing a small paragraph explaining it. The focus lies specifically on the actual graphic though.
Video Marketing – More and more advertisers want to communicate their message and brand with multimedia. Advertisers provide the video file to the blogger and usually want a small piece of text with the video (e.g. personal thoughts)
Press Releases – Publications of company news which can include one image file (e.g. company logo). The content is written by the advertiser.
How do you determine which bloggers get their offer accepted on teliad? What is the quality criteria?
We're very strict when it comes to accepting offers on teliad, as we have to make sure that our advertisers only find quality. All sites and blogs who want to offer products on teliad are reviewed manually. This means that we have a team that reviews every site individually before it is accepted on teliad.
Quality authentic content which is updated on a regular basis is very important. Visibility on search engines and a strong social media following also helps to get your offer accepted.
Compensation is always an important factor for webmasters and bloggers. How do the prices get calculated at teliad?
Our publishers have a price range in which they can choose a price for the offer. The price range is determined upon a variety of factors such as domain popularity, number of external links, social media reach, etc… Visibility on search engines is also taken into account, for this we created our own visibility index back in 2011 which consist of the RankingScore and RankingIndex.
What are the advantages and disadvantages (if any) of advertisers using teliad?
Some of the advantages our advertisers have on teliad:
Extensive Keyword search and filters to find the right sites for your projects.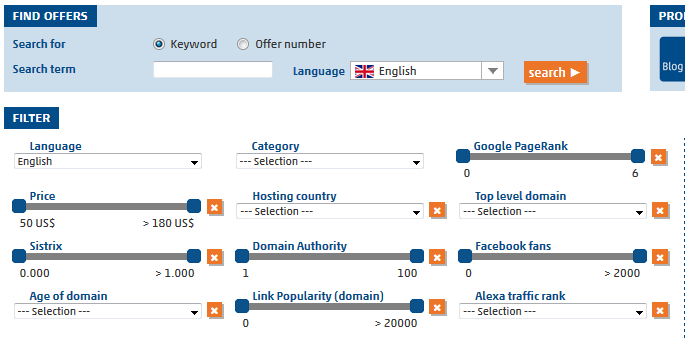 All the important metrics can be seen in an offer. E.g. Page Rank, Domain Authority, Webmaster's description, Social metrics, etc…

International pool of publishers – more than 8500 bloggers and 30000 webmasters
Real individual bloggers who write real content.
Blog marketing and link building services done by our SEO experts
Of course, just like everything else, teliad isn't perfect. There are also disadvantages.
As everything is integrated manually by webmasters, there is always the chance of human error – meaning simple human mistakes. Manual integration is an important part of building links correctly, as we believe in manual unique content and integration by the publisher.
We always have an open ear to constructive feedback from our users, as we want to continuously improve our platform. In fact our recent update had tons of new features which our users requested.
Google has been going crazy after "link networks". How does teliad differ from these networks?
Fair question. We don't consider ourselves to be a link network simply because all of our publishers are individual real human publishers. Let me answer that question with a couple of brief facts:
teliad has an anonymous portfolio. No publisher URL is shown until an advertiser makes a serious offer.
High quality threshold. Each site gets reviewed manually before being accepted on teliad.
Advertisers and publishers can choose to book or offer nofollow or follow links.
Publishers can reject any bookings. They have complete editorial control of their site.
Real content from real webmasters.
Integration of normal HTML code – no extra unnecessary code
Once again, thanks Johannes for taking your time for this interview. I believe that you have explained well the benefits of working with teliad for those who are quite new to your services.
If any of you have any questions that you wish to ask Johannes, I am sure he will be more than happy to answer them.