A lot of things to drive more traffic on your site has already been covered by many authors on iblogzone.com. I am trying quite hard to think if we (me included) have ever mentioned a way that can boost your traffic, increase social engagement and more, while having a bit of fun on the way. Hmmm..
Anyway, if you are interested in knowing how you can have a bit of fun in hooking up your visitors while they land on your page, and within the process get more social social shares, one great way of doing so is by creating quizes. Quizes, when done properly and creatively, entertains your audience and perhaps even gives a bit more of reason for them to stick around. Depending on your topic or business, a quiz that associates with whatever you are picthing can eventually catch many eyeballs and go viral.
With that said, the next obvious question is how to create quizes easily and beautifully, in addition to having all the necessary features that helps building a quiz without going crazy? Well, if you are using WordPress, you are in luck. Quiz Cat from FatCatApps.com might just be what you are looking for.
So What Is Quiz Cat Anyway?
As its name suggests, Quiz Cat is all about quizzes. It is a powerful WordPress Quiz Plugin that lets you create quizzes effortlessly. Quiz Cat simply put has all the necessary features that will have you creating quizzes in no time. Install the plugin, activate it and start buidling your first quiz in a couple of minutes.
What Are The Interesting Things We Can Do With Quiz Cat?
Create Viral Test: Build fun tests that assess a person's knowledge. Examples are "Can you pass a U.S. citizenship test?" or "The Ultimate Star Wars Quiz – Are You A True Fan?".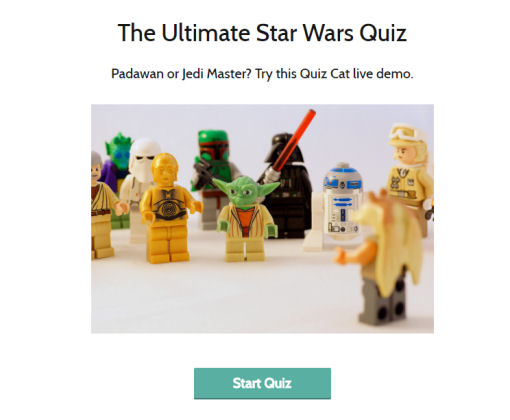 click here for a demo of the star wars test quiz
Create A Personality Quiz: This type of quiz generally gets people attention as they are quite fun to answer. Example include creating a quiz about "Where Should You Go On Vacation?" or if you want to go a bit technical, say "Which WordPress Host Is Right For You?, quiz.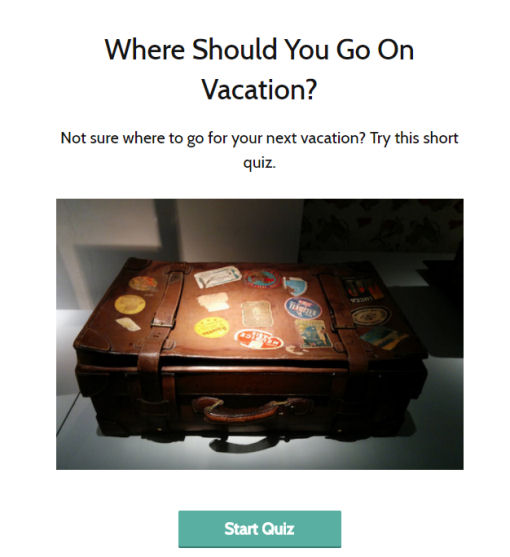 click here for a demo of where should you go on vacation quiz
Boost Social Shares: Quiz Cat lets you take a page out of the playbook of high-growth sites like BuzzFeed and the Guardian. With their built-in social sharing feature, you can get more traffic and perhaps improve your rankings. Example after concluding the ansqers of a quiz.
Get More Leads & Email Subscribers: Quiz Cat lets you ask your users for an email address in order to see their results. Great feature if you are building an email list. Example after creating a WordPress host quiz.

Get Better Quiz Analytics & Insights: Want to know how people use your quiz? Quiz Cat lets you track user activity & results that can help you find hidden bottlenecks, which results are most popular and build better quizzes, etc.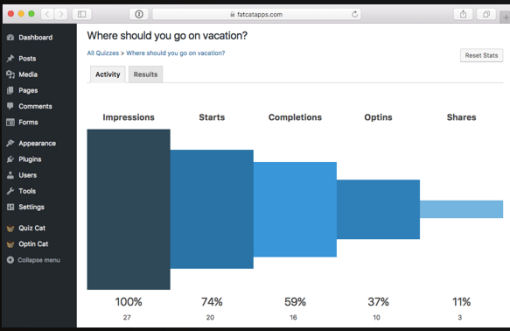 Save
Powerful Facebook Pixel Integration: Track Facebook ad conversion events & build powerful custom audiences with Quiz Cat's 1-Click Facebook Pixel Integration (need to install the free copy of the Facebook Pixel plugin.
As you can see, there are quite a great number of features. To view them all and to see more great quiz demos, please go here.
Free WordPress Quiz Plugin?
Oh yeah! If there is something about a premium plugin that I like best is when they provide you with a free working version. It gives you that sensation of "try first before you buy" policy. This allows you to give the product or service a whirl first, make an informed decision and finally get the premium version. Obviously, the premium version of Quiz Cat is worth the upgrade, but nonetheless, if you are a skeptic one, try the free Quiz Cat WordPress Quiz Plugin.
Installing the free quiz cat plugin
Install the plugin just like you would do any other WordPress plugin. Once installed, activate it. You will see a new "Quiz Cat" link on your WordPress Backend. Click on the "Quiz Cat" menu item and you will see a Welcome screen. There is a "Connect Quiz Cat" button that connects you to them to enjoy better all of their features. I suggest you do connect.
Click on the "All Quizzes" to create or view your quizzes
From there, start creating your new quiz. Here's a video demo from FatCatApps themselves. No point of creating a new one when they already have provided a great tutorial on how to create
There you have it. Quiz Cat is a great quiz builder and one that you should seriously consider using if you are looking for a fun way to increase user engagement and everything else that comes with it. As I said, try the plugin first and then definitely go for the upgrade as soon as you feel that you need more enhanced features that are only available on the premium version.