Hi everyone! Hope you all had a great and productive week. This week, in an attempt to remind users about the importance of the body of a content is, Matt released a small video with just his head. The message? Well, the content has two main elements, the head and the body. While the head is important, Matt says that you should also think of the "body" itself. Hmmm, do you think that message came across and will it work for small sites to rank well on SERPs? Matt did mention that they small sites can outrank big sites.
Is SEO The Future?
In an article by Duane Forrester this week on SEJ, he answered that SEO is not the future. Essentially, what Duane said is that SEO is no longer and "option" but rather part of the foundation of any website.
SEO is a combination of technical work at the site code level, content management at the editorial level and usability work, often spanning both of the first two areas. It's the basic work that needs to be done today. Table stakes, if you will. You cannot sit at the poker table without putting money on that same table.

So, SEO is foundational work sites need to engage in – that's been clear for a while.
What do you think? I am quite inclined to agree with what he is saying. Just don´t forget about the "body" of the content as Matt mentiones above, lol. Here´s the full article from Duane.
And finally, for those of you who are using social media to increase your traffic, here´s Shareaholic´s latest report, on four months of data collected from 300,000+ websites which reach of more than 400 million unique visitors each month.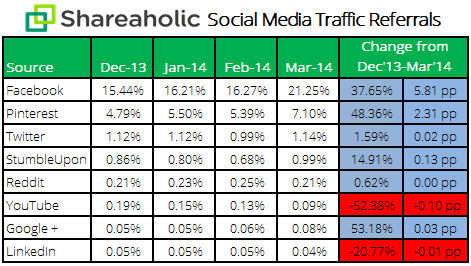 How does Google choose titles for search results?
And an added bonus for this week. Matt answers an interesting question…
"What criteria does Google use to change the title it shows in the SERPs depending on the query? Does schema influence that? Maybe headings (h1, h2..) have more weight?"
And as usual, in no particular order:
Content Creation & Marketing/SEO and Search
Social/Small Business Bites
Facebook Announces Anonymous Login, More Data Control For Regular Login [f8]
More from around the web…
That's it! Enjoy and have a great weekend!