A little over a year ago, I took a look at WebMeUp's all-in-one SEO software, and at that time concluded that it was a very interesting tool to take a shot at, considering the features and services that it offered. Fast forward one year and the updates and additions are overwhelming. The sheer amount of updates and additions are such that it prompted me to look into the tool again and see what's new and rockin'.
In any event and to avoid having to repeat all over again, I suggest you reading the previous WebMeUp review I wrote about before moving forward or take a look at the following video to have an idea of what the tool is all about and how to get started. If you are already familiar with the tool, just skip them all together and read on…
First let's look again at some of the main features:
discover keywords and check rankings
competitive discovery tool
check ranking factors (e.g. Google PR, Alexa rank, number of pages indexed in different search engines, social media mentions, etc.)
optimize site structure and encoding, do on page optimization for the content of landing pages, etc.
find backlinks, rankings, ranking factors and other info about your competitors
find and manage your backlinks
run an audit of your website and your clients
community forum
Link Cleanup tool
Create reports
and, lots more…
So what Changed?
As I mentioned earlier, the amount of updates have been constant since my initial review. From January 2013 up to today, there has been many improvements and additions to the tool, some of the most noteworthy IMO are:
Data export to CSV. It is now possible to export several groups of data from WebMeUp projects.
Report white-labeling. Users can now brand reports with their company names and logos. It is also possible to connect WebMeUp to your mail account and send reports from there.
Google Analytics integration. Users can now pull several traffic stats from their Google Analytics accounts.
Social Media module. You are now able to analyze your site's social signals and compare to social media traffic. This module is integrated with Google Analytics, so that you get even more insights from your social media campaigns.
landing page optimization module has been redesigned and its feature extended. One of the main improvements include the possibility of choosing which of your target search engines you want to optimize for. Before it was set to Google by default only.
Added new SEO factor (domain strength) to help users assess the ranking power of their websites and competitors. Domain Strength is a modern replacement of the Total link value factor that was used to assess a websites authority on the Web. This is good to analyze your sites link profile.
and my absolute new favorite, the Backlink Tol checker and the crucial Penalty risk factor tool which shows you how dangerous a backlink looks in the eyes of search engines and how harmful it might be for your site rankings and reputation. Great to clean up your link profile and/or prepare that disavow list to send to Google. See below.
For a complete list of changes and improvements made to WebMeUp's features, go here.
The Newest Cool Tool and Feature
Backlink Tool (free)
Did you notice that magic word? Yup, the new and awesome backlink checker tool from WebMeUp is completely free. And if you are thinking, so what, you should know that it will check up to 1 million backlinks for free. That is absolutely insane if you ask me. And yes, you also have the possibility of downloading all those backlinks to a CSV file for later use.
Here's a quick glance of the backlink tool. Just enter any URL to get started: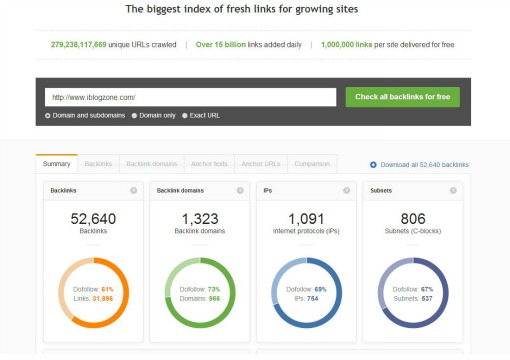 And from there just hit the tabs to see more details and in-depth info about your backlinks, anchors, etc..
Link Clean-Up Feature
You all have heard about the changes Google has made with their algorithms. Essentially, one of the things they are looking into more closely right now is your link profile. In an effort to fight SPAM, Google is simply weeding out bad or low quality links that point to your site and in the process hurting you. You may even get penalized for having a bad link profile and when this happens, you are left with nothing but cleaning them up. Sadly though, it is not an easy process and it all starts by identifying the type of links that you have. WebMeUp makes this process a lot easier with their Link Clean Up tool. Just head over their page on how to avoid link penalty or recover from previous penalties
with the LINK-CLEANUP feature.
Here's an example of my latest check on bad links. Fortunately, it appears that my link profile does not have the "dangerous" ones, although there is some work for me to do on checking the "suspicious" ones. Oh well!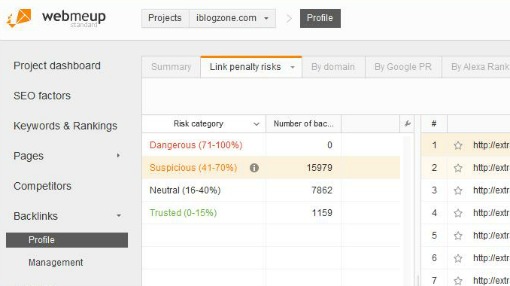 Plans & Pricing
Oh yeah, that too has changed. Last year during my initial review, one of the disadvantages I pointed out was that WebMeUp's pricing was a bit steep and probably would not be an option for many people. Well, now they have a bit more flexible pricing that starts as low as $19 per month. Not bad in comparison with some of its peers. Check out their list of plans, features and pricing to have an idea.
Convinced?
Well maybe you are not yet that convinced and if you are a bit skeptical about things, and sometimes you should, the best way to overcome this is by simply testing it out. WebMeUp offers a full free 15 day trial of their seo software. If you like it, continue on, don't like it, no worries and no money spent. What are you waiting for? Go give it a try and let me know what you think?
this post brought to you by webmeup.com