You probably have (or not) heard about a new search engine recently debuted that goes for the name of Blekko. To be honest, I am still not quite sure what to make of it but having had the time to research and play with Blekko a little bit, I found some features that could be of certain interest to some of you (specially SEO fanatics). This is therefore a small introduction to Blekko and you should know, before I proceed that one of my main source of information about Blekko came from an article I read on DotSauce.com.
[note]UPDATE: August 2012: Recently, Blekko announced that their SEO tools will be a paid service, as reported on searchengineland.com. If you are looking for other alternatives, try using Bing Webmaster Tools, or these ones here.[/note]
Here are some interesting "toys" that you can find on Blekko.
Blekko's Open SEO Data
Most likely the reason why I gave the title, All-In-One SEO tool, is because after doing a search on Blekko, you will find under the results, links that are worthwhile clicking at (see image below). The links are:
tag, SEO, links, cache, ip, AdSense, spam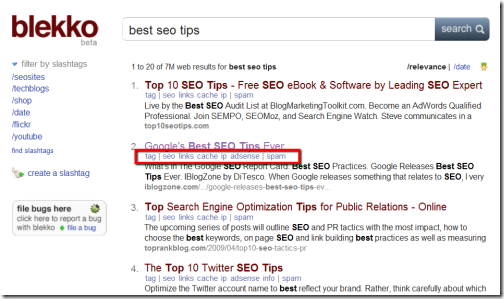 Accuracy aside, If you click on the SEO link you will be taken to a page where you will find many information regarding a websites data. Note that under normal circumstances, you will either need a "special" software or several tools to get these type of information. The closest I can compare to get these type of information will be that of Alexa, but with some differences. Anyway Alexa is not in play here, and following a search performed on Blekko, the SEO data that you can access to with a single click are, hostrank, inbound links, site pages, crawl stats, duplicate content, charts of links by country, state and more.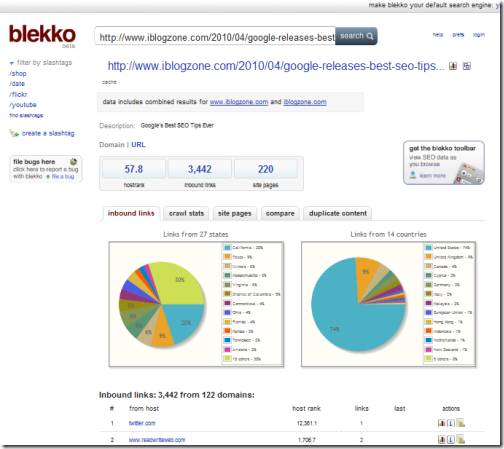 These are information readily available to a user and with the exception of HostRank, which I do not know exactly what it means, all other data can be used to analyze competition, your own pages, etc. I used Blekko to find out "what is HostRank" and the result it gave me on the number 1 position is pointing to a "parked" domain, so that's that :). Another thing I still figuring out is understanding AdSense link. Hovering on that link will reveal the publisher ID and right now I am not even sure if that is good or bad.
Blekko's Slashtags
Hopefully DotSauce.com won't mind me using an excerpt of their post and I encourage to read the full story about Blekko on their website to find out more about the slashtag feature, and head back here. You can also watch a video demonstration of Blekko here (removed). As for the excerpt:
Blekko's premier feature is a query modifier called slashtags. These are custom made filters added to the end of your search that provide an extra level of refined results.

A directory of slashtags have been created to represent topics. A wide range of slashtags have already been added and users are invited to create their own. Here are some examples:

/technology – Results filtered to popular tech destinations
/health – Only known health authority sites are shown
/movies – Browse just the top movie information sites
/liberal – No articles from Fox news here
As you see, there are some interesting features Blekko offers and as far as their future is concern, it is still very early to predict anything. For now, I am not sure that Blekko will substitute my favorite SEO Tools, but for a "rapid" analysis, this certainly comes in handy.
As I said, this is just a small introduction of Blekko and I will be running my "experiments" to find more information about it. Questions such as, how to optimize for Blekko and if it is worth it, remains unanswered. While we are at it, if you have any particular question you want to ask, let me know so I can include this is my research and future posts.
So, have you used Blekko before? What do think about it?