Hi everyone! Hope you had a great and productive week. By now you all have probably heard of Google's new algorithm called Hummingbird. This new algorithm, which started to takes its flight, is literally making news all over the place, as SEOs have started to provide their insights about it. It is believed that the new search algorithm will be more precise and provide faster query results. Also, and for the SEO industry's delight, the algorithm is said to be based on semantic search, focusing on user intent rather than individual search terms (keyword based). If you want to know more about the Hummingbird, here's an article about it on SearchEngineLand. More below.
Interesting enough is that while Hummingbird has just been officially revealed, Matt yesterday already mentioned that Penguin 2.1, has been rolled out.
Penguin 2.1 launching today. Affects ~1% of searches to a noticeable degree. More info on Penguin: http://t.co/4YSh4sfZQj

— Matt Cutts (@mattcutts) October 4, 2013
Yep, another one. And it has been like this for the month or so. Actually, the "turbulence" in rankings as tracked by Algoroo, has been all but stable for the past month. Also, you may want to check out an article from CrazyEgg about "SEO in the Age of Penguin 2.0 and Hummingbird", and why you're doing it wrong.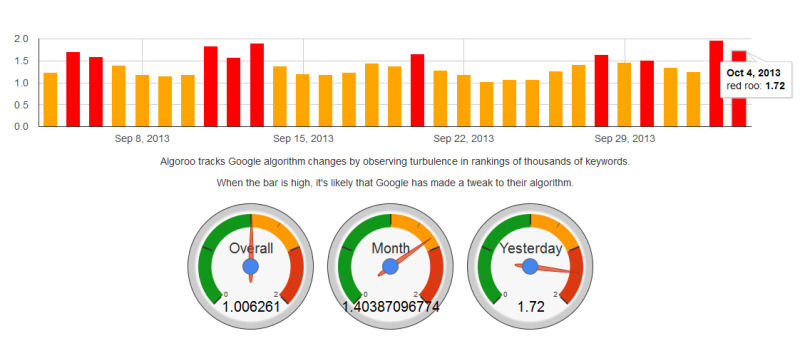 And, another from Matt. This time, he answers a question about whether or not internal links should have "nofollow". Hmm, the answer is quite interesting. Watch and let me know what you think?
What do you think of all these changes? Does this discourage you to keep up with the SEO trends?
Finally, and one important initiative from the EC, Open Education Europa has just been launched. Here's what they have to say…
The European Commission launched Open Education Europa in September 2013 as part of the Opening Up Education initiative to provide a single gateway to European OER. Find Open Courses, MOOCs and Open Educational Resources from all over Europe! Share you best practices with your colleagues and peers!
As usual, in no particular order:
SEO & Internet Marketing
Why Omitting Keyword Data Is NOT the End of SEO
Social/Blogging/Small Business Bites
HELP: When Spam Is Not Spam
More cool stuff!
Amazing Slow Motion Video of the Hummingbird
(Real one this time, lol)
That's it! Enjoy and have a great weekend!