We all understand the importance of blogging for SEO and generating website traffic and leads for our businesses. Yet many small business owners fail to update their blogs regularly with new content. It can be a challenge to come up with blog topic ideas and keep a blog updated multiple times per week.
Below are six detailed actions that you can take to build a killer editorial schedule for your blog. These tips will help you plan ahead and have content ready to go for weeks or even months in advance. A blog editorial calendar will also defeat those frustrating bouts of writer's block and enable you to keep posting that high-quality, fresh content that Google and other search engines love to index.
1. Hold A Brainstorming Session
The best way to jump-start your calendar is to brainstorm. Break out the coffee mugs and get all your ideas down on paper. No idea is too small or too strange, just let the ideas flow. If you work as part of a team, then bring colleagues into the mix. Keep a running list of all potential blog topics in a shared document in Evernote or Google Docs. Return to the list every few weeks to see if any hazy ideas evolve into more fully-formed posts.
2. Research the Competition
Find out what kind of content gets shared and linked to the most in your industry by going to Topsy and looking up common industry keywords. What kinds of posts are highly visible in this space? Are they predominantly short tip-based articles or longer involved tutorials? How are the blog headlines formatted? Do the headlines include numbers? Are the headlines short and to the point or more "punny" and humorous? Look for trends across the most popular content and think of these trends as best practices to emulate for blogging success in your vertical.
3. Consider Seasonal Trends and Events
When planning content in advance, think about those hallmark events or trends that occur throughout the year. If you are a retailer, then you may want to plan a special blog series leading up to the back-to-school shopping season. Perhaps there's a way for your business to put a fun spin on mass media events like the Super Bowl or the Grammys. What about big industry conferences or local hometown events that happen annually? Go through the calendar in this way and identify trends and events that you can use as anchors for upcoming blog content.

4. Build Posts around Long Tail Keyword Searches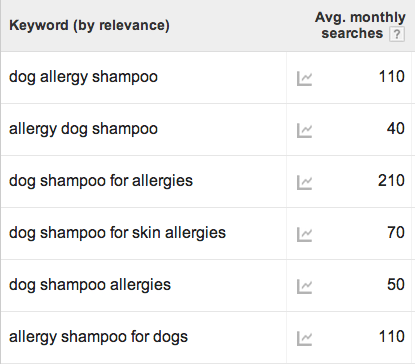 To attract more organic search traffic to your blog, come up with topics that answer long tail keyword searches. Use Google's AdWords Keyword Planner tool to find sets of long tail phrases with medium or high search volume. For example, if you owned a pet store, you could find out how many people search for terms around dog shampoo and allergies. You may learn that "dog shampoo for allergies" has a higher search volume than "allergy dog shampoo." Create a blog headline that incorporates the most commonly used search term and craft blog content that effectively answers the search question. This is a great way to win new visitors through search and then convert those visitors into customers by answering their questions.
5. Get Organized
Organization is key to a killer editorial calendar. If you are using a content management system like WordPress, you can save upcoming blog posts as drafts and enter in a blog headline, tags, categories, keywords, and even assign an author. Many bloggers also use a spreadsheet to manage this information. When working as part of team, dedicate one person to be the project manager for the editorial calendar. It will be this person's responsibility to keep the blog content on schedule, add new ideas to the calendar as they come up, and check in with writers about upcoming deadlines.
6. Outline
When you enter a new blog topic on a brainstorming list into a CMS like WordPress or onto a spreadsheet, leave yourself a trail of breadcrumbs so you can remember the intended focus of the blog post. If you found a study or article online and want to write about it later, then put a link to that study in the editorial calendar. Many times when you come up with a post idea, you can already visualize the subheadings within the blog. Capture those subheadings in drafts or on your editorial calendar. When it comes time to sit down and write the post, you will save time and eliminate writer's block by having a mini-outline and any supporting links ready to go!
What's your strategy for coming up with fresh blog content each month? Please share any tips in the comments.
image credit: income.com