The first step in any SEO campaign is keyword research. Keyword research powers every additional step in the research and analysis phase of the campaign and can have an impact on every bit of a brand's SEO efforts. This is a lot of weight to give to a handful of words, especially if the brand feels that they have a handle on the way their customers are searching for them and do not see the need for additional research. Keyword research is essential and cannot be avoided!
How much research and how in-depth you need to go depends on your industry. Generally speaking, there are probably a lot of people out there who are searching for your brand and your products / services in ways that you might have never thought of. Because of this, it is important to take care when selecting your keywords.
Keyword research and SEO
There are two primary types of keywords: broad / general and niche / long-tail. The keywords that are the most obvious, have the highest search volume, and enjoy the highest competition are the broad spectrum or general keywords. Have you ever searched for something generic like "beach towels" only to see more results than you could look at in several lifetimes? The brands that are ranking for terms like these are established, trusted brands that have proven themselves over a long period of time. It could take you years to rank for a term like this, and even then, there is no guarantee of success.
On the opposite end of the scale are the niche or long-tail keywords. These are keywords that might not have astronomical search volume, but instead have less competition and are more likely to lead to a customer conversion. It also takes less time to rank well for a long-tail keyword than it does for a more general keyword. Go from "beach towels" to "red beach towels" and you've identified your first long-tail keyword. Lets take it a step further and make that phrase even longer, how about "best red beach towels."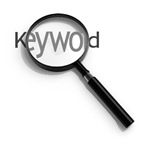 Here's the deal, people become obsessed with the head term, which is understandable. If you sell beach towels you obviously want to rank for "beach towels," but lets think a little bit outside the box. If your head term has a search volume of, let's say 10,000 searches a month, odds are it's fairly high competition. So why beat yourself up in the high competition market when you can start attacking thousands of long-tails and get your organic traffic there?
If a long-tail phrase only gets a handful of searches a month, many see the term as useless. I say give me those useless terms! I'll take a couple hundred, or even a couple thousand of those – and guess what, now I have a high volume of organic visitors.
Here's the beauty of it: these searches tend to have much higher conversion rates (Google PDF – Conversion For Dummies).
So lets talk about keyword selection. The head term is always easy. If you sell beach towels you obviously want to rank for "beach towels," and there's your head term. Now we need to find out the long-tails that are being searched for in relation to beach towels. The head term "beach towels" is searched for 12,100 times monthly. What's surprising is that the head term "beach towels" has 639 related long-tails associated with it. You can access this information on semrush.com. Take your head term and enter it in SEMRush.com (aff) and you will be able to pull a report of all related keywords. This report will show you search volume, and you can further break down the list by then seeing all related keywords around a chosen long-tail.
For example, we run the head term "beach towels" and notice that "kids beach towels" has a search volume of 720 searches a month. We can now enter or select "kids beach towels" and compile a list of all related keywords to "kids beach towels" as a head term.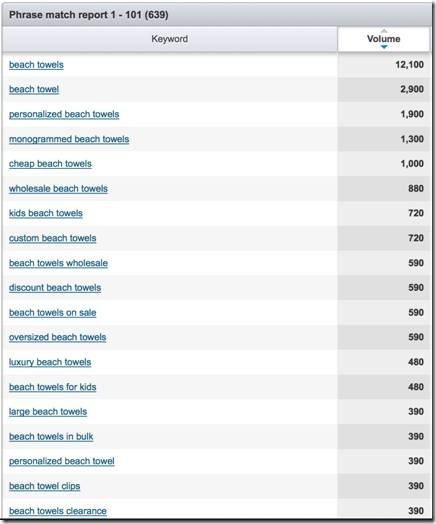 You'll notice 26 related phrases just to the term "kids beach towels." If you choose to use the term "kids beach towels" as your head term, you can work off of the more specified list. This can be a great way to break down your website into category pages. You can now optimize each page around the category related head term.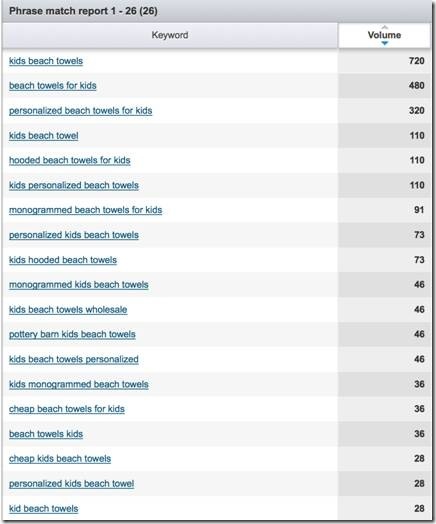 Going back to the main head term "beach towels," you'll notice hundreds of long-tails with low search volume. This is what I like to focus on. Often these terms are ignored and practically forgotten. Keep in mind, these very specific searches typically have a very high conversion rates, which is why we're ultimately doing this.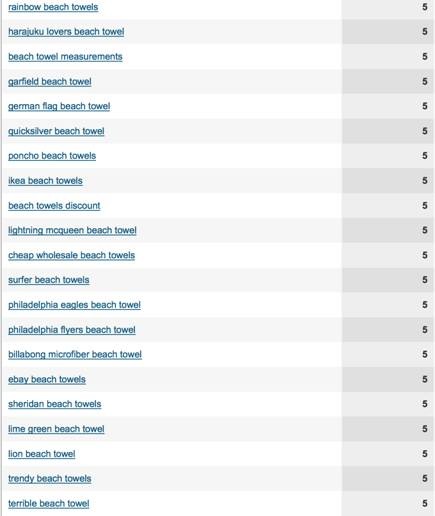 So lets talk about how you rank for hundreds of long-tails on a single page. Sometimes the conception is that this is not possible. Many believe in order to do so, you'd need to anchor each complete phrase in your copy. That's simply not the case. Let say you want to rank for "best blue kids beach towels." This doesn't mean you need the term "best blue kids beach towels" on your site to have a #1 ranking. Lets take a look at that specific #1 ranking for "best blue kids beach towels".

You'll notice that each unique word, "best" "blue" "kids" "beach" "towels" appears in the copy, but not as a complete phrase. So lets take this a step further and take a look at how to make a well-optimized page. In order to rank for hundreds of long-tails, break that list of phrases down into unique words. Since many of these words are repetitive, you can drop the duplicates. Once you have a list of all unique individual words start writing your copy. It's as simple as making sure each unique word is included in your copy.
Granted, there are hundreds of factors involving organic ranking; however, without a well-optimized page you're fighting an uphill battle. Set yourself up for success and make sure you're optimized properly. If you do use an SEO service, make sure they offer these types of on-page suggestions for optimization.
Ideally, the best keywords will have a relatively high search volume, are low competition, and have a high potential to help your brand turn a profit. While long-tail keywords might not have the highest search volumes out there, they do have plenty of potential to help you see results sooner! How great would it be to walk into your next meeting and proudly announce that your SEO campaign was already starting to show positive ROI? Take our word for it, it feels really good! Try using long-tail keywords in your content and see all of the benefits that come with more traffic, better rankings, and the ROI to prove the worth of your efforts!