Hi everyone! Hope you all had a great week. This week Google officially announced its new "inactive accounts manager", a feature that, as they say, is to help you plan for what happens to your account (or accounts) after you're gone. Not really something that motivating, talking about death, nonetheless it is may be considered by some quite an important issue. Thinking out loud, imagine if you a high earning AdSense account holder? What do you think about this new feature?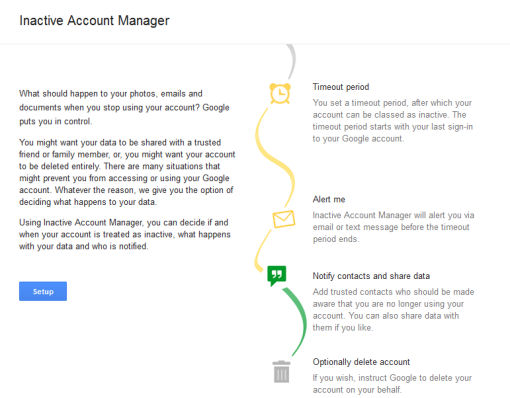 Rand of SEOmoz this week walks through user experience and the actions that can be remove from certain processes in order to drive more conversions, earn more links, get more social shares. Simplicity, FTW!
Finally, inform.ly has published an interactve infographic that is totally worth looking at (see link below). It includes excellent traffic tips for content marketers. Good one!
BTW, Matt Cutts recently uploaded a video (end of post) answering to a question that many of you may be interested in knowing. It debunks the myth of being penalized, if your hosting company hosts spam sites. Can you guess what his answer is? Here's a hint – "typically not".
As usual, in no particular order:
SEO/Search/Marketing
Being an Authority on Google+ Directly Impacts Search Results (Case Study)
Social/Blogging/Small Business Bites
More Cool Stuff and Other Roundups
DiTesco of IBlogZone the SEO Guru Who Helps You Succeed Online [Featured Blogger] (woot, this is shameless I know but thanks to Ileane and Andy of ComLuv for the shoutout)
If my web host has a lot of spammy clients, will that influence my site's ranking?
That's it! Enjoy, have a great weekend!