The Whole Planet has Gone Mobile, In Case You Haven't Noticed
Surfing the web via mobile devices has reached new heights and is continuously increasing. According to a recent Pew survey, %45 of American adults now own a smartphone, while according to Nielsen that number is actually above %50. Now more than ever before, there is a greater amount of smartphones owners than ever before and cellular (as well as wireless) coverage is becoming increasingly widespread.
Africa: A Hotbed of Mobile Activity
Even in underdeveloped areas of the world, where technological trends have traditionally been slower to catch on, mobile usage has caught on quite rapidly and in full effect, perhaps even more so than in other parts of the world. As smartphones now are enabled for surfing the web using a conventional browser, many users who before didn't even have access to the internet through the traditional medium of the personal machine, are heavily present online now just through their mobile devices. In countries like Zimbabwe and Nigeria this is especially apparent, as %58 of all web surfing is done via mobile devices. Web enabled mobile devices have basically allowed users to circumvent the cost of owning a computer to surf the web.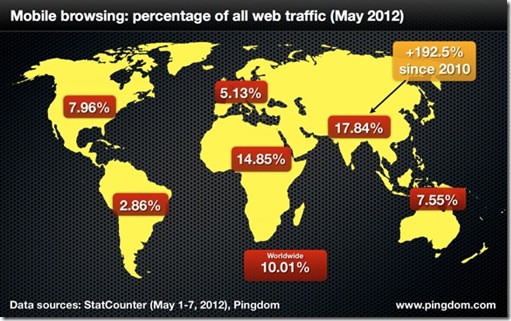 Many in Africa go from not even initially having access to landlines or electricity to communicating on a regular basis via wireless and/or cellular networks. In Tanzania, mobile carriers indeed have begun offering customers portable chargers that run on alternators powered by bicycle pedaling or solar power. That means that some people have mobile devices without even having a regular source of electricity with which to charge them. Nonetheless they now can wander through cyberspace.
Each Device and it's Usage
As much as today's mobile devices are in essence micro computers and hence used first and foremost as work and communication tools (just like desktop machines), because humans always enjoy playing a game or entertaining themselves somehow, mobile devices have significant use as recreational devices (just stating the obvious?). The usage pattern of the various types of devices during the course of the day attests to this as well. According to the following Comscore infographic, smartphones "brighten the commute" in the early morning, while PCs dominate the daytime working hours, and the tablet king of the evening prime time.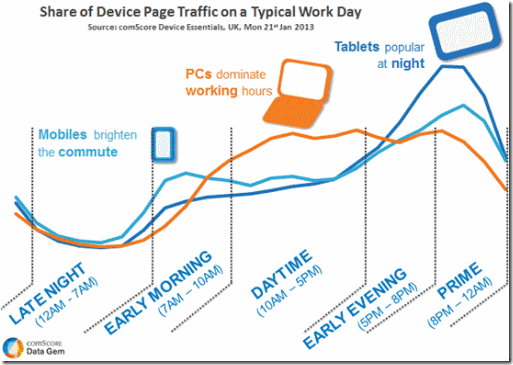 Mobile E-Commerce
Aside from gaming and socializing, research is showing that heavy usage of mobile devices revolves around consumerism and commerce. According to a story in TheAge from February, this past holiday season in the UK, %36 of traffic to some merchants' online stores during came from mobile devices alone. And by next holiday season it's safe to assume that this number will go up.
Performing Market Research
And it's not just the actual act of making a purchase that preoccupies users' airtime. Consumers are using their devices to perform pre-purchase research while they browse items they're considering buying. According to a study by Cisco, %71 of shoppers asked were interested in having in-store access to digital content – as they shop. Meaning, they want to be able to go online and research a product that's physically right in front of them. Users rely less on what they see in reality, not to mention store employees' opinions, and overwhelmingly more on online reviews from experts and/or other consumers. According to the same study, 1 in 3 shoppers indeed actually use a mobile device to do product research in-store while in the act of shopping.
Source: http://blog.kissmetrics.com/mobile-is-changing-business/
Having Access to Local Services While on the Go
People are also increasingly using their phones to search for local businesses and services. The sites of restaurants, dry cleaners, taxi services and the like have become hot destinations for mobile users. According to a Google study, virtually every single smartphone owner has used their phone for performing a search relating to a local business or service, with %77 of those users contacting a business within a day of that search.
Witness Uber's usurpation of the Boston cab mafia which led to a lawsuit filed against them by the latter this month. Uber runs an optimized for mobile web-based concierge which in effect cuts out the need for traditional taxi services. Mobile users can now easily find and order a driver with a car directly from their phones. They no longer have to deal with a dispatcher or stand outside on the sidewalk hoping to catch a free cab.
Mobile Users want Instant and Smooth Access to Data
Having established that mobile devices are continuously gaining ground as the primary tools of local commerce, can an SMB just sit back and relax knowing that as long as they have a site accessible through a browser, mobile users will reach and interact with them? Not quite. For good and for bad, we now live in a world flooded with an array of devices with unprecedented amounts of processor power providing goods and services almost instantly.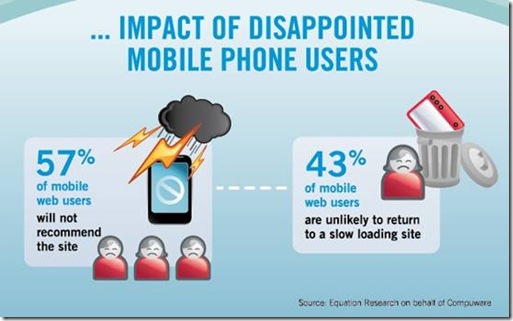 User expectations from technology are at very high levels, regardless if it is about new mobile devices, internet access, business telephone numbers, etc., and mobile web performance hasn't escaped their scrutinizing eye. Users don't have patience for sites that don't load nicely on mobile. According to Compuware, %78 of users said they'd only be willing to reload a site page two times or less if it didn't load properly the first time. If you're an SMB with a site constructed 8 years ago, don't expect mobile users to make a serious effort to find the latest deals or place an order on it. If these won't be easily visible and/or simple to execute, they will head off to your competitor who's already spent either 30 grand on a fancy app (in 2010) or who's more likely to have recently put together an alternate mobile version of his site.
In Conclusion
We've entered an age in which an unprecedented amount of people are using mobile devices and by extension, accessing the internet. Thanks to html5 becoming an industry standard, the mobile web has evolved into an environment where access via browsers is easily implemented and phones can now be used by consumers to search for, research and order stuff online. If you're a publisher it is imperative for you to adapt to this situation and while you are at it, also ensure that you are optimizing your site for mobile SEO. With the free and almost free tools available for doing so, you should be able to continue engaging and reaching users.
image credit: lab.net