If you are in doubt about the chances of your site getting compromised, the recent release of Google's webmaster help for hacked sites should be a good indicator on just how widespread this problem is. If you have a website, be advised that it does not matter if it is big or small, your site stands an equal chance of being compromised. Perhaps, the more popular ones are more prone to attacks, but then again, those popular sites are likely to have increased "defenses" and proper "recovery plans" in place, in case something happens. How about your site?
Google knows that this is not a small risk to site owners and in lieu of the ever increasing threats out there, has created a whole new section on how to tackle matters if your site has sadly been compromised. While this is great, I just wanted to let you know that before that, there are several things that you can do to avoid having to go to Google's Hacked sites help section.
Start by reading these articles on how to increase your websites security, specially in you are on WordPress…
The articles (and guides) above, if you have read and implemented some of the suggestions, will not guarantee 100% security. Nonetheless, it will help to increase your websites security and prevent as much as possible attempts to hack your site.
Now, in the likelihood that those suggestion have failed to avoid your site from being compromised, this is where you may want to head over Google's Hacked site help section for further information on how to deal with the problem.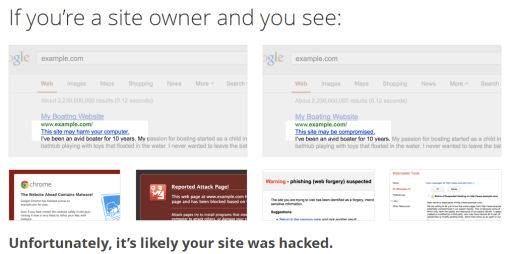 Overview: Help for hacked sites
In this video, Maile Ohye (Google's developer programs tech lead) discusses how and why sites are hacked, and review your options for recovery.
As you can see, there are many ways that an attacker can gain access to your site. WordPress users should always be careful when choosing plugins and free themes, as some can contain malicious coding and open possibilities for an unfriendly visit.
Read: Free WordPress Themes, Shocking Facts You Need To Know
Following the discovery that your site has been compromised, follow through the next steps, as provided on Google's help for hacked sites.
That's it! I sincerely do not wish for anyone to have to go through using Google's webmaster help for hacked sites. However, if the unwanted happens, at least you have more information on how to deal with it.
BTW, I found this video that is quite interesting. Dr. Loveland and her special guest Eve Hacker takes you on a precautionary journey regarding computer security, with a talk entitled "How to Hack a Web Site". Maybe knowing a bit more about what motivates people from doing what they do and how they accomplish it, can help you further understand how to protect your site.