A website has become an indispensable source for online businesses to market and sell their products online. Designing a site is similar to creating a masterpiece that helps online businesses build a solid online appearance, so as to represent their business image in the best way. However, in order to heighten your business identity in the online space, you will need more than a good website design. Plus, it's important that your developed site can provide you with financial stability on long-term basis.
We all have heard of the common phrase "Every coin has two sides", this goes apt with a website where designing is only one part of the equation, while the other part requires to opt for an appropriate marketing and sales tactics in a bid to earn revenues via your site. WordPress is a simple yet powerful platform that simplifies the task of creating and maintaining a website, as it enables even amateur users to make their sites and blogs up and running. What's more, it comes with built-in "add-ons" named plugins that help enrich a site with numerous capabilities and options.
WordPress SEO Plugins to Boost Your Online Business Presence
WordPress SEO plugins are great tools that help people improve their online business activities like SEO, adding social tools etc. Though, there is no dearth of WP plugins, WordPress SEO by Yoast is one of the best plugin that can help improve your online identity. In fact, a lot of bloggers make use of this WP plugin, as it offers better functionality and help renders the blog with enhanced SEO ability.
WordPress SEO plugin by Yoast comes with ample of features and some of them are listed below:
Presents a preview of the Google search result snippet that let you see how your content will appear in the Google when someone search for it.
It help your get website attain verified google authorship.
It has the wherewithal to verify tools like Google Webmaster Tools, Bing Webmaster Tools etc. that evaluate your site performance on search engines.
It helps to create XML sitemaps along with images and advanced configuration removing post types or a taxonomy.
It automatically notify search engines as soon as your content is published.
It provides configuration of custom RSS footer and header in WordPress posts.
Configuring the WordPress SEO by Yoast Plugin
# Step 1 – Access your WordPress powered site by getting logged in to your site and your WP 'Dashboard' will get opened. On the extreme left-hand side of the dashboard, you will see a menu. Scroll down the menu and you will find the 'Plugins' option, click on it and all the plugins that exists within your WordPress admin area will get displayed.
Next, click on the 'Add New' option and type 'Wordpress SEO by Yoast' in the search bar on the right-hand side of your dashboard, as shown below: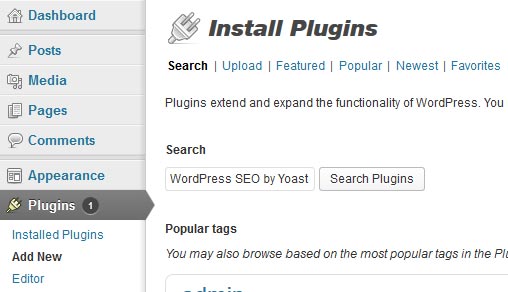 # Step 2 – After typing the name of the plugin you want to install, click on the 'Search Plugins' button and the search results page will get opened with the SEO plugin on the top of the page that you searched for. Just click on the 'Install Now' link and this will initiate the installation process of the plugin, as shown below: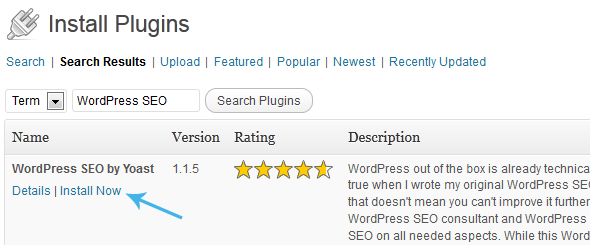 # Step 3 – Once the installation process gets completed, a pop-up window will open where you need to click on 'OK' . Subsequent to it, the following screen will appear. What'll you need to do is simply click on the link named 'Activate Plugin', and that's it, your plugin will be installed and you can see a message will be displayed – successful installation of WordPress SEO by Yoast Plugin along with the version number, as shown below:

# Step 4 – Upon completion of the activation of WordPress SEO by Yoast plugin, you will see an icon added to the menu on the left-hand side, as shown below: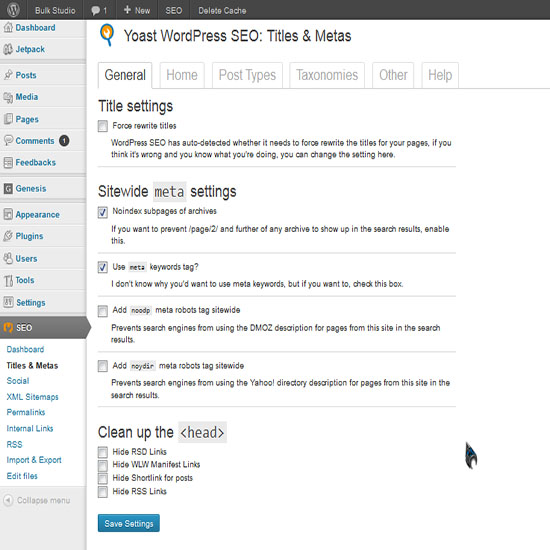 Wrapping Up!
I hope you'll find this tutorial useful, this is just a basic tutorial for beginners who want to install WordPress SEO plugin by Yoast to their site, simply by following the aforementioned steps. However, to make use of the installed plugin you'll need to set it up.