Actually there are many ways that you can make money with Shopify. From creating your own online store to being their partner, there is money to be made, and the latter (being their partner) is what I really want to focus on.
But first let's run through what Shopify is and what is it actually intended for.
What Is Shopify?
Shopify is a powerful and complete web-based ecommerce solution, that allows any business owner, sell goods online. Start with your design, add products, setup your payment gateways, and a few pages, and you should be up and running in no time.
Established on 2006, Shopify was born from the basic need on of an entrepreneur, which later diversified and expanded its operations worldwide. Just for you to have an idea, on the year end review 2012, In 2012, Shopify had more than 40.000 online stores in more than 101 countries. One of its founders, Tobias Lütke, has all the reasons in the world to be happy. He actually has an interesting quote that says:
what used to take months in 2004, can now be done in about 20 minutes.
And that's precisely what Shopify is all about, to help business owners set up their online store with relative ease and provide all the necessary features to manage, track and of course sell products online.
While Shopify can handle any size of store, their platform is tailored more for small business owners. As a matter of fact, about 98% of their registered users self identify themselves as SMB's or entrepreneurs (college kids selling shirts out of their dorm, mompreneurs graduating off Etsy because it's too small, and brick-and-mortar going to brick-and-click for the first time). Main product categories include, fashion and apparel, electronics and accessories, home & garden, and much more.
Setting an ecommerce site can be a complicated task and may sometimes not even provide you with all the options you may need. Moreover, the ideal situation is when you can start small and grow big, and with their platform, that is totally possible.
Main features include:
Manage everything from the clean and easy to use dashboard.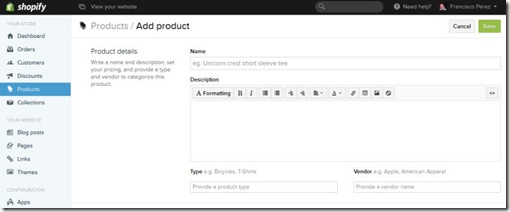 You can use your own domain name with Shopify (on any plan)
Over 70 plus type of payment gateways and more added as necessary. This is probably one the unique selling points about Shopify as most of its peers do not have that much flexibility.
Customer account setup. Repeat customers don't have to fill up all those forms again and again. Cool, makes it easier for them.
The front end of your online store, checkout, email communications, etc., can be set in any type of Language. The only downside is that the administrative interface of the shop is in English.
No need to be a designer/programmer to change your shop's design. -There are over 100 free and paid themes available on their platform. If you know CSS, you can even create your own look and feel, but the free ones are nothing close to being boring. Take a look.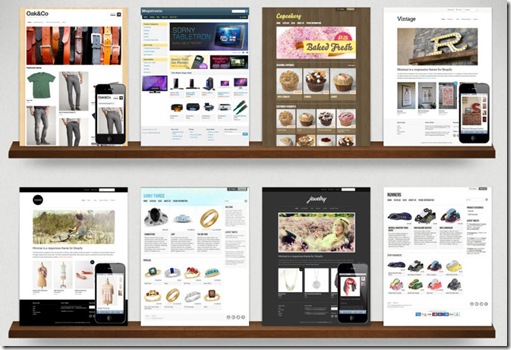 Let customers purchase from anywhere with their free built-in mobile commerce shopping cart features.
Search Engine Optimization – Shopify features an advanced ecommerce CMS & shopping cart that offer built in Search Engine Optimization (SEO) features.
For more about Shopify, you can visit their FAQ section.
There you go, if you have your own products, then making use of Shopify's web-based online store builder, makes thing a tad easier. There is a free 14 trial day and pricing plans start from $29 (up to 100 products).
Now, you may say, that's all good but I really don't have any products of my own to sell at this moment? Can I still make money with them?
Enter Shopify's Partner Program …
Make Money With Shopify's Affiliate & Partner Program
There are three ways in which you can make money with Shopify just for being their partner.
But first, here's some reasons why you should even consider being their partner.
They are one of the leaders in the ecommerce solution, mainly targeting small to medium size businesses – that's good because SMBs are more potential candidates than large ones, which probably have their own ecommerce platform anyway.
The Shopify brand is already proven credible and reliable. Rated A+ on BBB (scale from A+ to F).
Unsaturated affiliate program and niche
All traffic sources are accepted – no restrictions. Use PPC, CPV, email blast, banner displays, social media, the works. Obviously, good business sense is warranted.
2 standard commission options (one time or recurring, you choose)
Got the skills? Make money designing a theme or creating an app.
Threshold is low – only $25
They pay bi-weekly via PayPal
Refer A Client Program (affiliate)
This is pretty much straight forward. You promote Shopify using the various marketing material they provide, and once you refer a client to create their shop and choose the plan, you get credit for that sale.
Note: People you refer via the free trial and later decides to upgrade, also qualifies for credits. Cool!
Commission options:
As I mentioned above, you can opt for two ways to get credits.
20% lifetime revenue share on all customers you refer – This is a great option for those of you who like recurring commissions. For as long as the client you referred stays on Shopify, you get credits forever.
Massive per sale rate of 200%. Yep, that's right. You get 200% of the clients subscribed plan all in one shot. Say the client opts for a basic plan of $29 per month. You get $58, and this can go as high as $358 per sale. Downside of this option is that if your client later decides to upgrade to a higher plan, you no longer get any credit. Either way, its up for you to decide. But really, I think it is one of the biggest payout I've seen for an affiliate program.
The sign up process is done via easy steps and you should be set in no time.
OBS: Depending on the volume of your sales, you can "negotiate" for higher commissions.
Build a Shopify theme and make money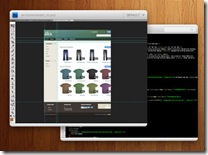 Think you got the skills? If you do, there is serious money to be made on designing a Shopify theme and making it available to the 50K plus customers they now have. Depending on the "support" option you choose to give buyers of your theme, you get up to 70% of each sale. Not bad, if you ask me.
All details on how to design your theme, how to price it, etc. are readily available on the link provided below.
Hint: So, you are not a designer but still want to tap in this opportunity. Its possible, you just need to be creative and use your imagination. Here's a case study for you to have an idea. Somewhat old, but the idea is there and what you need to focus on.
Create an APP to extend the functionality of Shopify
Again, if you are a developer, creative and got the skills, you can use the Shopify API to build apps that add features and functionality to a Shopify store and sell it. Earn 80% of each app sale.

All this manageable via your partner account dashboard.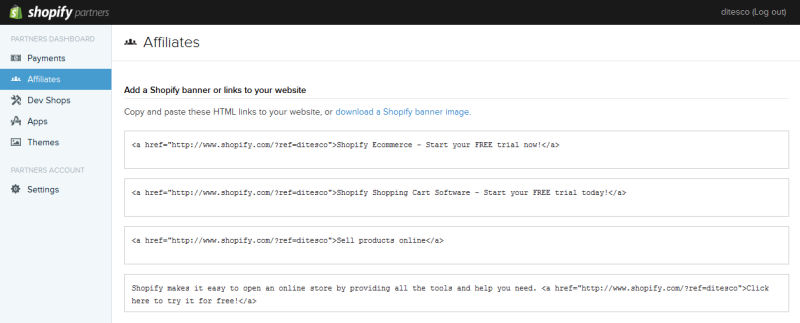 That's it! Whether you are a blogger or a publisher and looking for ways to make an extra income, give Shopify a try and see how it goes. Nothing to loose.
What say you? Have you heard about Shopify and their Partner program before? Are you promoting them? If so, what was/is your experience with their program?
This post brought to you by shopify.com