Having recently written some of the best SEO practices for 2013, it is time to take a look at some SEO plugins that can help us make our lives a bit easier when it comes to search engine optimization. Hands down, and to get started, one of the best choices to work with your blog or website, is by using the WordPress CMS platform. WordPress offers the flexibility and ease of use that I have yet to see beaten.
Why is WordPress Good for SEO?
WordPress is a great platform and takes care of about 80 – 90% of the mechanics of SEO according to Matt Cutts (Google Spam Chief). While this is true, it does not mean that you can't improve it further and this is where the SEO plugins come into play. They help your site go that extra mile for those added "technical" optimizations.
Will these SEO plugins take me to #1?
SEO plugins for WordPress serve only to help you get about the "technical" stuff and help search engines better understand what your site is about. It also allows for semi-automation of certain tasks, which otherwise would be virtually impossible or difficult to perform. However, please be informed that making use of these plugins will NOT guarantee you TOP rankings. They will however help you achieve better placements on SERs (search engine results), in comparison to those who do not.
There are so many "information" out there that can steer you away from believing that there is an easy route to #1. This is not true. There are however some "quick SEO wins" that you can implement right now, to make things move a bit faster.
Finally, a quick reminder, WordPress plugins are great and makes our lives a lot easier, specially for the non tech savvy like me. I know it does help me a great deal, however, you should know that there is a downside to "over using" plugins, so you may want to use check your WordPress performance (recommended read) once in a while to avoid causing you some problems with speed loading issues and your web hosting.
So let's go to it! This post is somewhat long (really long), so perhaps you may want to bookmark it, just in case.
The Best SEO Plugins For WordPress
There are many SEO plugins available out there (free and paid), and you should always do some research for more information. The ones that I will be recommending here are all from credible sources (credible developers and on the WP repository), 100% free and tested. I use them either here, on my other websites and clients sites.
So, let's recap a bit what the best SEO practices dictates for on-page optimization (summarized version).
Content Optimization (Titles, Descriptions, Alternate Tags)
Page Speed (and uptime)
Usability (UI and UX)
Other (Schema – Microdata, Authorship, Social Engagement)
With that said, here are some plugins to address each of those situations mentioned above:
Content Optimization Plugins

WP SEO by Yoast – For the second consecutive year, this is my SEO plugin of choice. I've said it before, but I'll say it again, Joost de Valk (developer) created an all-in-one plugin that is simply fantastic. It addresses so many things that it will take me a whole post in its entirety, just to go through each of the features that this plugin offers. Really, this is not your ordinary plugin. Just see the features it offers, and you'll know what I mean. Oh, did I mention that it is free!
In any event, this is one of the best reasons I recommend this plugin.
It helps you write better content
Using the snippet preview you can see a rendering of what your post or page will look like in the search results, whether your title is too long or too short and your meta description makes sense in the context of a search result. This way the plugin will help you not only increase rankings but also increase the click through for organic search results.
Before you install this plugin though, you should know that with so many features, comes the need to understand how it works and what each of the functionalities can do for you. Configure it wrong and unpleasant things may happen. I therefore highly recommend you going through the "The Definitive Guide To Higher Rankings For WordPress Sites" written by Joost. Everything you need to know on how to use the plugin is there.

All-In-One SEO (AIO) – While WP SEO is my new favorite, AIO is the one that I started using first and have been loyal to it for sites that I have it installed. The main difference between these two plugins is simplicity. I find AIO to be simpler to configure, in comparison to that of Yoast.
Don't get me wrong, this is a very good plugin (downloaded over 13 million times and counting), and while simple is powerful (perhaps a better choice for the novice – you can later upgrade to WP SEO if you want). The only thing is that if you choose to go this route, I also recommend installing other plugins to complement with it (not needed on WP SEO). See below for more info.
Page Speed Plugins
Google and other search engines are obsessed with speed. A faster internet means better user experience. According to several reports that are widely available on the internet, user no longer have the patience to wait for a long time for a page to render. Mine you that long here means "seconds", and any site that takes more than 10 seconds (that's a lot already) to load is nearing the borderline of loosing traffic. These plugins and some more, will help you tame that "need for speed" issue. I highly recommend using some or a combination of them, specially if you are on a shared hosting environment. Go this way first before going to the expensive route. They really help a great deal.
WP Super Cache / W3Total Cache – These plugins are highly recommended as they reduce page speed load time by serving cached version of your files. Essentially, these plugins generates static html files from your dynamic WordPress blog. After a html file is generated your webserver will serve those file instead of processing the comparatively heavier and more expensive WordPress PHP scripts. This improves the user experience (UX) of your site by increasing server performance, reducing the download times. Better UX, good for SEO.
Which one would you choose? Depends, test one or another and see for yourself. Some plugins can be incompatible with one or the other.

jsDelivr Free Public CDN – JsDelivr (sponsored by MaxCDN), is a web service for webmasters and developers. Almost none of the plugin developers allows direct linking to hosted versions of their plugins on their server because they cant handle such traffic. So the users always have to download the plugins and host them on their own servers.
What jsDelivr offers is the possibility to the developers to offer direct links for the files of their plugins without worrying about bandwidth and high server load, and to users the ability to offload their websites from the javascript/css/images that the plugins use, effectively making them a lot faster.
CloudFlare / Incapsula – These free CDN services are awesome, and the plugins ensures that your WordPress website runs optimally when using either one of those services. Make use of them if you are really having problems with your page speed loading time. If you are on a shared hosting environment, I highly recommend using them. Read more about CloudFlare and Incapsula, here and here. Here are some videos to see how to install Incapsula and CloudFlare.
WPSmush.it – A handy little plugin that compresses your images to make they are served faster. Good if your site is image heavy or if you use plenty of images. Nothing to do, just install and activate. If you already have lots of images, you may want to run the "bulk compress now" feature. It could take a long time though.
Web Hosting – Yeah, makes sense, does it not? What else can I say. If your site is "not available", what will users see? If users don't see it, most likely, search engine bots will not either, so there you have it.

User Experience (UI, UX, Mobile)
With the ever growing amount of users using their smartphones, mobile devices, etc., it is important to have now more than ever to ensure that your site is also compatible with these type of devices. Obviously, your site should be rendering well on different type of web browsers on desktop environment. But this section will deal with how to make your site mobile compatible.
There are some ways you can do that. Google recommends to Building Mobile-Optimized Websites, by using responsive web design. Another way is to make use of WordPress plugins that works as a "cross-platform" for your site.
UppSite – One of the best options for you to make your site mobile and deliver an outstanding user experience to your audience. More than a responsive theme, UppSite's plugin seamlessly turns your existing WordPress site into an HTML5 app that acts as a mobile website on any mobile browser. It also let's you publish native apps for iPhone, iPad, Android and Windows Phone on the respective app stores. You can install my Android app from Google Play.
You benefit from the comprehensive mobile reach UppSite provides, as well as from the native user experience the plugin delivers that is tailored to the mobile device used. This means easier navigation, faster page loading and better engagement with your content, which significantly improve the UX and translate into better SEO. What is great about UppSite is that it works with any theme.
Here's some screenshots on how my site looks like on an iOS and Android device. Clean and perfectly navigable.

You keep operating your site as is and the plugin automatically takes care of all the rest. You can get started for free and upgrade your account if you want more features, such as advanced customization and native apps.
WP Touch – Another good alternative to make your site mobile compatible. WPtouch automatically transforms your WordPress website for mobile devices, complete with ajax loading articles and smooth effects when viewed from popular mobile web browsing devices.
Responsive Web Design
There are many WordPress responsive themes now available for free. While these are not plugins, I am putting it here anyway, just for you to know that it is important to improve users experience, specially if you are just in the beginning.
Here are some you can look at. Responsive themes are great because they "suppose" to adjust itself based on the users size of the screen. Note that I mention "suppose", because I have tested some themes but they don't actually perform well. A quick test is to install a theme on a dummy site, put some stuff in there and "resize" the browser. See how it works.
See example below of my clients new non-for-profit website. Note how it fits nicely when the screen is resized. Look at the menu for example. It changes from full screen to, tablet view and smartphone view. In case you are wondering the theme I used here is the Pytheas responsive WordPress theme (its free and plenty of choices – just read the instructions carefully).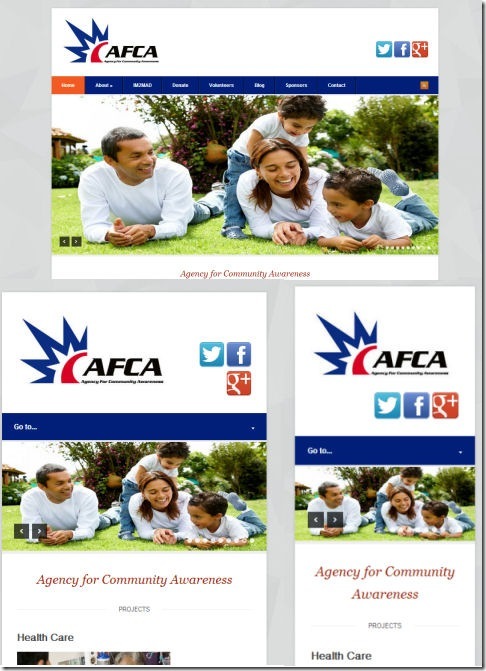 Other SEO plugins

Schema Creator – This is an awesome plugin. Provided by the creators of "Google analytics configuration tool" and "Raven IM tools", this Schema creator plugin is totally free to use. Cool!
Structured data is a way for search engine machines to make sense of content in your HTML. Google and other search engines created a structured data standard called schema.org. If you're like me, finding schema.org may be a little difficult to grasp at first. This plugin helps you quickly build and get started with schema.org microdata.
Alternatively, you can use the Data Highlighter in your webmaster tool for teaching Google about the pattern of event-related data on your website.
Google Authorship – Google authorship is something you should not take for granted. If you are using Google plus and want to easily control your Google Authorship, this plugin works for single user WordPress sites and multi-author sites. Each user has a new field to store their Google Profile URL, then on each page and post the plugin will create the required link in the HTML Head. Just don't forget to link your Google+ profile back to your site. Here's also an alternative way to set up your authorship.
Google XML Sitemap / Image Sitemap / Video Sitemap
XML Sitemaps are a way to tell Google, Bing and other search engines about web pages, images and video content on your site that they may otherwise not discover. These plugins will generate a sitemap for your WordPress blog with all the URLs that are attached to your blog posts and WordPress pages.
Related Posts plugins
These type of plugins are responsible for showing your visitors more related stuff while on your posts. The objective is to offer them more related posts, based n what they are interested in. Theoretically, if they landed on your page about SEO, it is more than logical that they could be interested in other stuff you have about the same topic. Related plugins does that, it shows them more. Here are the ones I recommend:
nRelate (several options)
LinkWithin (head over to their homepage, type in your URL and download the special plugin generated for your site)
Better WP Security – Yeah, you may be asking, what's WordPress security got to do with SEO? Here's a quick answer – If your site gets hacked, it will most like be tagged as "unsafe" on Google's Advisory list. If that happens, say bye, bye to rankings. Plus, its your site, and are you not interested in keeping it safe?
Social Engagement
Google and other search engines are taking into consideration signals from social channels. The more you get you get your brand and posts out there, the better. Also, building relationship and interacting with like minded people is of utmost importance. This is all good, but your do have to get found and make it easy for your user to share your stuff on the sphere. This is where Social plugins come into play.
Digg Digg
Shareaholic SexyBookmarks
[note]SEO tools – I am writing up the best SEO tools for 2013, but meanwhile, don't forget to make use of Google Webmaster Tools and Bing webmaster tools. [/note]
That's it! I am sure that I have missed out some other plugins. If you know of any that you think should have been included in this list of WordPress SEO plugins, please do let me know.
Did you like this post? If you did, I will appreciate if you can share this with your audience, network of friends, communities, etc.. Thanks!