If you read my previous post about the best SEO practices, I mentioned that one of the most important elements to search engine optimization is on-page (or on-site) optimization or, for the purpose of this post, the part of WordPress that deals with the "code". WordPress is a great platform and takes care of about 80% of the mechanics of SEO according to Matt Cutts (Google Spam Chief). While this is true, it does not mean that you can't improve it further and this is where the SEO plugins come into play. They help your site go that extra mile for added "technical optimizations".
Note that there are many SEO plugins available out there, and you should always do some research for more information. The ones that I will be recommending here are all from credible sources (developers and on the WP repository), 100% free and tested. I use them either here, on my other websites and clients.
[note]While I was writing this post, I realized that it would be very long one, so I decided to break this post into two parts. This is Part 1[/note]
A quick reminder, WordPress plugins are great and makes our lives a lot easier, specially for the non tech savvy like me. I know it does help me a great deal, however, you should know that there is a downside to "over using" plugins, so you may want to use check your WordPress performance (recommended read) once in a while to avoid causing you some problems with speed loading issues and your web hosting account (aff – exclusive offer).
The Best SEO Plugins For WordPress 2012
WP SEO By Yoast: My new favorite. Has so many options that it will blow your mind away. An all-in-one plugin indeed. Its features include xml sitemap, webmaster tools verification, RSS Optimization, Social integration, breadcrumbs, page analysis, rich snippets, the whole shebang. My favorite features are the snippet preview, where you can see a rendering of what your post or page will look like in the search results and, the page analysis feature, which checks, if you have images in your post with an alt tag, whether your posts are long enough, if you've written a meta description, subheadings within your post, and more (SEO assistant). Really incredible for a free plugin and eliminates the need to install other plugins such as the Google xml sitemap, etc. More information and guides are provided on WP SEO by Yoast.
[note]UPDATE: 10/2012: Here's an excellent tutorial on how to use WP Yoast, in case you are looking for one.[/note]
Snippet preview

Page Analysis (this is really awesome) – The primary function of WP SEO is to help you write better and optimized content. Note the results below.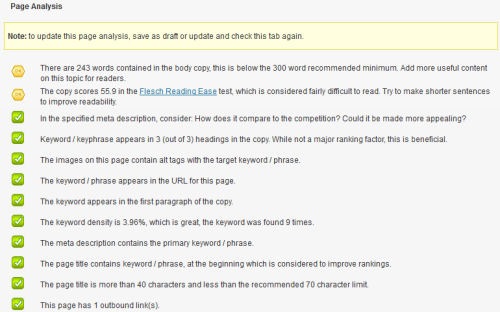 Headspace 2: A very powerful plugin that provides many options such as writing meta titles and descriptions for all your category, tag and custom taxonomy archives, analytics, thus giving you the option to further optimize those pages. Headspace 2 requires a little of getting used to as it not very simple. However, once you get familiar with how it works, it works wonders. You can watch a video here on how to use Headspace 2.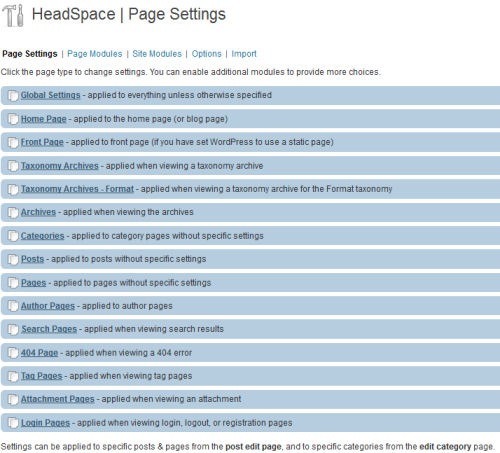 All-In-One SEO Pack (AIO): One of the most popular SEO plugins, AIO by far is the simplest, but not less powerful for that matter, to use in comparison with the other two above. For beginners, this is an excellent SEO plugin as it basically works out of the box. For advanced users, you can fine-tune a lot of options and use special parameters to further make those titles unique. 80% of my websites run using this plugin. It is good, period.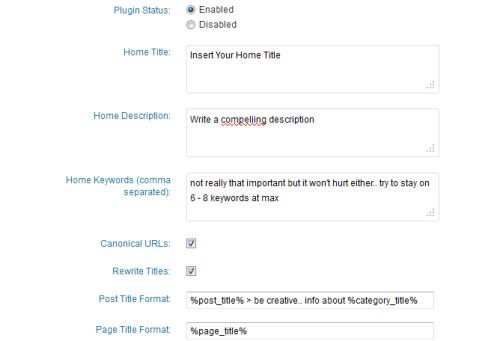 [note]If you are using Thesis (aff link), you don't really need to install any of the plugins above as the Theme has its built-in SEO functionality and a very powerful one too. Also, choose ONLY ONE from any of the above plugins.[/note]
WordPress SEO Plugins 2012 (complement)
Google Site Verification – A very helpful and easy to use plugin to assist you in verifying your site on Google's webmaster tools without having to worry about other forms of verifying your website on Google's Webmasters Central. Install the plugin, login to your Google account, hit verify > grant access and you are good to go. You should always have your site verified and submitted to Google's Webmaster Tools.
Google XML Sitemap – If you decide to use any SEO plugin above other than WP SEO, you are recommended to install this plugin as it is one of those things that is virtually set and forget. The plugins main function is to create and submit a sitemap, making it easier for the search engine crawlers to see the complete structure of your site and retrieve information more efficiently. The plugin supports all kinds of WordPress generated pages, and automatically notifies all major search engines every time you create new content.
Redirection (404 and more) – Very useful plugin specially if you are migrating pages from an old website, or are changing the directory of your WordPress installation. Several features are made available with this plugin, including 404 monitoring, redirection of any URL, and can redirect using various methods, such as, redirecting to random pages, redirecting based upon a referrer, etc.
Broken Links – Broken links are a big no, no and has a negative impact on your SEO. This plugin ensures that all your links, internal and external, are in good working order. If it detects any broken links, you are given various options to fix it. It is also highly configurable. Cool!
SEO Smart Links: Deep linking or internal linking, the process of linking to another article in your own site, is something you should be doing at least once on each post you publish. Not only do you provide users with more related and relevant content to look at, you may also get some extra SEO benefits out of it. For those of you, that may find this effort somewhat tedious, specially if you have many articles published, SEO Smartlinks can do wonders for you. After properly configured, it automatically finds keywords in your post that "matches" an article and creates a link to that post. You can also set it up with manual keywords, a simple but powerful way of creating affiliate links for example, in your whole website. If you are creative enough, you can even use it as part of your affiliate marketing ninja training.
A great alternative to SEO Smart Links is SEO ALRP – SEO Auto Links & Related Posts, is a combination of related posts and auto smart links plugin.The auto links feature will automatically convert post title, meta keywords, and post tags found inside the blog posts into an internal link.
[note]Update June 2012: Due to the recent wave of Pandas and Penguins, please note that SEO Smart Links (free version) and SEO ALRP may cause your site to "overly" create links. Make sure that you configure them properly and avoid using "short" custom keywords. When in doubt, just do your "deep links" manually or use WordPress insights instead.[/note]
SEO Friendly Images: A WordPress image optimization plugin that automatically updates all images with proper ALT and TITLE attributes. If your images do not have ALT and TITLE already set, SEO Friendly Images will add them according to the options you set. The ALT attribute is an important part of search engine optimization, and done properly, can be a great source of organic traffic. Do not underestimate the power of properly optimized images.
There you have it. This concludes part 1 of the best SEO plugins for 2012. These plugins work and are highly recommended. Remember that they help you improve your SEO efforts and do not work on their own. You have to first and foremost, provide good stuff for your audience and then do your SEO. These plugins will not generate quality content.
Part 2 will deal with related WordPress SEO plugins. While they may not be directly related to on-page optimization, they form an integral part of your SEO efforts, considering that social engagement, page speed, authorship markup, to name just a few, now play an important role for search engines. You don't want to miss that one.
How about you? Do you know of any other WordPress SEO plugins that you feel should have been included here? Your opinion and feedback are appreciated.
[note]Update 04/28/2012: Please note that these SEO plugins help your site get more visibility, but don't forget that there is always the matter of applying white hat SEO techniques (see best practices in the beginning of this post). Google, in its effort to fight webspam, is taking action to clean up the web. So keep it clean and to your success.[/note]
[note]UPDATE: The recommended SEO Plugins for 2013 is out. Click here https://www.iblogzone.com/2013/02/best-wordpress-seo-plugins-for-2013.html[/note]