What does it mean when you start seeing "Responsive" themes being developed and launched at a fast growing pace? Most of the time, the answer would be because it is important and called for. With the growing amount of users using their mobile devices to browse the internet, it is now, more than ever important to consider having your online business site mobile compatible. Don't believe me? Here's some interesting data to look at:
In August 2011, mobile browsing represented 7% of worldwide browsing activity, and counting.
Research suggest that on average, website visitors are 51% more likely to do business with a company with a mobile compatible site (U.S)
In the U.S., 25% of mobile web users, browse only on their phones, never using a laptop, tablet, or desktop, to access the internet.
79% of mobile web consumers use their phones for shopping
More research about the subject matter can be seen on Why Mobile Optimization Matters and Instant America.
Is Your Website Mobile Friendly?
Want to see how your website looks like on a mobile device? The GomoMeter, a Google initiative, is a nifty tool that allows you to test how your current site will look like on a smartphone. It also provides a free report with some recommendations, tailored to how your business can build a more mobile-friendly experience.
What Are Responsive Themes?
Simply put, Responsive themes are themes that "automagically" adjust themselves in accordance with different screen sizes or layouts. Regardless if a users is on an iPhone, tablet, PC or laptop, the theme will resize itself for the best view, navigation, etc.
Why Should You Worry About Responsive Themes?
If you noticed the fast facts above, I think that it is difficult to ignore the need for having your site compatible for virtually all type of devices. As more people are glued to their tablets, smartphones or mobile phones with internet browsing capability, the need for optimizing your website for people on the go increases exponentially. Not doing so, increases your risk of loosing traffic and consequently, business opportunities.
The Best Free Responsive Themes
Responsive – The first responsive theme, I got my hands on. Simple, clean and very easy to use. Don't get fooled by its simplicity though, as this theme comes with load of extras, you won't believe. Its got, 9 widget areas, theme options to control content, webmaster tools, logo management and social icons, 9 page templates, the whole shebang.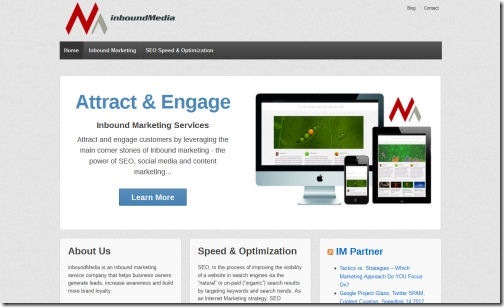 Business Lite – One of my favorite free theme. Business lite 3 from CyberChimps is a free responsive business theme that fits on any device (iPhone, iPad, and Android). It provides you with the tools to turn your WordPress site into a modern drag and drop content management system (CMS). Business lite offers exciting new drag and drop page elements including a responsive feature slider, widgetized boxes, and callout section. All of these elements can be used on a per-page basis using drag and drop page options which also include sidebar and layout options giving you the power to control the look and feel of every page. Cool!
Orion – The developer calls it a "Skeleton framework". The theme is ideal for design agency website, designer portfolio etc. Theme has a light, clear, minimalistic design and complementing typography. The homepage features a jQuery slider for featured posts. Theme supports wordpress 3 features like custom menu, featured thumbnail etc.Theme also comes with a theme option page, a widgetized section below the image slider, and a custom widget built into the theme to showcase your services on the homepage just like any professional website.
Prosume – Prosume is a simple WordPress theme that publishes your personal resume and portfolio in an easy way. The layout utilizes the Less Framework concept so that it will adjust on different screen sizes, and relies on HTML5 and CSS3. Please see requirements before installing.
Obviously, there are a lot more free themes, but the ones above are those that pass WordPress.org scrutiny (except Orion, on its way) and tested them myself on demo sites. Other alternatives you can look at are iFeature and Oxygen.
The Best Premium Responsive Themes (aff links)
(in)SPYR – The most robust Genesis Child Theme I have ever seen. (in)SPYR is responsive, includes 3 theme styles, and has a total of 6 color options and has an amazing design, I love it. With (in)SPYR you not only get a rock solid structure, but 3 themes built right in… Just got my hands on this theme today, so expect a review from me soon!
Business PRO – Is the premium version of the free theme as mentioned above. The premium offers more drag and drop features and includes a portfolio that can be used on any page to beautifully display portfolio items. It is perfect for displaying product screenshots, examples of your work, photography, or other high quality images.The good thing about Business PRO is that you can use it in any website you like, including that of clients and currently offered with a 50% discount. Great for business, if you offer web development services.
That's it! Am I going "Responsive"? Absolutely. I started to use responsive themes on newer sites and some clients that are just starting. Changing themes is not an easy thing to do, specially if you have it heavily customized. That is something you should look into before anything else. As for iBlogzone, I am using Thesis with the ThesisAwesome Child Skin (aff & aff). Waiting patiently for Chris to launch the much awaited version 2.0. I am sure that he will have this issue covered on the next release.
Are you using any responsive theme? How are you doing on making your site mobile compatible? Do you think it is important? Let's discuss!