There are two things that bloggers, website owners, and small businesses often overlook at, and that is website security and performance. While it is understandable that some may neglect the need for speed, security on the other hand should be one of the top priorities in any webmaster or site owner's list. With the ever increasing threat of sites being "attacked", it is more important than ever to ensure that you got as much defenses as possible to block these menaces, specially for WordPress powered sites.
Performance on the other hand is to improve users experience. Study's has proven that users no longer have patience in waiting for a site to fully load. Just for you to have an idea, 25% of users in America tend to leave a site that takes more than 4 seconds to load. That's a scary thought and we all know that bad user experience is bad for SEO. If you are interested, make use of this tool to see how your site is performing.
The Ideal Situation
Well, there is no such thing as the "perfect solution", but being as close to it as possible, is definitely of great interest. What if I told you, that you can increase your websites performance while also increasing your defenses for possible online threats? That would be a nice recipe, would it not?
Enter Incapsula Cloud Based Security …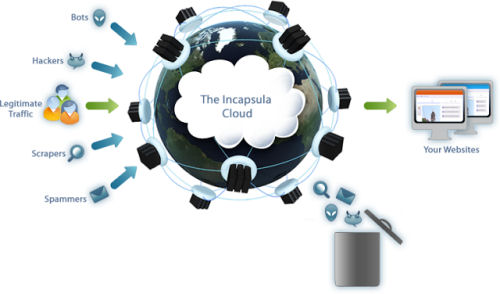 About a year and a half ago, I wrote a post about Incapsula. Incapsula is a service that seriously enhances your sites performance, security and uptime, just to name a few. There has been some major changes since, some of them being, a completely new GUI (graphic user interface), and new features such as more POPs, DDoS protection, patent-pending Dynamic Caching algorithm, Joomla support, cPanel plugin and more.
Essentially, behind Incapsula, your sites traffic is routed through a global network of high-powered servers that analyzes all incoming traffic, keeping threats out while boosting your sites speed for traffic. The service improves your sites security and performance by caching and optimizing its content and serving it directly from their globally distributed servers. This solution is particularly great for those who are on shared hosting.
What are the main features and how much does it cost?
I'm guessing, that the is the first question that comes into your mind. How much? Well, here's the good news, Incapsula offers 4 types of plans. Free, Personal, Business and Enterprise. The free plan suits well for small websites and if need be, you can easily upgrade for an affordable $9 a month to the personal plan. Business and Enterprise have a higher investment required, but then again, it may not necessary to go as far. The option is there if you need it.
Main Features – The Free Plan
First Website: Free
Additional websites: unlimited (free)
Bandwidth: 50GB
Performance:
Global CDN
Static content caching
Static content compression
Content Minification
On the fly image optimization
Security:
Security threat notifications
Reputation based security
Bad bots blocking
Blacklisting of clients, countries and IP's
Guaranteed search engine access
Comment spam elimination
CAPTCHA security check
How about that? If you ask me, that's a pretty good deal for a free plan. Either way, and despite some limitations, your website could be better with, than without it. The good thing is that, you can always "turn it off", whenever you want to. Making use of the service does require you to do anything but change some DNS records and that's it. Your site stays hosted where it is, and nothing else. In any event, the fine folks of Incapsula, always welcome your questions and are glad to help.
If you are wondering how to setup your website with Incapsula, here's a quick video, showing you how I installed one of my websites (sorry about the audio). The video is about 5 minutes long, so you can imagine how fast it takes to actually set your site up.
OK. Does Incapsula really improve performance?
Images are worth a thousand words. Tested on http://tools.pingdom.com/
Before (load time 1.76s):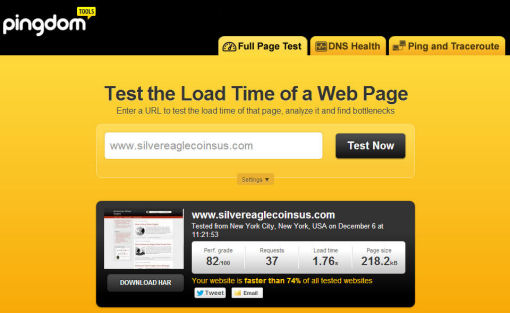 After (load time917ms):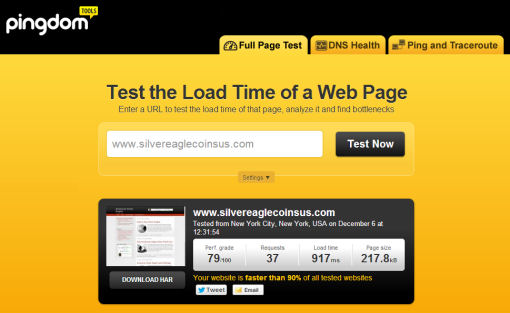 [note]Update: Incapsula has just released their backdoor protection. One of the first things a hacker does after breaking in to a website is to install a backdoor. A backdoor allows the hacker to remotely operate the site or server for future exploitation.[/note]
There you have it! There are obviously other ways to increase your websites performance and security, but Incapsula is worth the try.
Ultimately and in case you are wondering, how Incapsula pairs with its peers, here's a great review about Incapsula vs CloudFlare.
this post sponsored by incapsula.com