Gone are the days when link farms built hundreds of useless links to websites in a bid to help them rank better. With every new update in their search engine algorithm, Google tries to make life easier for THEIR customers – the people searching for information on Google.
The only way to rank better on Google is to leave old-school SEO philosophies behind and imbibe Google's changing dictates into your website design and architecture. If you put aside the hard work of retooling your SEO and look at this objectively, it does sound like a sensible approach. Google rewards you for being user friendly. Name one business that has ever suffered (even pre-Google) for being user friendly!
Here's a detailed walk through 10 site elements that are present on every ecommerce site that can be done just a little better to help your customers and indirectly help your eCommerce site's SEO.
Product Descriptions
For a user to be able to buy anything from your site, she needs to know what it is that you're selling. Copy pasting manufacturer descriptions is a terrible idea. Hundreds of other ecommerce sites do the same and you will end up with duplicate content that will get you penalized by Google.
Create unique, readable product descriptions that will actually speak to the user instead of just rattling of the tech-specs of the item. This will make your description infinitely more useful as well as create a human connection with your user. Read Mark Macdonald's tips on writing compelling product copy that sells on the Shopify blog and similar advice from Smriti Chawla of Visual Web Optimizer.
If in spite of everything, your site simply cannot create unique descriptions for each product. For example, you might have too many products listed or you could be a market place with sellers writing specific or regulated product descriptions, leaving you with little control. You could look for alternative avenues (such as adding user reviews) to give the product page that bit of personalization and set it apart from the rest of the sites that sell the same item.
Images
A picture speaks a thousand words. This however is not true in the world of SEO. Every picture – including product images – needs help before it can be indexed by Google.
Make sure every product image has a clear and relevant title. Alt tags are a must for being SEO friendly. Alt text that is descriptive tells the search spiders what your image is about and makes the page on which the image resides more contextual to the search. This helps in better accessibility for your users on both text and image searches. The effect on search rankings is coincidental.
Use multiple images for every product – this makes it easier for the user to make a purchase decision. It also increases the chances of being listed on image search SERPs of Bing or Google.
Social Sharing Buttons
Social media and its popularity with users need no introduction. It's over a decade old and getting bigger and more important to marketing with each passing day. Content that is shared on social media is useful, entertaining, outrageous and extremely popular.
Since Google's stated mission is to help users with the best, most relevant and fresh results on each search, content that is popular on social media gets special attention and is strongly correlated with higher rankings.
Ecommerce lends itself beautifully to social sharing – Pinterest being a wonderful case in point. Include sharing buttons on every product page. Inspiring or interesting products will find their way to social media on the back of these buttons and put your site in front of millions of users.
Product Pages with 'Out of stock' Items
Products going out of stock present a perennial problem in the 24×7 world of ecommerce. If you have an offline presence in the form of physical stores to go with your ecommerce venture, the problem gets even more complex.
Manage your inventory online and offline with simple touch screen POS systems that will sync your inventory and billing status across all your stores instantly. Integrate this system with your website and alert your users before the product goes out of stock. This way they will not drop off your site in frustration when they see an "Item Sold Out" message.
If the problem has already occurred, do not take down the page. It has already been indexed by search engines. Manage the situation effectively by:
Showing alternate items similar to the out of stock item that they can consider buying
Taking pre-orders; delivery can be done once stocks are replenished
Asking them to come back on a specific date when you know stocks will get updated (and sending them a reminder if you have their email or social profile data)
Category Pages Supplemented by Schema
Retail sites that list thousands of product pages may find it difficult to ensure that every single page ranks well on search engines. A better way to drive traffic to product pages is by creating good quality category pages and grouping all product pages under relevant category pages.
This makes it easier for a user who has directly arrived on your site, without the aid of search engines, to look for and find the right products under the relevant categories. A well optimized category page also becomes a great magnet for search engine spiders hunting for relevant pages on the web.
Using schema markup will go a long way towards streamlining your category structure as well as increasing your visibility. A Searchmetrics study found that 36 percent of Google's search results included at least one snippet with information derived from Schema.org, and yet, almost no ecommerce websites use it!
Navigation and Site Architecture
Smart internal link architecture helps your site look great and makes it more user-friendly.
Use breadcrumb navigation to allow users to click back to previous levels on the navigation structure. Search results on Google also show breadcrumbs, and help increase click-through rates. Here's a live example for the term "coffee tables" where the first organic result is, unsurprisingly, the granddaddy of ecommerce – Amazon: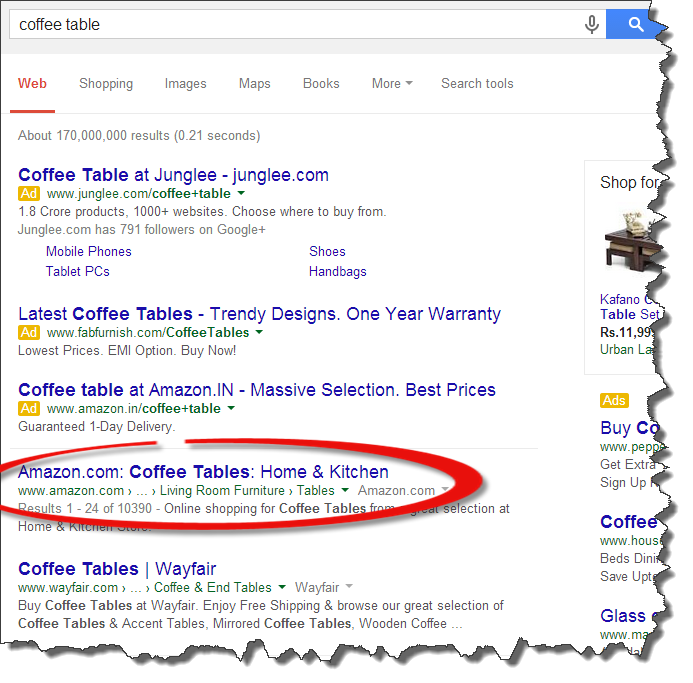 On Amazon's website, you see the whole path at the top: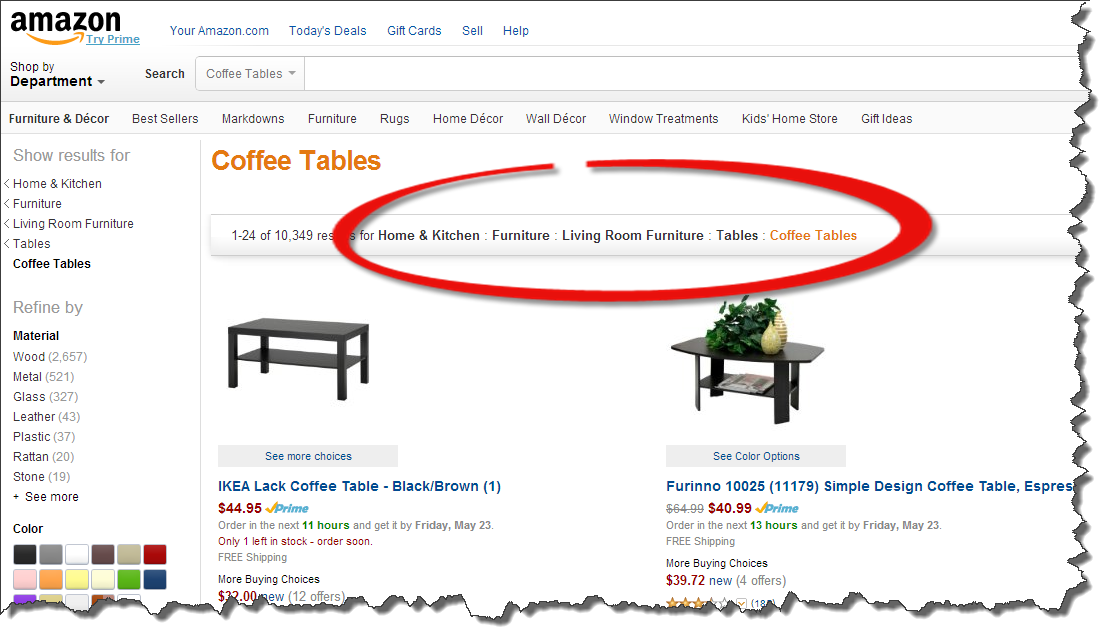 URLs
Taking the navigation discussion one step further, another essential for being discovered easily by search engines is to have clear, meaningful URLs that tell the search spiders what the page is about.
URLs like http://www.abc.com/catalog/product/product.jsp?productId=prod1617078 say nothing to the search engine or to a user and reduce the chances of anyone clicking on them. On the other hand, a URL like http://www.amazon.com/Coffee-Tables-Living-Room-Furniture/b?ie=UTF8&node=3733631 has the keyword being searched included in the URL sending it to the top of the search pile.
Bottom line: use relevant keywords, categories, product names and model numbers in the URL to make the URL meaningful and SEO friendly. Avoid URLs that look like random gibberish.
Duplicate Content
Ecommerce websites typically tend to have multiple pages that have identical content due to the inherent design necessities or faceted navigation. For example, a product page for a jacket that is on sale could be listed under Men's Wear > Jackets as well as On Sale.
The trouble is, Google penalizes sites with duplicate content to discourage spammy or duplicate pages being created by unscrupulous site owners for higher rankings.
Work around this problem and improve your search rankings by using canonical URLs. A canonical URL is a preferred URL that you declare to Google when you have multiple pages with identical content.
Meta Descriptions
While using Meta descriptions on pages is part of SEO 101, the way Google's SERPs use this data now enhances user friendliness and tells the searcher what each result is about, so they can make an informed decision on which one to click.

Make sure you don't skip this essential part of 'SEOing' your pages.
Reviews and Ratings
User reviews play a huge role in helping users make the final purchase decision. A study showed that 70% of customers trust recommendations from other users while just 14% trust advertising directly from the brand.
Search engines promote content that has been deemed useful by real users and is popular for a particular keyword being searched.
Actively solicit reviews from customers who have bought from you in the past and incorporate these reviews into your product pages. Use schema.org compliant markup to publish user ratings alongside your product results in Google SERPs.
This will help in conversions from a user perspective and boost your rankings from a search perspective.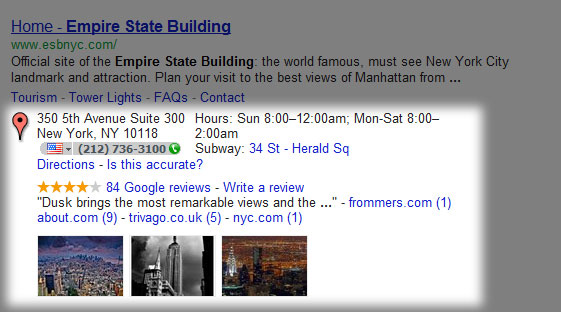 Over to You
The competition in ecommerce will only get tougher as time goes by as more and more cheap and easy shopping cart plugins and ecommerce platforms make their entrance. The only way you can stand out of the clutter without spending a ton of advertising cash, is by getting your fundamentals right.
If you remember just one thing, let it be this: simply stick to the golden rule of SEO – make it easy for the user to find what they want on your site, and Google will love you back.