Nowadays ordinary people usually use Instagram for … photographing their food and cats! And not all businessmen understand that Instagram is not just a "cool" app, but also a unique opportunity for business.
Besides today, the visual information better meets our needs. Perhaps you did not notice, but the images are playing a much more important role than textual information. When we go out to the Internet, photography particularly attracts our attention. Text does not have such a powerful effect on us. That's why Instagram has today a huge success. Suppose I have convinced you. But how exactly can you use instagram for business? Why should consumers know what we ate for dinner?
If you take anything away from this article then take this: do not make your pictures boring. People do not just want to see products or people. There needs to be something about the photo that acts as a hook or that is interesting.
In this article, you'll learn…
Why you should use Instagram for business
10 creative ideas of how to do it
1 – Show the viewer your products
Do not make them adverts. Just show people your products in action. If you sell bicycles then show them flying through the air on large jumps or show a rider holding onto the back of a truck. If you sell licorices then show people the tree that it comes from besides a packet of your licorice.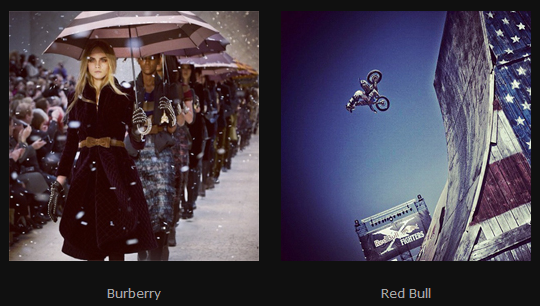 Referring to the experience of the "great". 155-year-old fashion house Burberry has always moved with the times in terms of social media. Burberry started using Instagram almost immediately, and now the company has more than 350,000 subscribers. The fashion house is not just showing clothes and advertising photographs, processed by filters. Photographer Mike Kus presented the pictures from September fashion shows in London in his Instagram feed. He did in real time, so the fans were able to get pictures from the demonstrations before they could appear anywhere else.
2 – Show the viewer how your products are made
If you have a sowing factory, you could show time delay pictures of the product being made. If you have a windows factory, you can show how the plastic strips move through the factory and become something else.
Starbucks company one of the first began to use the service to share photos and today has more than 200,000 followers. In its account Starbucks covers internal work processes and shares them with the world: talking about new flavors of coffee, development technologies and testing.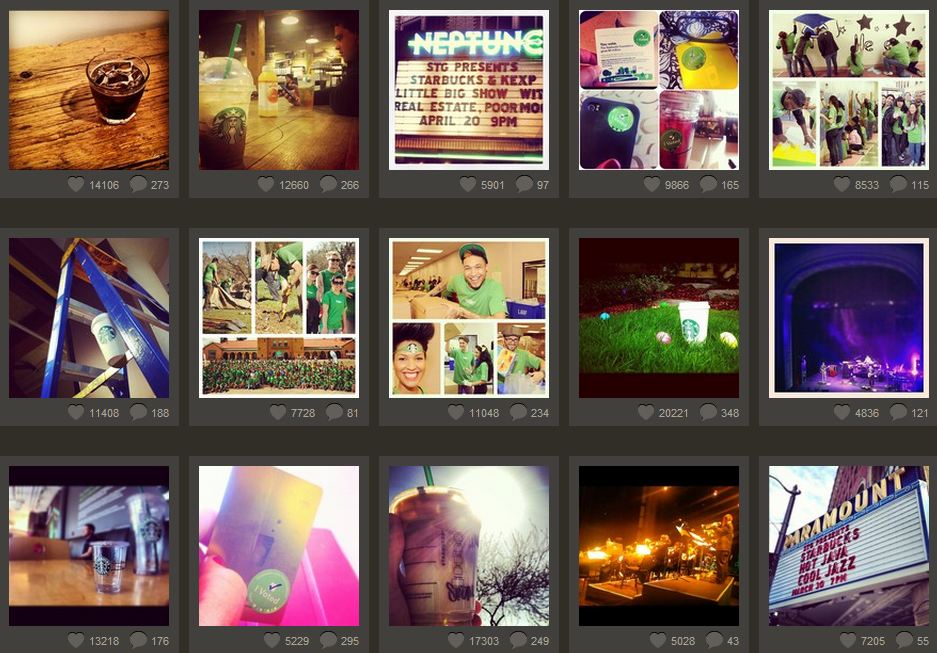 3 – Introduce your viewer to your workplace
If you have high-tech equipment, then show people pictures of it. If you have a factory full of weird and wonderful machines, then show people them in action. Let people see how your product is made. If you just sell the item then show them cartons of your products stacked up to the roof.
4 – Demonstrate your products in action to the viewer
If you sell lawn mowers then show it cutting through really high grass. If you sell knives then show it cutting through a tin bucket or tin can.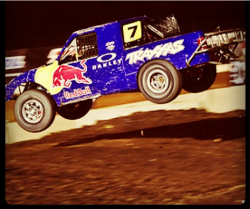 Red Bull has never been easy energetic drink. Many years of effective PR-campaign have made Red Bull a brand of special lifestyle. Today, Red Bull sponsors many extreme events, from which brings stunning Instagram photo reports.
5 – Give the viewer something secret like a sneak preview of a new product
If you sell security equipment then show your most recent up and coming security device. Show people something that is not on the market yet, but that you are bringing out soon.
6 – Show the viewer fun things that have been done with your products
If you sell clothes then tell people that your largest sizes are selling well and then have a picture Photo-shopped showing large clothes hanging from electricity lines. If you sell ice cream, then show a picture of a kid with a double scoop ice cream cone.
7 – Take the viewer with you on a staff trip
Have photos of your staff with their uniform on enjoying a day in a funfair, and have shots of them in the hall of mirrors, etc. Try having a fancy dress party with loads of pictures of your staff having really good fun.
8 – Introduce the viewer to your employees
Don't be boring about it though. People do not want to see your employees, but they will tolerate an interesting picture. Try adding captions to their pictures such as having your janitor painting a wall with a caption, "We have asked John six times in four days to fit the office carpet, let's see how he's doing". If you have an on-site chef, then show a picture of him/her flipping three pancakes at once.
9 – Show the viewer something amazing about your product
If you make glass vases then show fifty of them holding up a tractor. If you sell cheese, then show time delay pictures of a wheel of cheese eating competition.
10 – Make your viewer laugh with something involving your product
If you make shoes then show a kitten trying to climb out of one. If you sell non-stick pans then show a baby trying to wear it as a hat.
That's it! Some creative ways to increase your exposure and hopefully generate more sales by using Instagram creatively for business. Do you have more ideas you can share?