As a writer, words are your friends, allowing you to show your audience your stuff even as you educate and entertain them but, as every good blogger knows, there's more to constructing a top-notch article to be published online than excellent writing. From getting more exposure and extending your reach, to learning how to make good use of images in your posts in order to attract the most attention, there are a few other areas of the game that you've got to keep your eye on, as well.
When it comes to guest posting in particular, you've got only one shot to make your very best impression, with both your words and your choice of imagery. To that end, here are five tips for illustrating a post when submitting to other quality blogs (also know as guest post). Just remember that guest blogging is still a good marketing technique, provided you steer away from doing it only for SEO purposes.
1. Find Your Ideal Source For Free Images
The first step in being a proficient illustrator of blog posts is to identify a source of royalty free images that cover every and any need that you foresee having. Web resources like Stock.XCHNG are a great place in which to put your confidence, hosting a huge variety of graphics that cover just about every niche that you could think of, leaving you with an image at hand no matter what type of piece you're looking to publish.
As an added bonus, SmartPhotoStock and other similar repositories often have more than a few off the wall additions to their database; this means that, with a keen eye, you'll be able to pick those truly standout images out of the crowd in order to achieve real synergy with your textual content.
2.Look Outside of Copyrights
While the web is full of millions of images, many of which seem to suit your purposes perfectly, and all just waiting to be attached to your article, it is well-worth keeping in mind that the vast majority of them are copyrighted, belonging solely to their owner and thus requiring permission to be used. Too often, bloggers are quick to pinch imagery from around the web, but the resulting lack of originality and potential legal risk simply aren't worth it.
Know your copyrights and obey the law.
If royalty-free images don't suit your purposes and you insist on finding other images from around the web to illustrate your post, either look for those that have been released under a license agreement that allows their use, or seek permission ahead of time in order to ensure that you've got a saved go-ahead from the image's owner before submitting your guest post.
3. Get Creative, But Stay Focused
Any article is a very personal thing to its writer, reflecting your thoughts, views, and opinions directly, even if only subtly, and that means that you'll want your illustration efforts to be just as unique as you are. That's a great attitude that is sure to lead to an original, reflective image that will intrigue your readers, but don't let your attempt at originality lead you to a place of downright abstraction.
Remember: while your readers may all share a common interest, each is an individual who isn't exactly inside your head, and that makes choosing an image that speaks broadly to your subject imperative if you hope to make an impression with as many people as possible. While a loosely obvious connection between your written content and your accompanying image can sometimes be a fun way to encourage a little extra thinking on the part of your readers, it's not a worthwhile path to take if you risk going over (or under) your readers' heads entirely!
To this end, always take the time to review what your peers and colleagues are doing, both in your niche and outside of it, in order to get your head around the kind of graphic treatment that is sure to win readers over to your side. You can do this by bookmarking your competitors and keeping up-to-date on the tactics that they're using, or even just by visiting blog posts that have done the dirty work for you, showing you the best of the best in illustrating blog posts in general!
4. Always Add to Your Point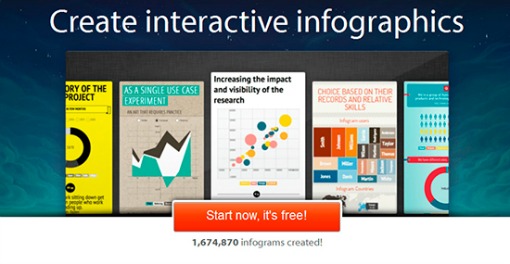 We've all seen and appreciated infographics and what they bring to the table when combined with a good information-driven article; unfortunately, not all of us have the graphic design capabilities necessary to whip them up on our own. Luckily, there's Infogr.am, a service that gives you the ability to build and deploy beautiful infographics on any subject you choose, all while being only as creative as you want to be!
No matter what type of image you settle on for your guest post, whether it be a detailed infographic or a simple data-centric image, be sure to display it in such a manner that it relates directly to the content that it resides within, allowing your readers to expound upon your points in an effortless way as they take in your guest post in its entirety.
5. Educate Yourself as a Graphic Designer
If the imagery with which you help your post to express itself is a crucial goal of your work every day, consider switching your searching and narrowing efforts to those that would help you to be able to whip up the most absolutely perfect accompanying image every single time you need one by educating yourself as a graphic designer. Before you balk, commit to read on – it really doesn't need to be nearly as difficult or as time-consuming as you may think!
Even if you don't have access to the latest version of Adobe Photoshop, simply breaking out your trusty camera and working with a free online image editing service like Pixlr is more than enough to get you started, allowing you to do away with the search for the perfect image on royalty-free websites, forget about copyrights altogether, and express yourself in a way that you know you readers will find unique, taking all the credit for your hard work all the while.
Image Credit: pencils, copyright sign