Gone are the days when creating videos where reserved only for professionals. Creating videos required sophisticated equipment that were costly and complicated to use. Today, with all the available tools out there, it is not about creating videos anymore, but rather, being creative, creating quality stuff and promoting it. Granted, videos are a great way to promote and spread the word out. You can create videos to promote your website, products, services, and just about anything you can think of.
Now, all that is cool, but, traditional videos as we know it lacks a bit more of "something". What if I told you that you can take another step further and make your videos interactive, clickable, feature rich, and more? That would really be awesome!
How To Create Feature Rich Videos?
Enter Clickberry Interactive Video Creator, a video app that allows you to make any object inside a video interactive, and clickable. Now hold on to your seats before saying, yeah, so whats new? Well, what's new with this awesome app is that, only your creativity is the limit. It is not about putting some annotations or anything like that, but actually making your videos more informative, interactive, and put what you need the most, call to action.
To simplify the process, I created a small demo (30 secs) from an intro video I did a while back. Before, the video was just an introduction and nothing else. Now, I added a link to my homepage , added a sidebar on the Twitter link (oopss, forgot to put some stuff in there), added a link to my services, added a like button and towards the end, added a call to action widget to download a free eBook (see shopping cart, no link, just a demo). I did try to put as much "interactivity" as possible for you to have an idea. Obviously, a longer video would be "less" annoying.
Anyway, click on the links to see how they work. As you click on them, the video will pause automatically, cool!
As you can see, there are a lot of things you can do with the Clickberry app. With their technology, you can take a new or existing video, and embed comments or links within it to make the content more engaging and informative. IMO, it is just a matter of time until its peers follow suit.
Here are main features:
Add clickable areas inside of videos: links, sidebars, and popups.
Add "likes" to multiple objects, such as individual elements like your favorite guitar or coffee cup, and instantly share it on Facebook.
Sell and purchase things inside of videos by clicking on the object. You can add links to Amazon or eBay, and sell things to your viewers inside the video.
Add call to actions to your landing pages or optin forms
Create Pools
Upload your videos directly to FaceBook or use their cloud online storage
and more…
How does it work?
First you download the app, which is available for PC, Mac, or iPad. With your free account, you can use the editor for 30 days and get an online cloud storage of 1GB. After that, if you want to continue using the app, you will have to purchase a license that cost approximately $24 per month for the PRO editor and upgrade your online storage to 10GB. Not so bad, considering the possibilities.
Using Clickberry is actually quite easy to use once you go over their free video lessons. It is simple and no major complications. In addition, the app itself has interactive tips to guide you along the process of making your video interactive.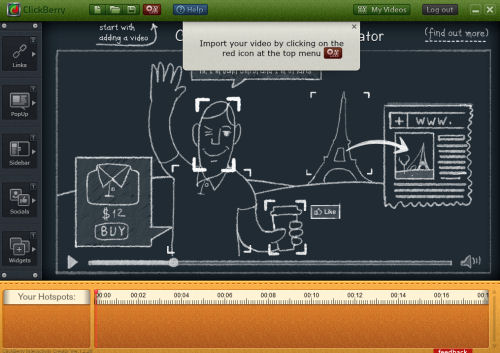 Disadvantages?
For now, I really don't see any major downside, with the exception of not being able to upload your newly created interactive videos to YouTube. That may or may not be a problem for you. However, if your main purpose is to embed the video in your site, or promote them as FaceBook posts (including promoted posts), then, consider taking Clickberry for a test drive. 30 days free trial, should be more than enough to see how it performs for you and make a well informed decision.
BTW, don't forget that it is also possible to promote your videos on newsletters, press releases, other social networks, and even on free sms online services. Just remember to include the link pointing to the video.
What do you think? Is this technology something you think could be of help to you increase your conversions?
this post brought to you by clickberry.com
Clickberry
Reviewed by
DiTesco
on
.
Create Interactive Videos
Rich Video posts and ads on FaceBook. Create Rich Video experiences and publish them as Facebook posts. Use it as interactive video ads on Facebook with the highest viewers engagement rate.
Rating:
4