According to most dictionaries, a writer is a person who writes, yet when this definition is extrapolated to the online world, a writer becomes so much more than just someone who can write. A writer becomes the voice of your brand, they become a credible resource, and they become your entire online presence.
With the rise of Web 2.0, content marketing became a huge factor in determining the success of a brand. This content came in the form of articles, whitepapers, ebooks, vlogs, podcasts, and blogs. Blogs became a way of connecting with readers all around the world – they provide an insight into what your brand does, how to use your products efficiently, and provide readers with useful strategies and tips.
All this sounds cool, but blogging can be tough work, more so if you're a small business owner. A small business owner has to wear many hats, and blogging is one aspect that requires a certain degree of skill.
Advantages of hiring a freelance writer
Professional Content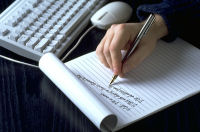 When you hire a professional writer, you receive professionally written, well researched content. A professional writer spends time understanding your business and then creates content that not only resonates with your target audience, but also helps you acquire more readers.
Before hiring a writer, ask them for examples of similar content they've written for other clients, or how they plan on researching content for your website.
Market research and industry insight
When you're busy looking at other aspects of your business, a writer can draw up statistics and data for your business, and even conduct interviews. This adds a lot of credibility to the content you write, again increasing readership. A good writer will always add their own ideas to your content plan, and also share best practices with you.
Most writers are also very savvy using social media and other methods of content marketing, so you can entrust this aspect of your work completely to them.
Affordable Costs
Hiring a freelance writer is cost effective compared to hiring a full time person on your team. Because the nature of the work is remote, you are not pressed for finding a great writer in your local area.
Before hiring a freelance writer, look at their rates in terms of the value you are getting. Freelance writing rates tend to vary depending on how experienced a writer is and how much research they are willing to do on your project.
The Editorial Freelancers Association has a rate list that can be used as a guide, or see this interesting infographic.
What factors should you look at apart from rates?
Portfolio
Client recommendations
Academic qualifications – though not completely relevant, academic credentials can make all the difference in case of medical or technical writing.
While the above listed points elicit the advantages of hiring a freelance writer, it may not be the best option in all situations. For example, a retail e-commerce with hundreds of products and constantly changing inventory should consider hiring a full time writer. A freelance writer may not be able to allocate 40 hours a week to your work, in which case there are chances that products may need to be put on the website without an accompanying description.
Things to keep in mind when hiring a freelance writer
Though there aren't many ways you can go wrong with hiring a freelance writer, there are some things you must keep in mind:
Always ask for recommendations from previous clients. A professional writer will always have these available.
Ask to see portfolio of work. This gives you a good idea of their writing style.
Look them up on LinkedIn. LinkedIn recommendations and bios provide a good insight into the writer's work style and business ethics.
Browse their blog or website. A freelance writer will most definitely have a blog or website which provides more information about their services.
Ask for a video or phone call. This helps develop trust and enables you to understand how the writer plans to handle your project.
How can you find freelance writers?
Freelance job boards such as Elance, Guru, and oDesk have a large directory of freelance writers. You can post your project requirement on the website and wait for interested writers to place a bid on your project. If you choose to take this route, remember to hire a writer based on the value you're getting. Cheap is not always the best, and the best may not be cheap.
Problogger has a job board where clients can add their projects for a onetime fee of $50 for 30 days. It is one of the most widely read blogs in the world so the chances of your RFP being spotted by interested writers are pretty good.
Your local Craigslist is also a great resource for finding local talent or you can post your RFP and wait to receive proposals for interested writers.
Do a LinkedIn search for writers and send them an email (if their email address is publicly listed), or contact them through the LinkedIn message board. You can even ask for writer recommendations through LinkedIn Answers.
Finally, college students can contact Custom Writings for hiring a freelance essay writer for academic needs.
Irrespective of the platform you choose, make sure you write a detailed description of your project. This will help the writer understand your requirements clearly, and will also avoid any future scope creep problems for you and the writer.