The internet has given a lot of opportunity for many to be able to make a living online. With today's available online business resources, anyone can start a small business with relative ease and the best of the best, with minimal investment. While this is true, it also leads to the inevitable proliferation of products and services being offered all over the web.
Imagine this. You are all set to buy a product that you really love. You managed to find several places to buy it from. The question now is, who will you buy it from? Most likely, the answer would be from someone you trust or at the very least, someone who has a good reputation.
In order to succeed, aspiring probloggers and small business owners need to spend a lot of time online, marketing themselves and positioning their brand in the best possible way. This can be achieved in a variety of ways and there are tools you can use to help. Obviously, the ultimate objective is for potential customers to find you and make a positive impression. Having a positive "trust factor" helps you to stand out and this is why, it is important to monitor and manage your online reputation.
As I mentioned earlier, there are some tools out there that can help you monitor your online reputation. For the time being though, there is not (yet) any free tool that allows you to track AND get recommendations on how to improve your online reputation across all channels including search engines, social media, etc. You may use Google Alerts to notify you about any mentions about your brand for example, or use PeerIndex or Klout to measure your influence, but that is not, for now, enough. Actually, it appears that measurement of social influence can be gamed. Also, note that I mentioned, free and not paid.
Introducing Brandify:
Sponsored by Microsoft, Brandify is a web application that helps the aspiring probloggers and small business owners discover, evaluate and improve their online reputation. Essentially, the tool will help you:
Find out whether your brand/company is visible in all the places people look for it online.
Discover how your online brand comes across to potential customers.
Receive guided recommendations to improve both how people find and perceive you.
The service is brought to you by MyWebCareer, Inc. dba Brandify. As I said before, it is sponsored by Microsoft and is being made available to you at zero cost. This is where you may want to consider if you want to use it, because as their TOS indicates:
… In exchange, you consent to us sharing your registration information and information pertinent to your business with Microsoft. As such, using this site and the underlying service, you consent to our privacy policy and that of Microsoft's.
Nothing really major as most of the information you have are already out there anyway. You may ask about your privacy and all that, but if you are in business, ask yourself this question. Do you really want to stay anonymous?
How does Brandify work?
Unlike some tools that shows off your score and rankings without your permission, Brandify provides information for your use only. It won't do anything unless you sign up for the service, which you can do using your Windows Live, FaceBook or LinkedIn accounts.
Once you get through the initial process of providing some information, Brandify will scour online listings, reviews, search engine results, and social media for information about your brand, and then presents you with your overall score, along with immediate recommendations to improve it further. The score scales from a 450 – 850 and the average is 572, which I am sure changes depending on the amount of users the system has. Also, for now, you are only allowed to monitor one brand (you can change it anytime). It appears that Brandify is looking into the possibility of extending it for multiple brands in the future.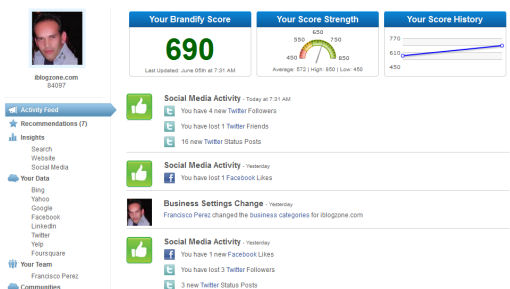 In an instant (less than 2 minutes), you will be able to learn:
Your overall reputation
Areas or categories in which your reputation is strong, in addition to insights from your major competitors.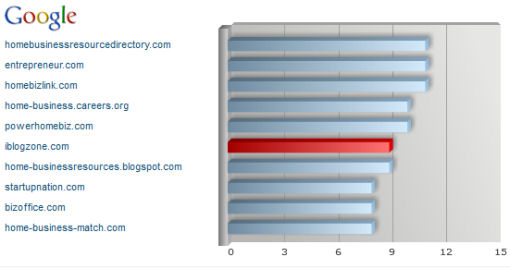 Your daily activities. List of "things" that happened on the web that mentions you. For example, every time someone follows or unfollows you on Twitter, likes on Facebook, backlinks gained/lost, MozRank alterations, etc. Again, and for now, Google+ is not in the list of social networks scoured by Brandify, and hopefully, it will soon enough.
There you have it. Brandify is still in beta and on its very early stages. The tool does give you some good information on where your brands stands. It also provides some interesting recommendations to help small business owners grow and succeed, in a clear and simple way. Obviously there is more room for improvement as there are "other" channels that are equally important and for now are not being considered by their algorithms. Nonetheless, for a free service, I believe that it is a great way to get started on monitoring and managing your online reputation.
Here's a quick video presentation of Brandify.
What say you? Have you tried Brandify yet? Do you know of other services that is similar to theirs? Is this something that you think can help you in any way? Tell me all about it.