Taking a Business Communication course to improve your business writing skills is a fantastic idea. Don't despair, however, when you need some quick pointers – now!
Start with the aim of educating yourself on principles of effective communication. At the heart of great business content lies effective communication. When you are clear on what makes your message effective, you craft messages effortlessly.
Here are five easy ways to up skill your business writing skills, quickly and dramatically.
1. Be Clear on Who You are Writing For

The first thing to think about is this; who is your audience?
Are you writing a report for your boss? Are you writing minutes of the meeting for all the attendees (your colleagues) as well as your supervisor? Are you creating a presentation for your prospective clients? Are you writing a resume for a recruitment agency?
When you know your audience, you can write with confidence knowing you are giving them exactly what they need. You are aware of their expectations, and you allow your writing to reflect that.
2. Establish the Purpose of your Writing
When you know exactly 'why' you are writing and what you want to accomplish through it, you not only achieve clarity of thought, you also set boundaries.
Streamlining the purpose of a piece means that you stay on topic; you keep your message relevant, without making it unnecessarily wordy.
I have a great tip for you to stay on track. Try to answer this question: What is the point of your message? In one sentence only.
If you are not able to do that, you are probably not clear on your message.
For example, I am writing this report because the admissions to our course have jumped up this past semester and I wish to propose running a mid year intake.
That's it. Don't deviate from your core message.
3. Adhere to the Standard Structure
Guess what, writing a business letter or a blog post is not same as writing an email. An email is informal, often short and written in a friendly manner. A letter is usually more formal and detailed, while a blog post useful and informative.
Writing a report is not like writing a presentation, either.
It pays to learn about the different formats and expectations of these documents, so your work always appears professional.
When you start writing, it is a great idea to develop and outline first. Organize your ideas roughly and insert them in the outline, especially when your document is longer like annual report. Now you have something to work with.
4. Make your Writing Clear, Complete and Concise
When you are clear on your purpose, you already have the biggest obstacle out of the way. Now is the time to continue this clarity in your prose.
Choose the right words, avoid jargon when you can and use familiar language. Substitute short words for longer words when you can. Keep your paragraphs short.
Your writing is complete when it contains everything your reader needs to know, to act on your call of action.
Your reader only has access to your words, not your thoughts, so make sure you make every thought clear.
5. Edit and Proofread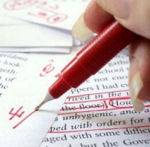 When you are working on a document, your brain gets used to seeing the words on the page. Sometimes, you miss typos as your brain is filling in the blanks even when the word is written incorrectly.
Here are few tips you can use to get is ready for final submission. They work really well.
Consider changing the font, size or even text color, while proofreading. It makes a huge difference
Read out loud to catch any inconsistencies in tone, voice and ambiguities.
When possible, give your writing a twenty four hour test before you consider submission. Meaning, give your mind (and eyes) a rest, before you read it for one last time.
By following all these steps, you will learn to recognize and avoid common mistakes in writing. And here's a bonus tip for you: Perfect business writing services are also provided by Business.ThePensters. You can always try them out if you prefer having a professional do it for you.
Your work will become more powerful, persuasive and deliver information in a manner that is appreciated by the recipient.