If you have noticed, when it comes to making money online, I am a strong advocate for putting up ads – in the right places. Ads should in my opinion be visible while being non intrusive. If you ask me, I totally disagree that any ad should be placed within the body of your content. Your content should be totally free of such eye pollutants in order to provide users with better reading experience. After all, you do want them to read what you have to say, right? Also please note, that I am not talking about images that complement your posts (those are good and highly recommended). Now, you maybe asking what the h… does this have anything to do with better conversions? Read on.
Placing Single Ads On Most Visited Articles
You all have heard of related topics, right. How about related ads? Related ads can also be good complements to your post. If you are writing something about keywords, a premium keyword plugin would be a related ad. If you are talking about web hosting, a web hosting service would be good ad too. And so on.
The ads placement now comes into play and I strongly recommend for you to put it at the end of the post (not before or in the middle). This way, it will still be non intrusive and not distract your readers.
Why most visited articles and how to spot them?
This sounds obvious, but really, this is where you should leverage on most of your organic visitors. These are the ones that normally bring targeted users and are the ones that interest you more to improve and increase blog conversion rates. I am talking about using this method only for older articles and not fresh ones. Older articles are already indexed and cached and hopefully have good rankings on search engines. Use your webmaster tools, analytics, SEO Tools, or any other tools for internet marketing that you've got to find which articles are mostly visited by users coming from search engines and specific referrers such as StumbleUpon, Twitter, etc. here is an example.
Using Google Analytics Tool:
Log in to your GA account and from your dashboard select content. This is where you will find everything you need to know about your contents behavior. At the bottom part of your stats, you will see "top content". This is what you are looking for. Now head over to those pages, edit them, and put in your ads or add some affiliate links, as described above.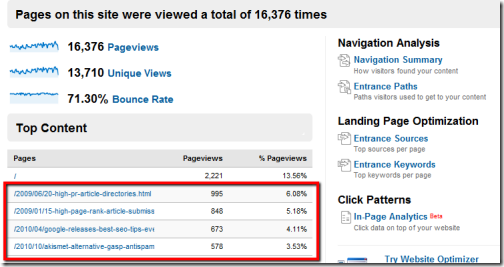 What kind of ads should you set up?
A 468X60 banner is what I have found to work well. Obviously you can experiment with different types of ads or if you do not want to add any ads at all, search for keywords in the body of the post and create some links to affiliate products if you think that it may work better for you. The idea is to take advantage of the fact that these pages are the ones that are driving more traffic to your website.
There you have it. Simple but effective. There are a lot of other ways to increase conversion, and this is one that can work well. Give it a try and see how it goes for you. If you have tried this before, I will be interested in knowing what your experience is. How effective was it? Did it increase your conversion?