SEO WordPress Plugins
This is the second part of the Best SEO Tools and SEO Plugins mini-series for 2011. A couple of days ago, I provided you with the best SEO tools, and today we will cover the best WordPress SEO plugins. Don't forget to always apply the best SEO practices first, as these plugins will only aid you in your SEO campaign. If you are new to all this, start by reading the only guide I recommend for all levels, which is the Google's SEO Guide. You won't regret it.
Best SEO WordPress Plugins 2011
Headspace 2: This is one of those alternatives (or not) to some other popular SEO plugins available for WordPress. Found out about this plugin via Nicolas Cardot's blog and boy, this is powerful. So powerful, it makes you wonder why it is not for sale (free).
UPDATED (April, 2011): I found this excellent video tutorial of HeadSpace2 by Cenay Nailor. If you prefer seeing exactly what you have to do to make this SEO Plugin work for you, I highly recommend you viewing it. Cenay goes from start to finish on how to install, setup and finalize the use of HeadSpace2. It is rather a long video (approx 24 minutes), but that's what it takes to cover the full capabilities of this plugin.
SEO Plugin: Headspace2 Video Tutorial – Setup and Get Started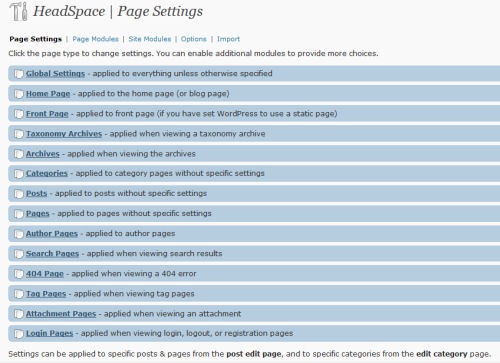 Other recommended SEO plugins are All-In-One SEO Pack and Platinum SEO.
SEO Smart Links: Deep link or internal linking (linking to another article in your site) is something you should be doing at least once on each post you publish. This gives extra SEO benefits and entices users to stay a while longer in your website. I know that this could be a daunting tasks, specially if you have many articles published, so what this plugin does is that it automatically finds keywords in your post that "matches" an article and creates a link to that post. You can also set it up for manual keywords and if you are creative enough, even use it as part of your affiliate marketing ninja training, lol.
Yesterday, I finally got my hands on the premium version of SEO SmartLinks (business edition). I am telling you this because in case you are interested of offering SEO services, have multiple websites, or simply looking for extra insane features, then you might want to take the time to just see what it has to offer. Nothing to buy, unless you want to. Just see the differences between them. Remember though that the free version is already "fantastico". Stay tuned though as I will be posting a more in depth review of SEO SmartLinks Premium Version.
Google XML Sitemap: Must have, period. This takes care of everything you need to submit your sitemaps to Google and other popular search engines for better visibility. Install, activate and submit. No brainer!
WP Touch: Mobile search, according to the latest estimates account for 10% of global search already, and counting. Mobile devices are now being used almost everyday and users that have "internet browser" capabilities can surf via this tiny little gadgets. Thing is, this gadgets have small screens and do not have the power of "larger" devices and therefore are still very limited. This plugin will ensure that your website is mobile friendly. Another plugin you may wish to consider is the WordPress Mobile Pack. It has some cool features and worth checking out, in case WPT does not work well for you.
WordPress Firewall 2: a plugin that "defends" your website against possible attacks. This WordPress plugin investigates web requests with simple, WordPress-specific heuristics, to identify and stop the most obvious attacks. There are a few powerful, generic modules that do this; but they're not always installed on web servers, and usually difficult to configure. Aside from its purpose, the main idea here is to remind you know that backing up your data and protecting it is equally relevant to your SEO. If your website gets hacked or some malicious codes manages its way in, your site in bound to have "big" problems.
NOTE: This plugin may slow down you websites loading time. If you experience this problem, deactivate it and procure other alternatives.
SEO Friendly Images: A WordPress optimization plugin that automatically updates all images with proper ALT and TITLE attributes. If your images do not have ALT and TITLE already set, SEO Friendly Images will add them according to the options you set. Additionally this makes the post W3C/xHTML valid as well. ALT attribute is important part of search engine optimization. It describes your image to search engine and when a user searches for a certain image this is a key determining factor for a match. Do not underestimate the power of properly optimized images.
MAX A/B Testing: This is absolutely fresh from the source. So Fresh, I have not yet taken it for a spin. I am letting you know about this as I am sure you will find it as interesting as I do and within the process, if you do give it try, provide us here with your views about the plugin. MaxA/B, is a free plugin that makes it easy to perform A/B testing directly within WordPress.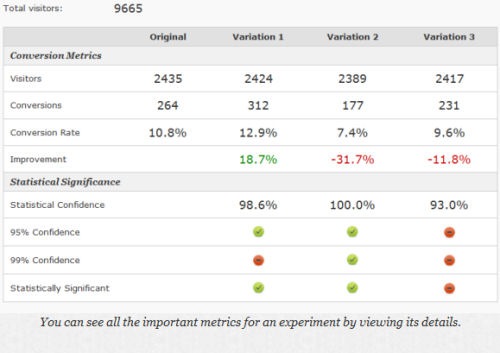 Some highlights of the MaxA/B plugin are:
No need for external services such as Optimizely or Visual Website Optimizer
Works with any WordPress theme and any page can be used in the experiments
Experiments consist of the original page, up to 3 variation pages, and a conversion page
The conversion page can be on a completely different site/domain and still work
Create an unlimited number of experiments, pause and re-start at any time
Metrics are captured and calculated in real-time
Interesting, isn't it? As I said, I have not tested this yet, and found about it yesterday. I for sure will give it a test drive and see what it can deliver.
WP-DbManager (Backup Plugin): Although not directly part of SEO, you still want to make sure that in case something "bad" happens to your website, that you have an adequate backup of everything to ensure minimal time to restore. After all, what are there for search engines to crawl if they can not find your website, right? The most popular and recommended backup plugin is WP-DbManager. Alternatively, I use Automatic Backup which requires you to have an Amazon S3 account. You can find more info here in this post of must have plugins for your Home Based Business.
SEO Slugs: This plugin strips common words like "what", "you" , "can", "to", "or" out of your post slug (Permalink) to make it more search engine friendly. With SEO Slugs plugin activated, the slug for a blog post that: looks like this…/the-best-seo-tools-seo-wordpress-plugins-for-2011-part-2 becomes like this…/best-seo-tools-wordpress-plugins-2011 The slug is generated upon saving a post (so you get a chance to look at it before publishing, and change it), or when you hit the publish button. It won't overwrite any existing slug. You can force a new slug generation by deleting the existing one (not recommended). An old plugin but works perfectly well on current WP version.
SEO Auto Links And Related Posts: One of the current rising stars on the WordPress repository, SLRP (for short), is an excellent alternative to other similar SEO plugins as it combines both interlinking of your content and displays your related post at the same time. Obviously there is the option to turn one or the other off, in case you are already using a deep linking plugin. What I like best about this rising star plugin is that there are options normally found only on premium plugins. Examples are automatically creating keywords as affiliate links, displaying thumbnails on related posts, etc. The auto links feature will automatically convert post title, meta keywords, and post tags found inside the blog posts into an internal link. You really have to give it a try.
Keyword Winner: Maybe the only "paid" SEO tool in this list. While this is so, I also wanted to share this with you simply because it saves you time. Sometimes you just want to write your post and publish it without the tedious task of researching for keywords, analyzing strength and competition, and that whole hullabaloo :). This plugin does the job and does it well. Title tags are one of the most important factors in on-page SEO and if you have the edge of publishing an article that is compelling for readers and optimized for SEO, why not, right? My friend Dan, is the developer of this awesome plugin, and he is a guy that is always there, should you need his support.
more SEO plugins
[note]UPDATE: The Best WordPress SEO plugins for 2012 is now available.[/note]
That's it! On a side note, and while you may not think it is, consider using WordPress themes that are SEO optimized. WordPress SEO optimized themes are developed having in mind, among other things (ex: user friendly), quality coding to ensure that search bots can crawl your websites without hurdles. Poor coding can have a serious impact in your SEO. In addition, you should really be careful when choosing your themes, specially free ones. I'll leave this one for a more detailed information in the near future.
[tip]Here's a tip: Wanna know how I got this post ranking well on search engines? Simple, aside from taking action, I also used Keyword Winner to find targeted keywords and If you really are serious about your SEO, remember that the most important "human" factor is to make it happen (action, action, action..). Now I do understand that all this could be overwhelming, and there are many reasons why you would prefer to have someone do the SEO work for you. If that is your case, I can help. Please visit my SEO consulting service page and find out more. Thanks![/tip]
These plugins automate some tasks that can help and save you time. They won't however guarantee top rankings but will help to get you there. And when you get there (which I'm sure you will), keep it there. SEO is an ongoing process and your rankings can drop very quickly if you don't do anything about it. Think of it this way, There is always someone who is competing with you. Hard true fact! So, have I missed anything? Are you familiar with all these SEO plugins for WordPress? How do you like them and have you noticed any difference after using them?