In the past, local businesses would rely on traditional marketing campaigns to reach their local audience. Newspapers, television ads and radio segments were common mediums through which small businesses would target potential customers. Today, nearly every small business has integrated social media such as Facebook, Twitter, and Yelp into their inbound marketing practices. However, one mistake that many small businesses make is to generalize their marketing efforts in attempt to target a wide audience. This is not necessarily the small business' fault; social media is broad in nature and allows you to connect to others around the world.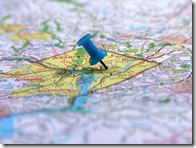 However, social media tools can be adapted to meet the specific needs of local marketing. There are a number of ways in which small businesses can tailor their social media campaigns. The following six are examples of a common social media tool used to target a specific audience.
6 Social Media Tools for Local Marketing
1. Facebook
Most people use Facebook to connect with new friends or to find old ones. However, Facebook has expanded to allow users to connect to each other on a deeper level, through preferences and likes. Businesses can create "pages" on Facebook, which users can choose to follow or "like". These pages have immense potential for local marketing, especially for small businesses whose followers are most likely local customers. "Liking" a page has inherent advertising qualities, as friends can view the individuals' activity and their support for a business. Awareness of a company grows through status updates, likes, and shares, as fans spread the brand to their friends. A good example of a local business that leverages well on FaceBook is TheFingerCompanies. They have more than 3.500 likes on their business page which is essentially about their Luxury Apartments in Houston. That's some real good endorsements, if you ask me.
2. Yelp
Nearly everyone has used Yelp to find a nearby restaurant or the best burger joint around. However, Yelp is much more than finding a great meal: many different businesses are utilizing Yelp in their local marketing campaigns. The nature of Yelp allows the most likely customers to visit your establishment – your local audience. Therefore, it is important to use Yelp to its full potential. Encourage visitors to write a review, or to post a deal on your Yelp page that will give customers incentive to visit. Another important tip is to ensure that your information is up to date, to avoid turning away customers.
3. Twitter
Twitter is an excellent way to create dialogue and interaction with local customers. Many small businesses have effectively used the immediacy of Twitter, whether to inform customers of store changes or an upcoming schedule. One useful feature is to search according to location, allowing an individual to find users in a particular area. Connecting and interacting with individuals can be a great way to reach out to a local audience.
4. LinkedIn
Depending on the type of business, LinkedIn can also be an effective social media tool. Users can find individuals in LinkedIn through advanced search categories, such as location, position, and a variety of other factors. Consulting firms and service agencies can use LinkedIn to connect with potential customers or join interest-based groups.
5. Google+
Recently, Google+ has introduced a Pages feature, allowing businesses to create a brand page for their business. This feature allows businesses and users to promote products, allowing others to view first-hand recommendations. In addition, clicks on the Plus button will increase the relevancy of the businesses in search engine results, creating a positive effect on SEO. With more and more users joining Google+, it is well advised that businesses familiarize themselves with the quickly growing network.
6. Blog
If you don't already have a blog, you should start one now: a blog is a great way to demonstrate that your small business possesses authority in its field. Depending on the type of business and industry, blogs can have nearly any type of content. Informing customers of specific topics and providing quality content can turn interested visitors into potential customers. In addition, individuals can leave comments on blog posts, demonstrating that the blog and the business possesses an active audience.
The world of social media is dynamic, with users constantly exchanging ideas and trends back and forth. Your local audience is, by no means, exempt from this pattern. By adapting various online business tools for social purposes with local marketing in mind, small businesses can aim for the core of their target audience.
Photo Credit: imrcorp.com