Following my recent post about the best SEO plugins for WordPress (part 1), this is the second and final part of the series. Again, before anything else, please ensure that you are not "exaggerating" on the amount of plugins you are using, as excessive plugins may slow your site down and that is bad for users experience. If you suffer this experience (slow site), consider improving your WordPress performance, by reading the following recommended articles:
Anyway, if you noticed in my previous paragraph, I mentioned that bad users experience is not good. Obviously, the contrary is what really matters, and anything that you do that can improve users experience is good for SEO, period.
That said, the first part dealt with on-page SEO and the "added technical" stuff necessary to enhance WordPress and its SEO capabilities. Rewind a bit, and you will find that my Best SEO practices for 2012 talks about other important elements you should consider in your SEO campaign. The following plugins, deals with those "other" (or related) SEO factors. These are the ones I personally recommend. While these may not be directly related to on-page optimization, they form an integral part of your SEO efforts, considering that social engagement, page speed, authorship markup, to name just a few, now play an important role to rank well on search engines. Please note that there are some plugins that are available in both free and premium version (clearly marked), despite this being kept to a minimum.
Best SEO Plugins For WordPress 2012 (part 2)
Author hReview: Rich Snippets is all over Google's Webmaster Central's YouTube Channel. This just shows you that they are pushing its use substantially. Have you ever seen those "rating stars" when conducting a search (see image below)? Yep, they are not only eye catching but also improves CTR. In addition, I believe that Google can better filter posts that have adequate markup and within the process, gives you an added boost on your rankings. See also the plugins effect on a post: Audible Affiliate Review
My friend Hesham helped me implement the hReview setup here on my blog. The plugin was initially intended for Thesis users only. However, he has gone the extra mile and coded the plugin to fit any WordPress Theme. If you want to implement the hReview (Schema.org microformat data), use this plugin and avoid all the technicalities (it is complicated). As far as I know, this is the first of its kind and extremely easy to use. I love this one and it is 100% free. Just remember to provide an honest and quality review.

ShareBar: Adds a dynamic and fully customizable floating box to the left of your post. This contains links/buttons to popular social networking sites, making it easier for users to share your content on the social web, an increasing factor search engines are using. There are many ways you can configure the plugin and you can also add an individual button of just about any social network of your choosing. I recommend adding the Google+ 1 button, without a doubt.
In addition, I strongly recommend you to implement Google's Authorship Markup (easy tutorial on how to get it done) on your site. You may not think that it helps, but I think that it helps and a lot.
SEO Auto Links & Related Posts: This plugin does both "deep linking" automatically and displays related posts based on several filters that you can use. All settings can be bypassed manually and you can define your own settings as you see fit. For the Auto Links part, I only use the "manual definition" for specific keywords.
Another alternative for "inter linking is SEO Smart Links (see part 1 of this post) and Yoast's Yet Another Related Posts Plugin (this is the one I use here).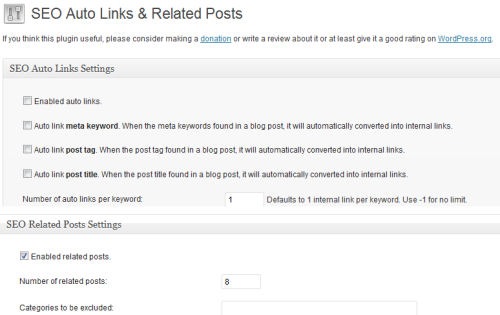 RSS Footer: This plugin allows you to add an additional line of content either in the beginning or the end of your feeds. For example, you can use this plugin to create links with anchor text to point anywhere you want and it will appear on your feed. After that, submit your feed to quality RSS aggregators and voilà, instant backlinks. Although this might not be a lot, it still helps, plus you get to obtain some additional traffic from sites such as FeedAge RSS directory. See example of my feed on FeedAge below.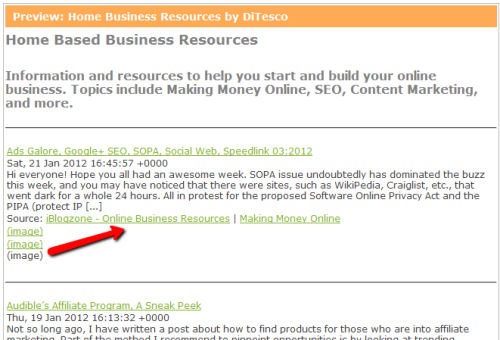 WP Super Cache or WP Total Cache (WTC): Cache plugins improves the user experience of your site by improving your server performance, caching every aspect of your site, reducing the download times and providing transparent content delivery network (CDN) integration. Both these plugins are good and you should use only one or the other. WP Super Cache has an easier settings in comparison to WTC. However, if you are going to sue CloudFlare (CF), it is recommended that you install WTC, as it already integrates with CF CDN service.
SEO SearchTerms Tagging 2: Strengthen your on page SEO, by increasing the number of indexed pages, auto converting search terms into post tags, and more. Some features include:
Increase the number of pages indexed by adding a special link to search results.
Make sure all posts have been indexed by promoting the one that does not get traffic yet (use with care, do not overdo it).
Get detailed information about what are the best keywords for your web site and blog post by tracking your most popular search terms.
A very powerful plugin that even I limit its use depending on what website I am using it. Here for example, I only use it to track search terms to later optimize my content for specific keywords that are driving traffic to my blog. On another website, I also use the feature of showing "incoming searches" to display on my sidebar. Users can then see similar searches they have made and most likely click on it. Read the developers information carefully.
CloudFlare WordPress Plugin: If you decide to use CloudFlare's CDN service, don't forget to install this plugin (a must). this ensures:
Correct IP Address information for comments posted to your site
Better protection as spammers from your WordPress blog get reported to CloudFlare
Optimization of your server database (optional)
No Follow Links: If you use your "blogroll" type links on WordPress and would like to "nofollow" them, this plugin will allow you to append the nofollow attribute tag for each link individually. It does not conflict with the link relationships (XFN) specified when you edit a link. It will just be appended to the end of the rel attribute when it's displayed.
Broken Link Checker: This plugin will check your posts, comments and other content for broken links and missing images, and notify you if any are found. Once you are notified, you can then rectify your broken inks as these type of links are normally frowned upon by search engines. If you do not want to use a plugin, try using Bing SEO Toolkit (older post but still valid).
Tweet Old Post: One of those plugins that on "reviving" your old post by automatically Tweeting them based on parameters you pre-define.
Quick Page/Post Redirect Plugin:This plugin adds an option box to the WordPress editor section, where you can specify a redirect location and type of redirect that you want, temporary, permanent, or meta. this is very good especially if you are rewriting an old post and want to redirect that post to the new one. Has many features to be explored.
CommentLuv (free) or CommentLuv Premium (aff link): What is there to say about CommentLuv? So many actually that I rather you head over to this post and see all the benefits of having your blog CommentLuv enabled.
That's it! Remember that WordPress SEO plugins are designed only to help and will not guarantee you high rankings, neither are they some sort of set and forget thing. Search algorithms changes often and monitoring your SEO progress is the next obvious step. For that, there are many SEO tools that you can use to measure your performance and progress. A post about that is coming soon :).
Anyway, while providing great content is your first priority, in my opinion, SEO does not and should not interfere with the quality of your website. At most, they work in tandem and despite many saying that providing "solely" great content is enough, I think that it is not the case. Helping search engines to identify your sites authority and content is better achieved by applying good SEO practices.