By now, you should already know that improving your website performance and security is no longer a minor issue. If you have read my CloudFlare review, you would know that my website was having a lot of performance and security issues, before I decided to use their free service. The service has been working well for me, but judging by the comments received, it appeared that there were some people, that for one reason or another, was not very comfortable with them.
That said, and if you heard the term "don't put all your eggs in one basket", having another "basket" or option in this case, to run your site "in the cloud", and enjoy the added security and performance, would certainly be a most welcomed addition. This is particularly true, if you have multiple sites, as it is always recommendable to spread the risk around, even if the risk is minimal.
Does Your Online Business Need More Security and Performance?
The answer is yes. Basically, it all boils down to ensuring that your website has the optimum page speed loading time and defenses against all possible online threats, including having an adequate backup solution, in case you are using WordPress.
Power Up Your Website With Incapsula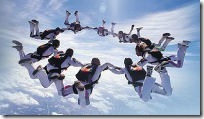 Incapsula is a service that you should seriously consider if your sites performance, security and uptime, are less than satisfactory. Behind Incapsula, your sites traffic is routed through a global network of high-powered servers that analyzes all incoming traffic, keeping threats out while boosting your sites speed for traffic. The service improves your sites security and performance by caching and optimizing its content and serving it directly from their globally diistributed servers. If you are on shared hosting, using their service can even save you money or headaches, as running your traffic through their service reduces the load on your servers.
If you have heard about Incapsula before and decided not to go for it because of the restrictions they had with their "free plan", a service that was accessible for non-commercial sites only, the good news is, the "personal" plans restriction has now been lifted and all systems are good to go. Yes, you can now run your site behind Incapsula, regardless if it is personal or a commercial website. If you have affiliate links, ads or any other ways of monetization, then your site is considered commercial. Anyway, no worries now. Marc Gaffan – Co-Founder of Incapsula, has confirmed this to me via email.
What Does The Personal Plan Offer?
The personal plan offers more than enough features for a small to mid-size website to run without having to worry about any investments. Obviously, as time goes by and your requirements increase, the paid plans are there to serve your needs. Pricing are very reasonable, but for now, let's concentrate on the free part, as this is what grabbed my attention, lol.
Personal Plan:
Up to 20Gb Bandwidth
Additional http domains (free)
Security (Threat Control, Illegal Access Prevention, Bad Bot Blocking, SQL Injection Prevention, Cross Site Scripting Prevention, and more)
Performance (Globally Distributed Network, Static Content Caching, Connection Optimization)
Monitoring (Server Outage Notification, Load vs. Response Time Analysis)
Management (Management Console, Stats, Analytics, etc.)
As you can see, the personal plan is very appealing and unless you have the need for more "power", this is good enough.
Here's An Overview Of Incapsula (short video):
How Do You Set Up Incapsula?
Extremely easy. Just a couple of changes in your DNS (CNAME and A records), and you are all set. This takes you no more than 5 minutes to set up. Enter your domain URL, wait a couple of minutes for Incapsula to analyze your settings, and once done, they give you precise directions on what changes you need to make. You do need access to your DNS settings. If not, I am sure your web hosting provider can do it for you. Also, it is recommendable to install the Incapsula WordPress plugin to ensure that your WordPress website runs optimally when using Incapsula.
Will I Be Using Incapsula?
No doubt, and already I have four sites powered by Incapsula, including my "baby" project, WordPress Junkies, with Michele of NewBizBlogger. Just for you to have an idea, I started to use Incapsula for WordPress Junkies on July 15. That's some three days ago. During this period, 18 threats were intercepted, bandwidth was reduced by 48% and server load by 66% on 19K plus hits. All these improvements made our visitors happy (faster loading time), and our site more secure. Nice!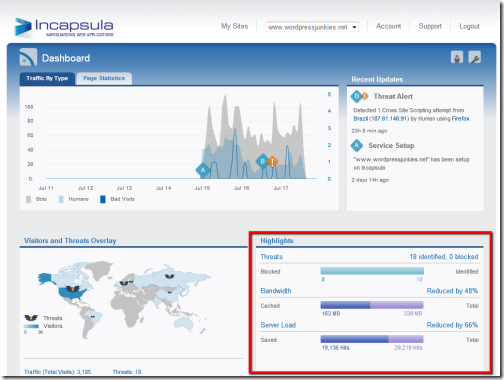 Conclusion
Incapsula is a great option for small businesses online or websites that are looking to boost its security and performance. Considering that the personal plan is immediately accessible, I don't see any reason why you should not give it a go. Take your website to the "cloud" and if you are not satisfied, just turn it off. Nothing to loose, and a lot to gain.
Please note that this post is not a paid or sponsored review. I simply like Incapsula's service and thought I might share it with you, as another "basket", should the need arise. This is really a good option to improve your overall security and performance without having to immediately go for other "expensive" options.
That's it! What do you think? Have you heard about Incapsula before?
PS: Here is a really nice comparison review between CloudFlare vs. Incapsula, written by Jan.