Site Speed A Ranking Factor
It appears that one of the trending topic lately has been about page speed or website load time, as an important ranking factor for search engines. Make no mistake about it, if your website takes forever to load, you will loose traffic and consequently hurt your online business and your readership. Whether or not it will truly hurt your rankings, remains to be seen, but in my opinion, it will over time. Top marketers will tell you that you only have seconds to convince a user to stay on your website and convert. How will this happen if a user does not even see what you have to say or offer? Well, one of the answers to this question is to show it to them fast, very fast.
Fast = Better Rankings = Improved Traffic = Better Conversions = More Sales
How Should You Optimize Your Site Speed?
To optimize your site speed, you obviously first need to test how much time is your website actually taking to load completely. There are several tools out there that will help you test your site speed, but few will provide with information that you can use to take action upon. In addition, low quality sites that offer this type of service may just be a launching pad to suck your email or make a sale. As I have mentioned on my previous post, it is all about quality sites. Google (and others) is taking quality seriously and has provided recently a list of questions, on how to build high quality websites. A fast loading site, I believe, is an indicator of quality and provides users with better experience.
That said, and after testing several site speed tools, I was able to narrow this down into three sites that are worth using and of which I highly recommend.
3 Top Page Speed Online Tools
Google Page Speed Online: You do want to rank well on Google, right? Google's website speed test is a new online tool that analyzes your sites performance and recommends a series of actions you need to take to improve performance, based on a given score of your current settings. Since I have already wrote about Google's page speed tool, please refer to that post instead. Thanks!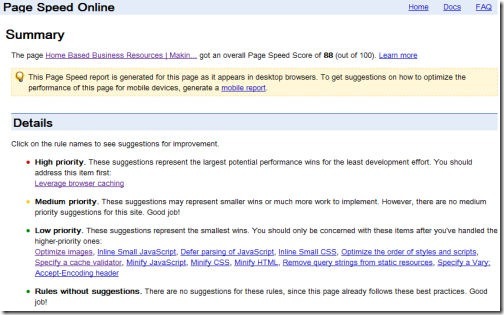 WebPageTest: One of favorites. This tool analyzes page speed by doing a first view and a repeat view. This gives you an idea on how it performs by leveraging on the browser cache. Reports provided are just amazing. It gives you a "waterfall" analysis of each request, content breakdown, etc. The detailed section of the report provides you with more information about each request. Too many good stuff to tell you here. Just give it a test run and see how it goes.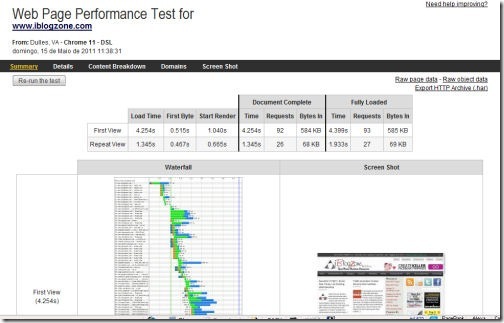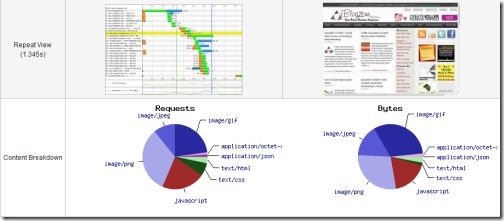 Pingdom: Another great site speed tool. Pingdom results are slightly different from that of Google's and WebPageTest. While it helps you identify problem areas, it is not as thorough as its peers. What I do like about them though is that if you register with them (free), they will send you email notifications whenever your website is down and comes back up again. Another unique feature they have is testing for your DNS health. DNS checks for the health of your server, where in some cases is the cause of possible problems.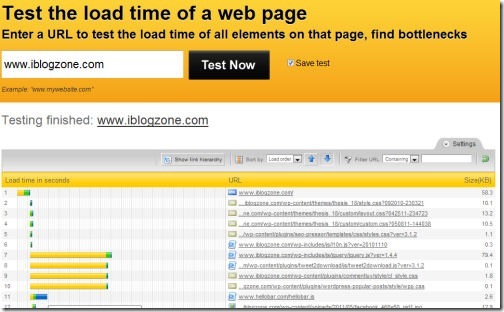 Actions To Improve Your Site Speed and Performance
You might be asking if any of these tools will actually help you improve your sites performance. Let me put it this way, if you take action, yes they will. These tools help you identify problem areas where some attention is required to improve your sites performance. I for one had serious problems with page loading time, and while it may not be ideal, I was able to improve my sites speed dramatically. Aside from removing unnecessary plugins, compressing images, using a caching plugin, changing my .htaccess configuration, what really helped was when I decided to to use CloudFlare, a free CDN service. If you are interested, find out what my problems where and how I improved site speed with CloudFlare.
There you go. The three best and free site speed tools which are now available for you to use and ones that should be part of your best SEO tools arsenal. There might be others, but I am really unaware of them. If you use a different one, please let us know. Everything that helps improve site speed is welcome in my book.
[note]Here's an updated post on how to improve your WordPress Site Performance And Speed[/note]