Page Speed Online: Google Is Committed To Make The Web Faster
[note]Google Labs has been taken down by Google last week. Despite the move, the Page Speed Online test site continues on, only it has been moved to the developers part of Google. All links below have been updated to reflect this change.[/note]
Officially released today is Google's new online page speed performance, a webmasters tool that allows users to verify the performance of any website at any time. We have all seen before that Google has been constantly "pushing" hard over the performance of the web and as you all now, page speed is now an important ranking factor. Google believes that a faster web is a better web and the "Page Speed Tool " which was before available only as an addon, now runs as a web-based application.
Here's an excerpt of the official announcement on Google's Webmaster Central:
At Google, we're striving to make the whole web fast. As part of that effort, we're launching a new web-based tool in Google Labs, Page Speed Online, which analyzes the performance of web pages and gives specific suggestions for making them faster. Page Speed Online is available from any browser, at any time. This allows website owners to get immediate access to Page Speed performance suggestions so they can make their pages faster.
Just given it a test drive now and WOW, Google's Online Page Speed tool is fast. It generates an overall score and immediately suggests by order of importance, areas where improvements can be made. Such suggestions are labeled as High, Medium and Low priority.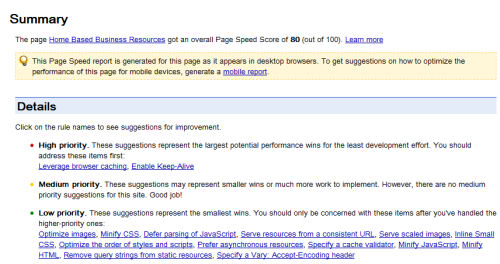 Clicking on each of the suggestions will take you to more detailed explanation as to how your website speed can be optimized. As an example, my website has a score of 80 over a possible 100. That's probably low and after running the test, I can immediately take action on some issues that will make my site faster. As it appears, I can greatly improve my sites performance if I compress some of my images. So that definitely goes in my todo list for this weekend 🙂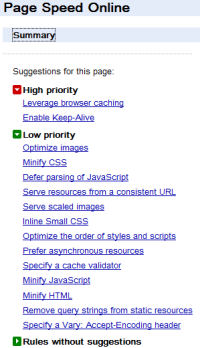 A fast site is good for the eyes of Google and most importantly for the overall users experience, namely your visitors. Most of the suggestions require minimal effort although Google does mention that this tool requires at least an intermediate level of expertise. Which makes me believe that….
Google Page Speed Online Helps You get More Business?
Just out of the box, and far fetched, you can use this tool to impress a potential client, or monitor your progress to see how things are doing with your website's speed optimization… Heck, that's a new one to explore, WSO… Website Speed optimization. Offer your services to someone who suffers from a "tech phobia" syndrome 🙂 I'm sure you can put this to good use, and I would like you to tell me right now (quick), what other benefits you think can derive by using this tool (if any)?
Page Speed Online Test: Final Thoughts
Anyway, that's it. Just wanted you to know about this awesome new tool, in case you have not heard about it yet. What do think? Is this, Google trying to tell us something? Do you believe that Google's page speed online tool can indeed help you improve your sites performance? What steps are you taking to increase blog speed?