During the course of your online ventures, you may occasionally want to change your sites design, make some improvements, upgrades, and other tasks you don't want your potential visitors to see. One way of doing this is to put your site under the so called "maintenance mode". Rather than your website being visible and constantly changing, you instead present your visitors with a splash page saying that your site is undergoing maintenance or any other information you want, often times, asking them to check back soon.
There are many popular plugins that with help you create this splash page, but many of them offer very little functionality (unless it is a premium plugin). If the changes you are doing will only take very little time, I think it is ok, however, if you are going to some major changes or launching a new website, that is a different story. Anyway, would it not be nice if you can work with your WordPress site behind the scenes, while at the same time, capturing your potential visitors information and/or attention?
A short story:
Some months ago, I started to develop a website (DiTesco Consulting), to offer all of my consulting services under one roof. I felt it was better that way, since I have multiple related sites, and rather than creating individual pages on each of them, I figured that pointing the services I offered to just one site could be better, for many reasons. The site was launched in a hurry, and I left it there, unattended, until some weeks ago, when I decided to give it the attention it deserved. The site has some traffic so I said to myself, better put in under maintenance mode, while I do some work on it.
This is how it looked like.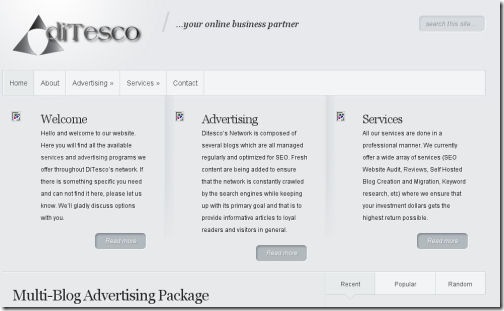 Yeah, I know. Very lame and not compelling enough. The services, prices, and other information are all outdated and I am also not convinced that I chose the right theme. Anyway, if I wanted to go ahead with the project, I should be doing something about it, and do some major changes.
Since I was not so sure how long it will take me to finish the job, last week, I put it under "maintenance" mode. Installed one of the most popular WordPress plugins and it looked like this.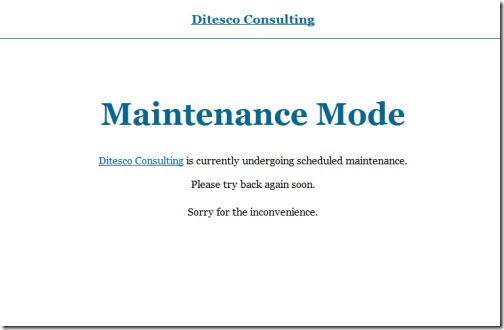 OK. Good… Now at least I can do anything I want. But still, something's missing. Putting countdowns was lame and telling people to "try back again soon", was not good enough. First time visitors, for example, will not know anything about what the website is all about and most likely will disappear for good.
Luckily, and just in time, I stumbled upon a new plugin that was quietly making its way in the WordPress repository, on WPMU.org. After installing the plugin, and making some easy tweaks, the sites splash page now looks like this.
Much better (I think). At least now, people can have a glimpse of what the site would be about. The logo, creates brand awareness, among other things, and if you noticed, there is a place for people to subscribe, making it possible in due time to let them know that your site is now up and running. Cool!
For now, the option to subscribe is on Feedburner only, but the developer is working on more options, which should be available on future updates.
Next obvious question, would be, what plugin makes this happen?
The Ultimate Coming Soon WordPress Plugin
Yes, that's how the developer calls it and it is understandable. It is a fairly new plugin and there are so many things you can do with it, the example above is just one of them. All you need is a little bit of imagination.
Anyway, the Ultimate Coming Soon Page plugin allows you to quickly and easily set up a "coming soon page" for your website. It is fully customizable, and you can change the look and feel including background color and image, logo, fonts (includes Google fonts) etc.. Works with any WordPress theme.
Additional Features and Options:
Easily add Custom CSS and HTML (great if you know how to code)
(Will) work with several mailing list providers: FeedBurner for now (More Coming Soon)
Integrated Google Fonts (nice addition)
Visible to only non logged in users so you can build your site while visitors see the "Coming Soon" page.
Uses HTML5 & CSS3
Hard to believe that this plugin is free. And as I said earlier, I can think of many uses for this plugin, aside from just making a more "professional" looking coming soon page. You can for example create "landing" pages for your unused domain names, specially if they are keyword rich.
That's it! Next time you need to put your website under "maintenance or development mode", give this plugin a try. What do you think? What other uses can you think of right now for this plugin?